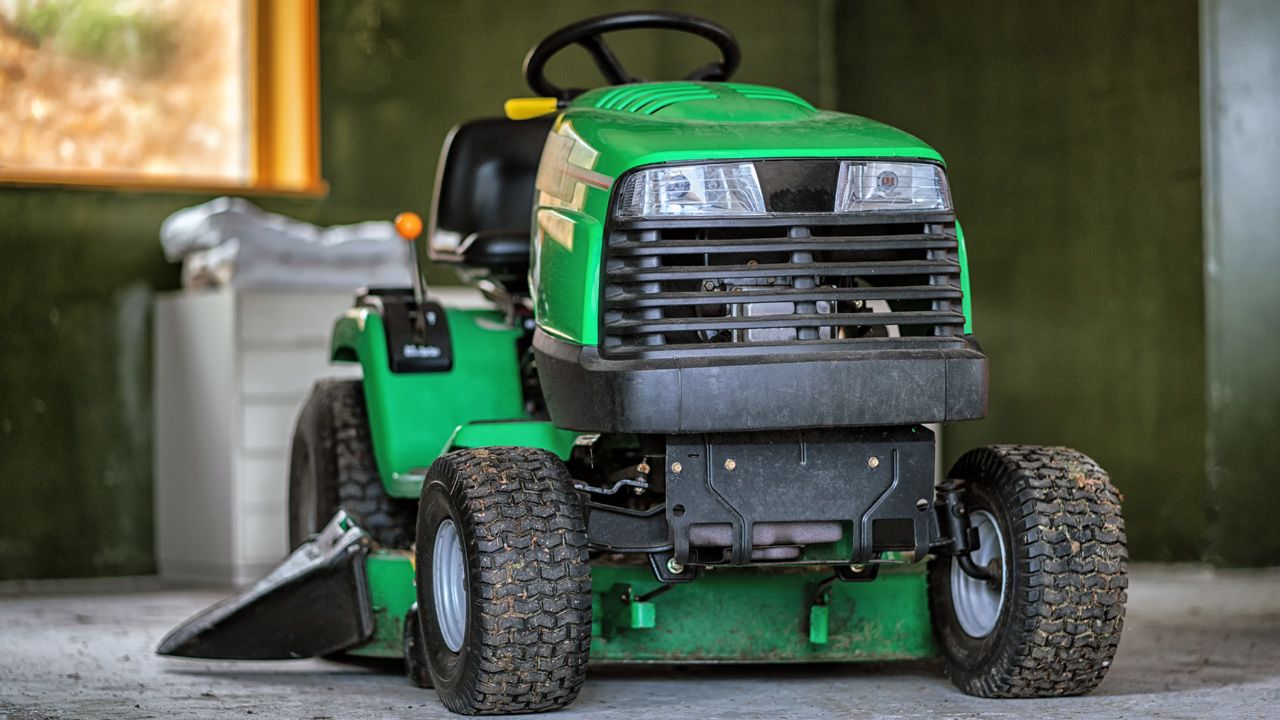 It's the last thing you need first thing in the morning – A dead battery. This is particularly true of lawn tractor batteries, whether the tractor is tasked with plowing snow or mowing grass before a rain. The best lawn tractor batteries have sufficient strength to last through a hard job, and can maintain their charge even while not in use. Extreme cold weather tends to present a challenge, as does intermittent use. Years ago, folks would remove batteries and connect them to a trickle charger, but as machines continue to get bigger and more complex, sometimes this can be a chore as they're buried deep within the works and removal is nearly impossible.
That said, the best lawn tractor batteries come from a variety of manufacturers and nearly all can be found online for competitive prices. When shopping around, consider the Ah factor, which represents the "ampere hour," meaning the amount of energy charge in a battery that will allow one ampere of current to flow for one hour.
Below we look at five of the best lawn tractor batteries available today, along with some battery maintenance tips so you can get your current battery to last for many years to come.
Lead photo by bzzup/Shutterstock.com
Casil Lawn Tractor Battery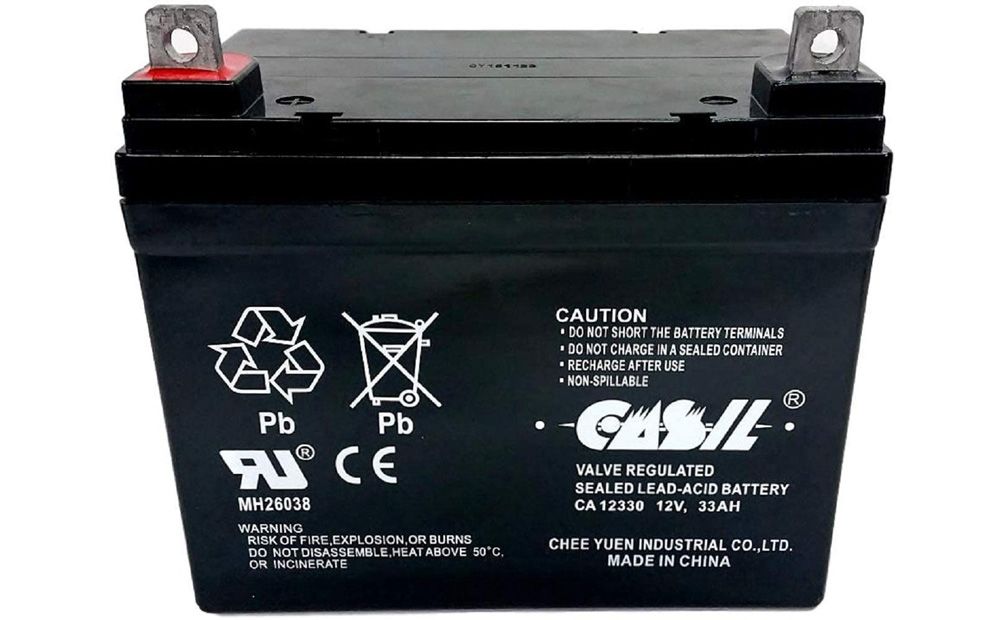 The 12-volt Sealed Lead Acid (SLA) battery brings 33 Ah in a reusable, rechargeable, maintenance-free format. At a standard 7.58" x 5.16" x 7.13" sizing, the Casil Lawn Tractor Battery should fit most units and is designed to be mounted in any position. The SLA/AGM spill-proof battery has a characteristic of high discharge rate, wide operating temperatures, and deep discharge recover. Constructed lead calcium alloy and absorbed glass mat technology afford a maintenance-free operation which is both spill- and leak-free. The Casil Lawn Tractor battery comes with a 1-year warranty from the manufacturer.
Buy Now
Chrome Battery – Deep Cycle SLA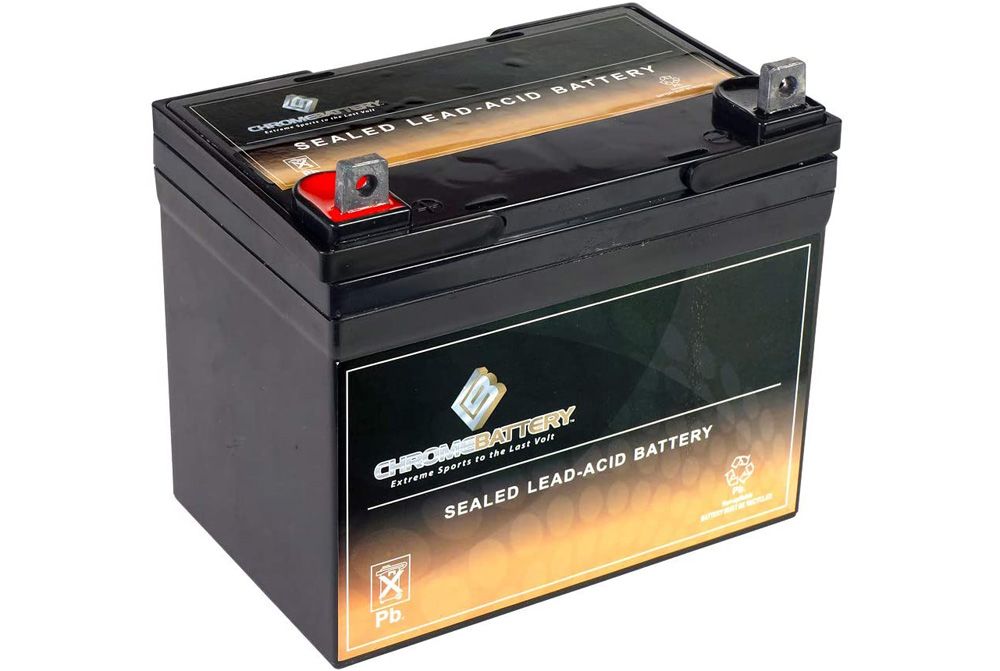 A 12-volt 35 Ah, sealed lead acid (SLA) battery, the Deep Cycle SLA has a T3 terminal which is rechargeable up to 2,000 times. Quite versatile, the acid inside is constructed with absorbed glass mat technology which allows for a low-maintenance, and spill-proof battery. These batteries are constructed with lead calcium, and this maintenance-free design allows for the most powerful, highest amp hour capacity. Fiberglass mat separators and high cell compression extend battery life by creating a superior level of vibration resistance from most extreme conditions. The Deep Cycle SLA comes with an 18-month manufacturer warranty and 30-day refund window.
Buy Now
Mighty Max Battery ML-U1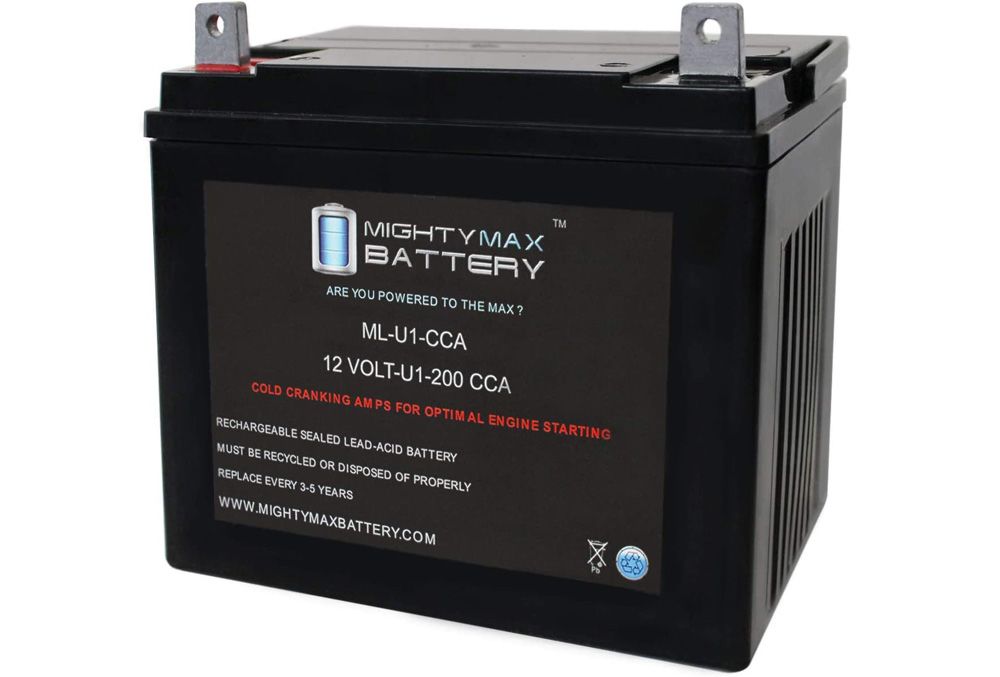 A 12-volt, 200 Cold Cranking Amps (CCA), sealed lead acid battery (SLA), the Mighty Max Battery ML-UI has a spill-proof casing with a high discharge rate, offering wide operating temperatures, long service life, and deep discharge recover. Constructed with an absorbed glass mat, the unit is constructed with high-quality pure virgin lead (99.99%) to create a longer lasting, durable battery for machines requiring cold cranking power. With a non-spill design, the battery can operate in virtually any position to increase ease of mounting. With tough separators and high cell composition, the battery offers increased vibration resistance up to 20 time the norm. The battery has a 1-year warranty.
Buy Now
ExpertPower EXP12180-12V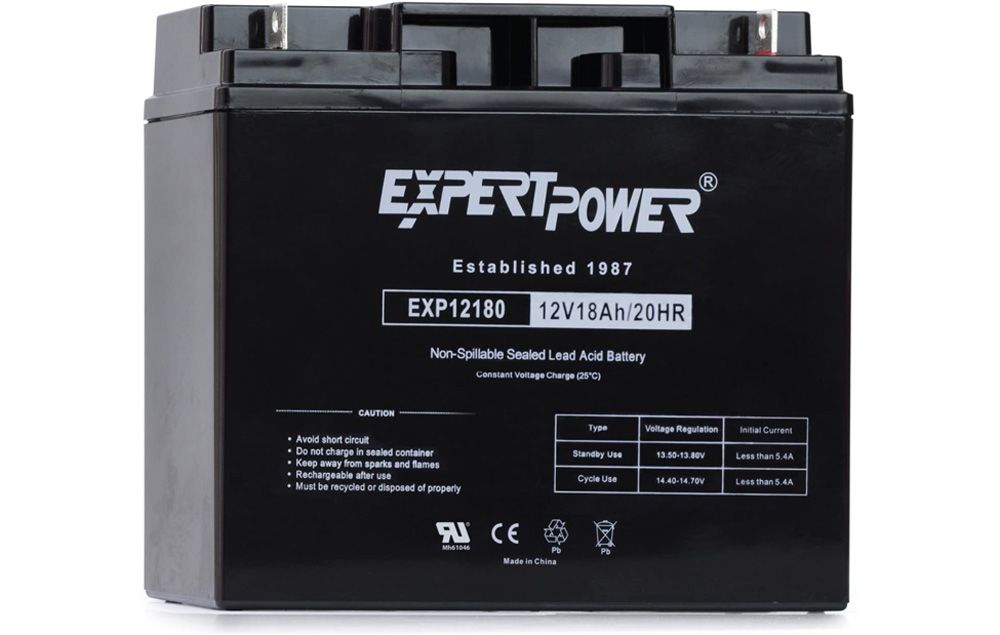 This 12-volt, 18-amp sealed lead acid battery brings rugged construction with a high-impact resistant battery case made up of a non-conductive ABS plastic. The unit is designed for strong resistance to vibration, chemicals, and heat, which is exactly what every tractor owner needs. Built with absorbed glass mat technology, the battery has a wide temperature range, meaning you should be good to go on early winter mornings with the snow plow. The battery comes with a 1-year warranty.
Buy Now
Weize 12V 18Ah Rechargeable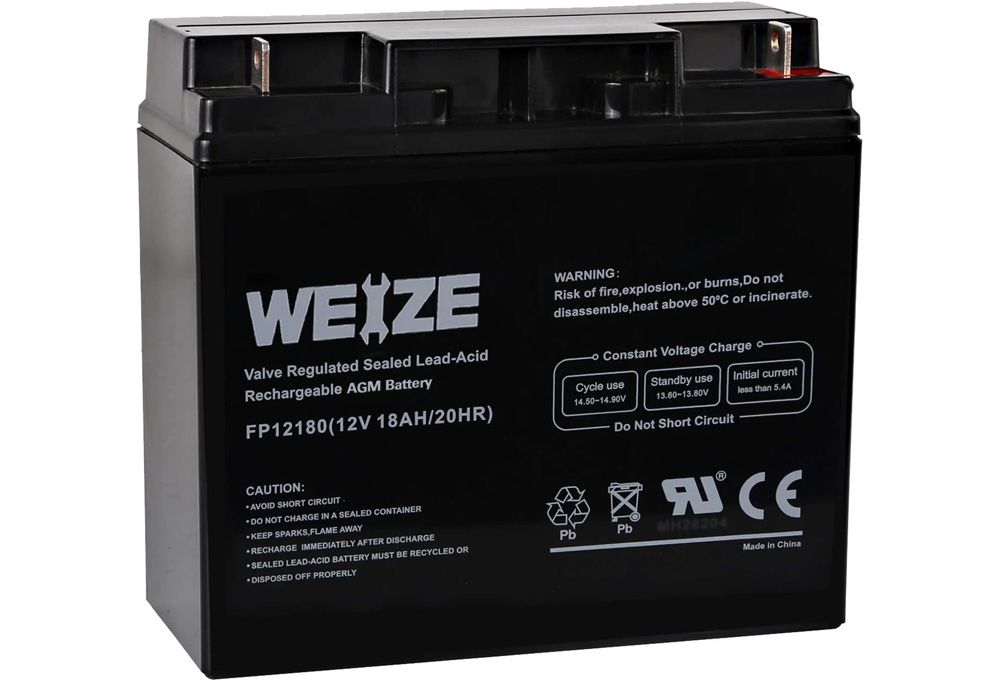 The 12-volt, 18 amp Weize battery brings a Sealed Lead Acid (SLA) build and is rechargeable. Built with ultra-durable materials, the unit is designed for rugged use and utilizes absorbed glass mat technology to suit a wide temperature range. The battery features a state-of-the-art, heavy-duty calcium-alloy grid which works well in a wide variety of settings. The unit comes with a 30-day return option and 1-year warranty.
Buy Now
Maintaining Lawn Tractor Batteries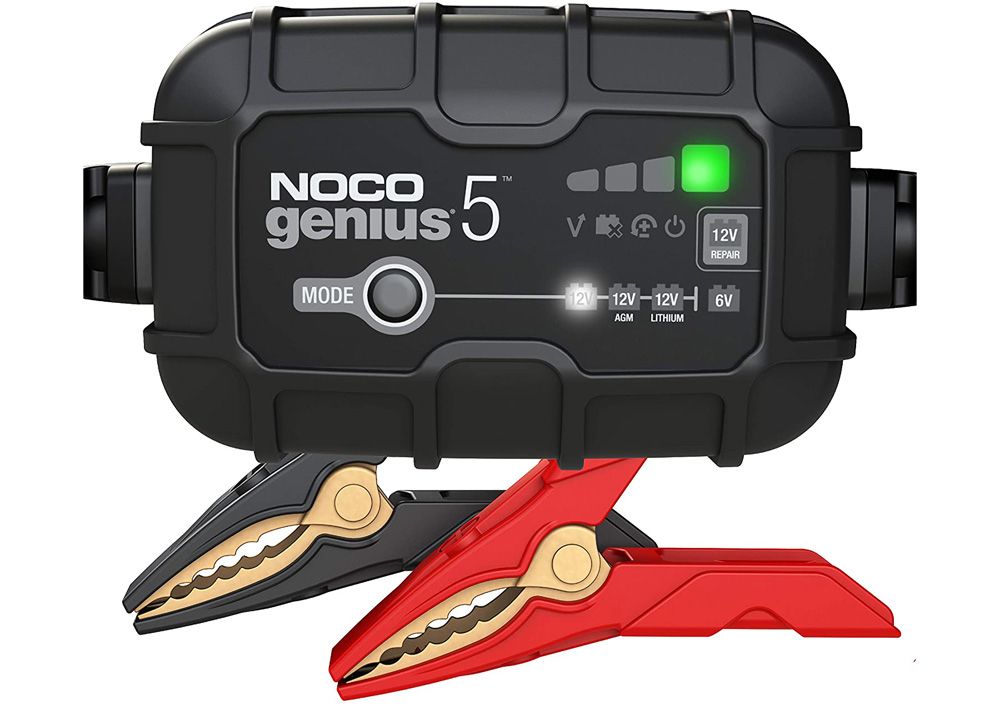 When it comes to maintenance of lawn tractor batteries, a little work can go a long way. One helpful tool for this is a battery maintainer. Not to be confused with the trickle charger, this machine uses a high-frequency pulse which, over time, helps dissolve some of the sulfates, which effectively restores the lead plates. Homeowners would be most interested in solar-powered maintainers for storage sheds where no outlets are available.
Buy Now
Other points, which every lawn tractor owner knows, include cleaning the battery of dirt and residue regularly. This is particularly important with lawn tractors which can accumulate a packing of dead grass and dust over time. Checking water levels in each cell is also helpful, and make sure the charge is maintained, particularly throughout the winter months.
Proper maintenance, paired with any of these high-quality lawn tractor batteries, can go a long way to ensuring a good operation whether on the farm, or at home.
We are committed to finding, researching, and recommending the best products. We earn commissions from purchases you make using the retail links in our product reviews. Learn more about how this works.