If you are looking for some help keeping your large lawn in shape, it's time to start looking at some of the best lawn tractors on the market. Whether you're fan of John Deere lawn tractors, Kubota or Cub Cadet, it never hurts to check the market and see what's new. The latest crop of tractors features a lot of familiar names as well as some new ideas, thanks to innovations in the industry. No matter if you are mowing around a small house or perhaps a family compound or farm, one of these tractors will help you get the job done.
Lead photo by Aigars Reinholds/Shutterstock.com
1 – Ryobi 42-inch Zero-Turn Mower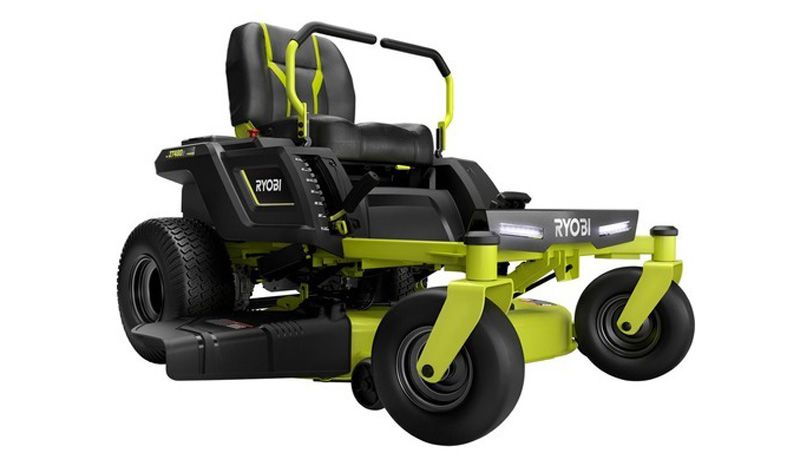 Speaking of grass and all things green, the Ryobi team has unleashed a fully electric zero-turn lawn tractor capable of mowing up to three acres per charge. Lead-acid battery operated, this zero-emissions, fully electric lawn tractor has four high-powered brushless motors and a 42-inch heavy-duty steel deck with two precision cut steel blades. A 12-position manual deck adjustment offers a clean cut to the lawn every day in conjunct with the advanced control panel which activates blades, slow speed function, LED headlights and a battery level and run-time display. The battery is charged on a rear access port for ease and can easily work with a standard 120-volt outlet, typically with 12-14 hours charge time. Low maintenance is the name of the game here with no belts, no spark plugs and no filters to change. Perfectly quiet with no fumes, just charge up the Ryobi and the green light is all yours. Learn more here.
Buy Now
2 – Kubota T1880A2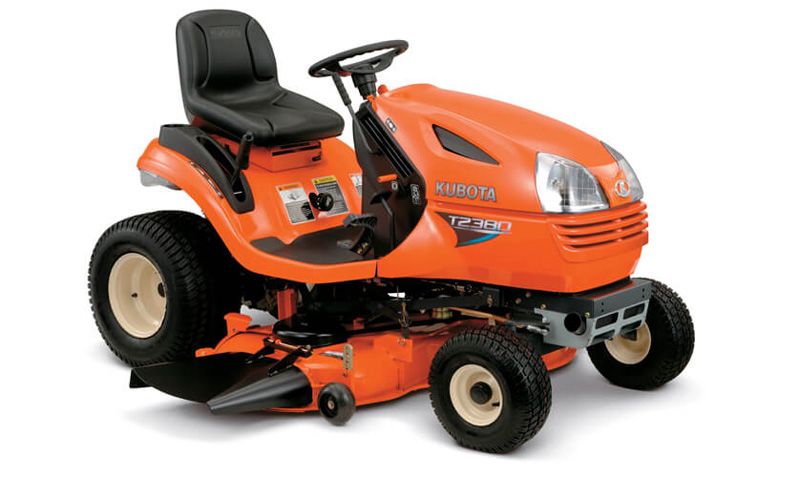 Kubota lawn tractors are well regarded for their performance on lawns and farms alike. The Kubota T1880A2 brings 18 HP to the job with a 3.6-gallon fuel tank. The one-cylinder engine has a total displacement of 36.4 cubic inches. Tractor dimensions are 54.8 inches long by 42.9 inches high with an overall mower width of 54.8 inches. The unit has a 6.3-foot turning radius at the outer front tire with a pinion and sector gear type and traveling speed of up to 5.6 mph. Utilizing a hydrostatic transmission with a belt tension PTO clutch and disc brake, the unit features a standard KRA system. As with all Kubota lawn tractors, the T1880A2 has potential attachments of quick-attach grass catcher. In addition to the great engineering, you'll also enjoy comfortable seats and roominess of the full-flat step through operator platform. It's one of the best lawn tractors in the industry. Learn more here.
3 – John Deere E180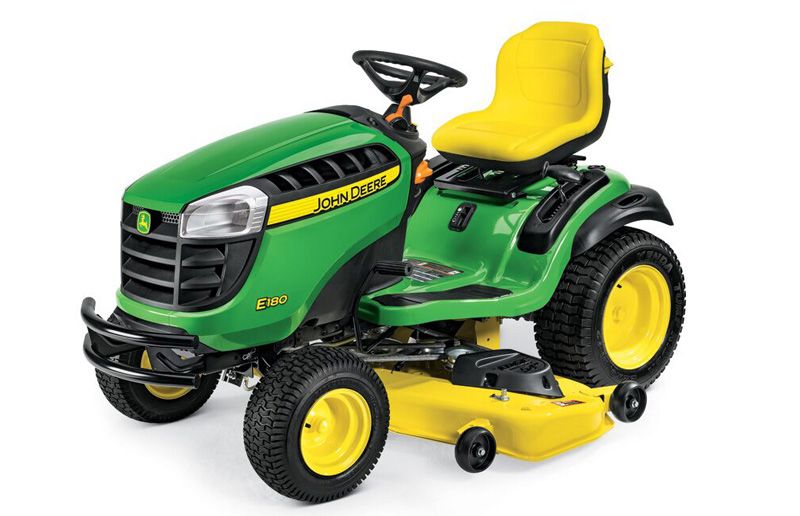 John Deere lawn tractors are famed for their lean, mean, green machine approach. The John Deere E180 sports 25 HP with a hydrostatic, two-wheel drive transaxle and two-pedal, foot-control. Rear tires are 22×9.5-12 and steering is sector and pinion with single drag link and tie rod. The Edge mower deck has a 54-inch width and lifts by way of lever on fender deck. Engine displacement is 44.2 cubic inches with overhead value and full-pressure lube, oil and filter. V-twin extended life series cylinders and a one level, ReadyStart choke. As with all John Deere lawn tractors, the full line-up of attachments and accessories come readily available, from utility carts to baggers. Learn more here.
Buy Now
4 – Cub Cadet XT1 LT 42"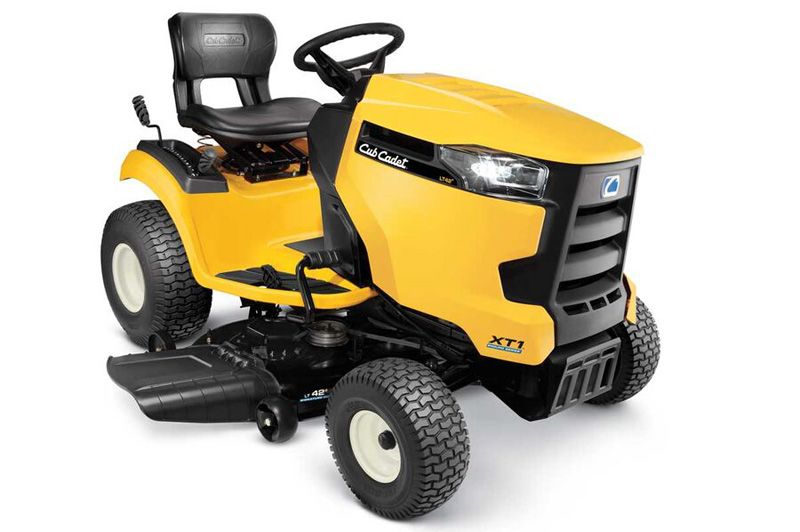 Cub Cadet lawn tractors are well-regarded for their performance on all kinds of terrain. With the Cub Cadet XT1 LT 42" users will find all that and more. The 18 HP engine sports a hydrostatic drive with one cylinder and variable forward speeds with reverse as an option. Equipped with Cub Cadet's IntelliPower technology, up to 20% more power is generated when needed under heavy, wet loads. This system continuously digitally monitors engine speed and automatically adjusts the throttle position to optimize performance. With an easy-fill three-gallon fuel tank, the unit features automotive-style 16 in. turning radius with smooth cutting and maneuvering. Comfort is key with adjustable open high-back seat with oversized base and elevated back support to accommodate all sizes of operators. The whole package adds up to one of the best lawn tractors available. Learn more here.
Buy Now
5 – Husqvarna YTH24V54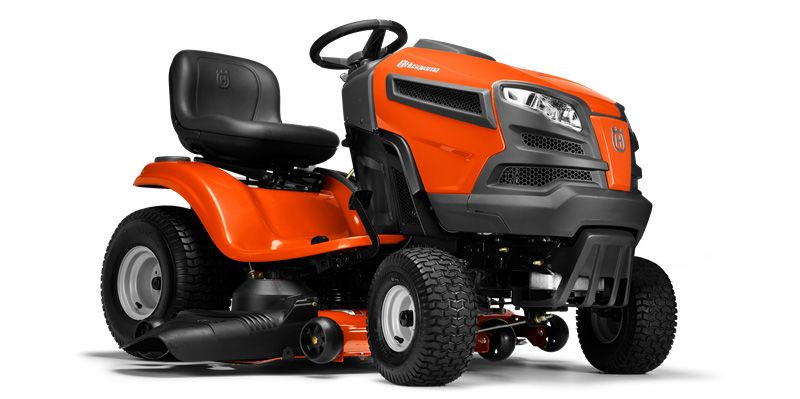 The Husqvarna name means excellence and the YTH24V54 is no exception. Sporting a 24 HP Briggs & Stratton engine with hydrostatic transmission, the two-cylinder unit is pedal-operated with both forward and reverse. A 54-inch cutting width and air induction mowing system beneath the deck allows for clean cutting every time. The reinforced stamped cutting deck is constructed with heavy flat-stock steel for added strength and durability with edge and trim on the side, and 15" high back seats adjust back and forth for greater comfort. Learn more here.
Buy Now
No matter what lawn tractor brand you are interested in, you will find no shortage of options available that will work for you. But to truly find the best lawn tractors for your needs, you would be wise to visit your local dealer to take one for a spin.
We are committed to finding, researching, and recommending the best products. We earn commissions from purchases you make using the retail links in our product reviews. Learn more about how this works.