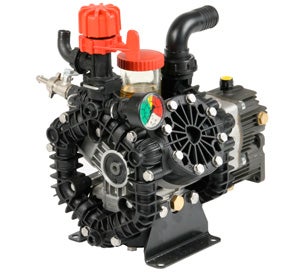 Hypro has introduced two new products – the Poly Diaphragm Pump Series and 3" Poly Transfer Pump Series.
Hypro's polypropylene diaphragm pump is built with polypropylene heads and manifolds for corrosion resistance and is designed for harsh chemical applications. The three-cylinder design eliminates the need for pulsation dampening devices, and lengthens the life of the entire pumping system. This poly diaphragm pump series has flow rates up to 11.0 gpm (41.6 lpm) and pressure to 290 psi (20 bar).
The poly diaphragm pump is built with external inlet and outlet manifolds compared to that of internal manifold design. According to Hypro, this allows for easy valve replacement and lower cost repairs. The oil sight glass is located in a protected spot, positioned at the top of the pump body, reducing the chance for breakage.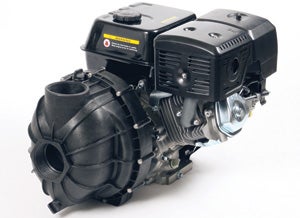 Hypro's new chemical-resistant, 3" poly self-priming transfer pumps are ideal for nurse tank transfer and other closed system applications with a maximum suction lift up to 25 feet (7.62 meters). Now available with Hypro's PowerPro gas engine, hydraulic motor, and pedestal drive models to satisfy nearly any application requirements.
This pump series significantly reduces fill time by achieving flows up to 440 GPM (1,666 lpm), with more horsepower and greater efficiency than any other 3" transfer pumps on the market, according to Hypro. The polypropylene housings and EPDM elastomers protect the pump from most chemicals and corrosive environments, while the poly impellers with stainless steel inserts can handle solid particles in suspension up to 3/8" in diameter.
To receive more information on the new poly diaphragm pump series or the new 3" poly transfer pump series, visit www.hypropumps.com.