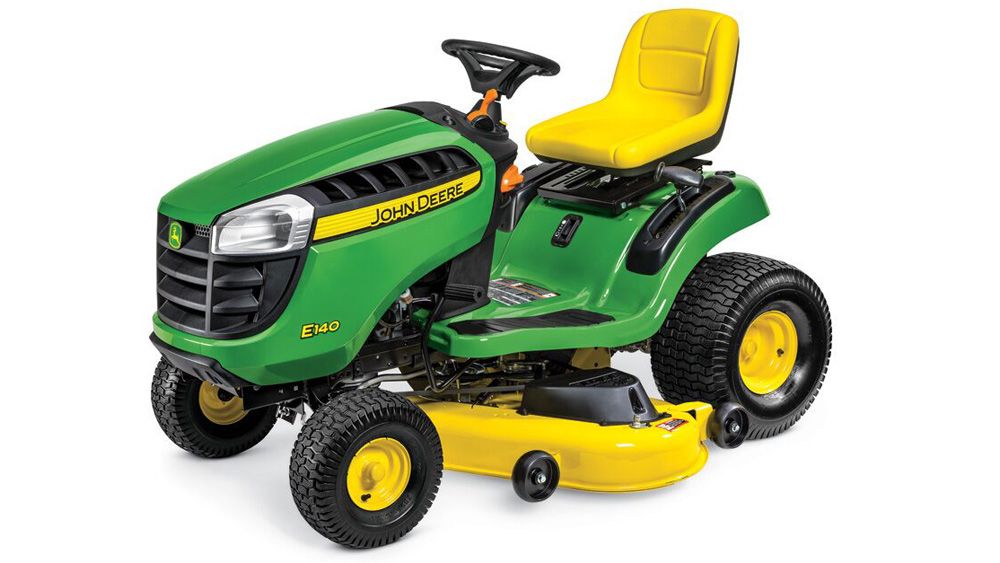 With what appears to be a wet spring already underway, bushy lawns are springing up to be cut by the John Deere E140 lawn tractor. Beloved by tractor enthusiasts for generations, the name John Deere is associated with quality from tip to top, and the John Deere E140 lawn tractor is no exception. Whether from a dealer or online, it's well worth the investigation.
With a solid one-piece frame of 12-gauge, 0.105-inch steel, the unit is robotically-welded with high-strength steel rails and a one-piece steel fender deck bolted to the frame. With a front axle constructed of solid cast iron, bending is not a fear you'll have with the John Deere E140 lawn tractor. The machine sports an automotive-like steering system with sector and pinion steering gears and single drag link with a tie rod creating a very strong, low-effort and tight-turning system atop large, 0.75-inch diameter wheel spindles. Both steering spindles have three grease fittings which allow for easy maintenance.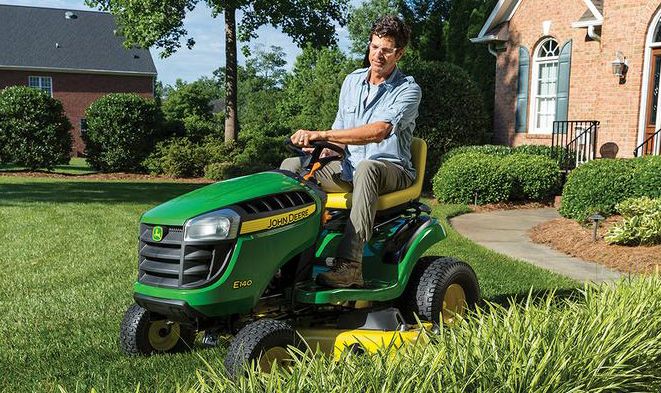 Engine-wise, the John Deere E140 brings the juice with a 22-hp V-twin engine. The V-twin cylinder design offers greater torque, lower vibration and improved sound quality. An electronic ignition eliminates the worry of old keys being lost or rusting in place, and the spring-return feature promises the owner won't accidently leave the throttle lever in choke. Cast-iron cylinder liners extend engine life and overhead valves generate excellent power and fuel economy. This of course makes for less costs over the life of the machine in terms of repairs and problems, as all lawn tractor operators know too well.
Shop For an E140 Lawn Tractor
A 2.4-gallon fuel tank can be filled by way of a convenient opening beneath the seat, complete with a tethered and sealed cap, for those who wish neither for leaks nor lost caps. The John Deere E140 also features a California Air Resources Board (CARB) certified engine for pollution reduction which really helps put the green in John Deere Green.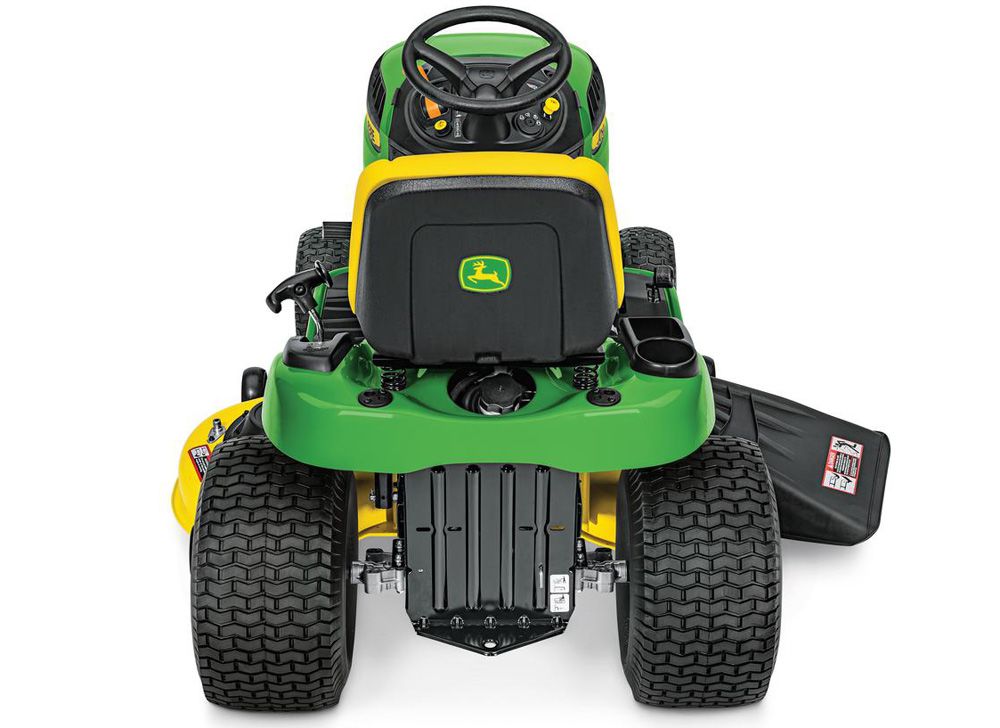 A Kanzaki Tuff Torq hydrostatic transmission brings an unlimited number of speeds and facilitates change of direction of travel, as do side-by-side foot pedals. With an automotive-type accelerator and large pedal surface, operators report greater levels of comfort while mowing large yards. The operator seat sports a 15-inch back and is adjustable forward or rearward with seat travel 5.5 inches and 10 different positions. And of course, what modern lawn tractor would be complete without a storage compartment and beverage holder alongside the fender. Just as nothing runs like a Deere, no iced tea tastes so good as when tasted while mowing grass on a hot July day.
John Deere E140 Accessories and Attachments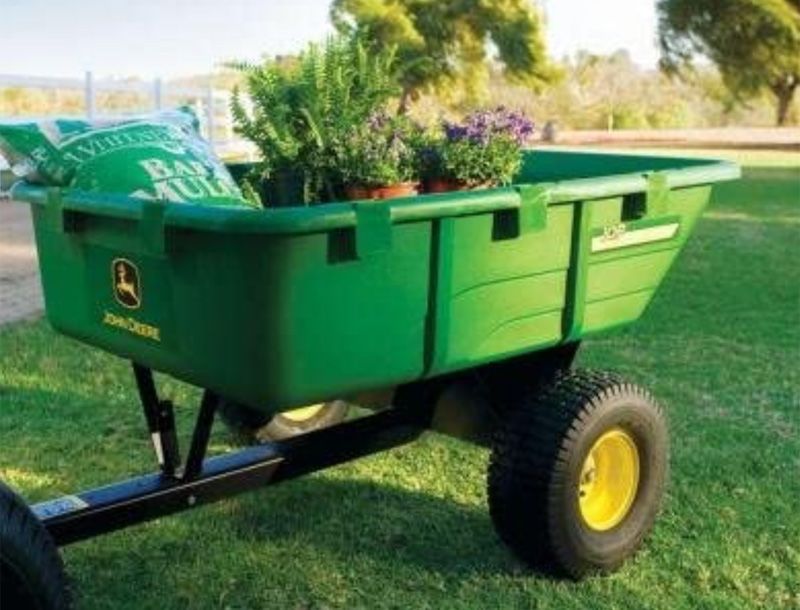 The John Deere E140 has a number of utility cart options, including the 7P Poly – LP21935, The 8Y Convertible Poly – LP22755, the 10P Poly – LPPCT10JD, the 13 Steel – LPHDC13JD and the 16YS Swivel Poly – LP68186. Available online or at dealers, these make yard work all the easier.
The John Deere 650-pound, 10-cubic foot tow-behind poly utility cart features a powder coated steel tow bar and sub-frame with thick, compression-molded polypropylene bed. The universal hitch is compatible with most lawn and garden tractors, as well as ATVs and UTVs and has turf tread pneumatic tires, as well as a 56-degree dump angle with foot pedal release. Whether you'll be needing the cart for fertilizer, flowers or a watering jug, this makes for a great John Deere E140 attachment.
Shop For a Utility Cart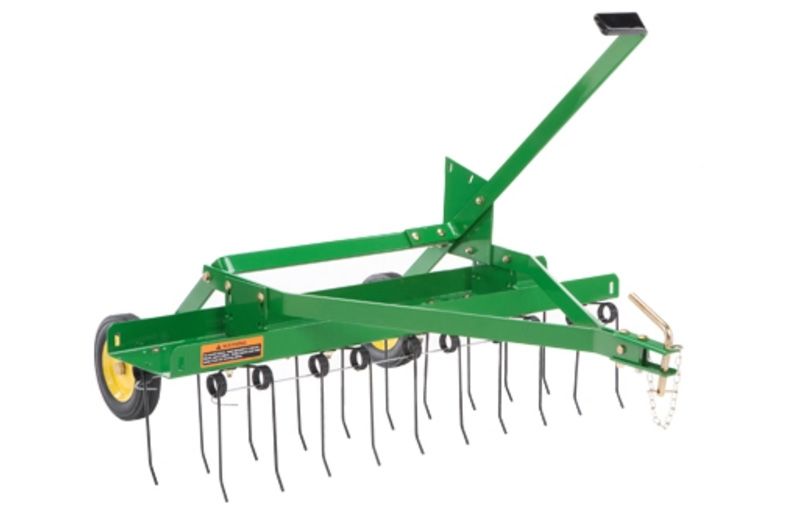 Another worthwhile accessory for the E140 is the tow-behind Thatcherator (#LPTA40JD), which can be used as both a dethatcher and aerator, as well as to prepare an area for seed. Measuring 40 inches wide, the Thatcherator features 20 spring-loaded tines, three-position adjustment, and 100-pound capacity weight tray for increased scratching power.
Shop For a Thatcherator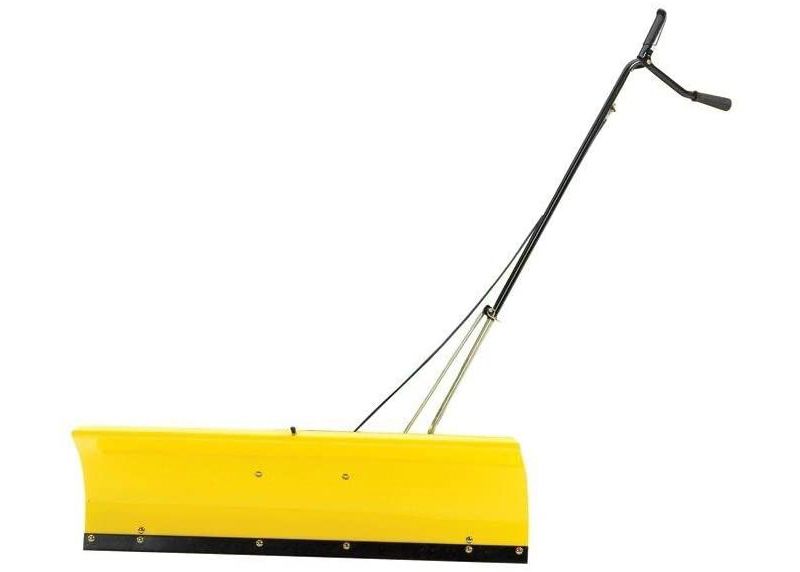 One particular value to lawn tractors in general is their ability to be used for multiple purposes, and in addition to pulling carts, the John Deere E140 also makes for a year-round unit in terms of snow removal. Weather enclosure attachments and tire-chains are also available with this model, including the 44-inch snow blower, 46-inch front blade, TerraGrip traction belts and weights. And that's just another reason lawn tractor owners are always popular amongst their snow-bound neighbors in winter months, with a hot cup of cocoa in their cup holder, they can help unblock neighbors' driveways while pulling carts full of supplies.
Buy a John Deere Plow Blade
With a basic list price of $2,099, the John Deere E140 can be purchased online or at dealers, with financing plans available as well as add-on options.
John Deere E140 Maintenance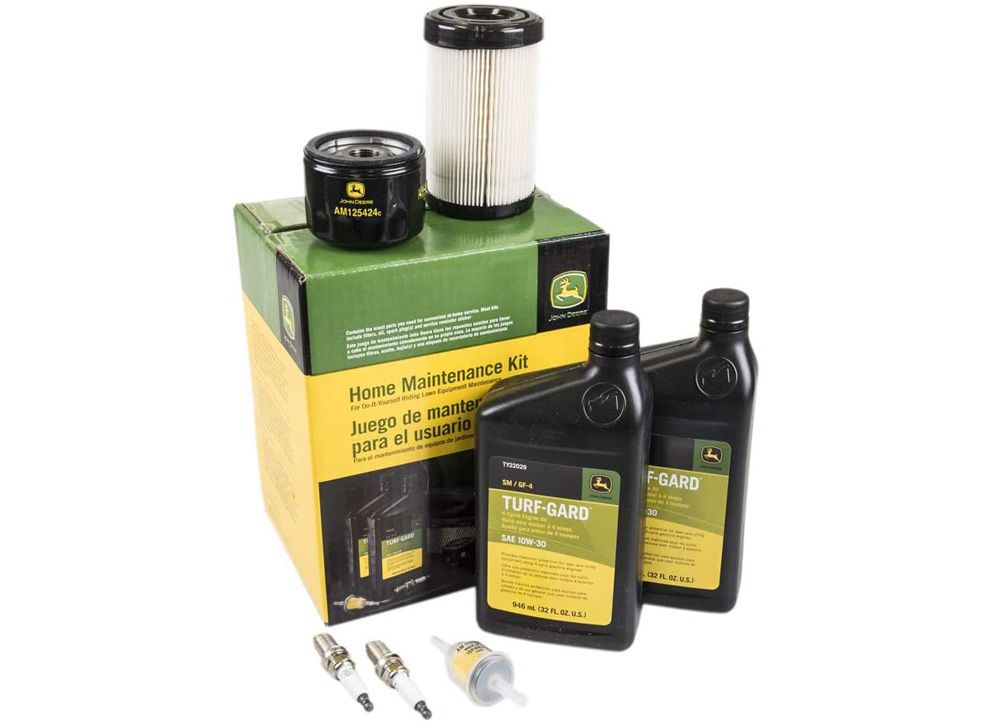 Owning a tractor means keeping on top of regular maintenance. While some jobs require a trip to your local dealer, you can certainly do some basic maintenance by yourself.
John Deere sells a Home Maintenance Kit for the E140 (and many other tractors). The kit you need for the E140 is #LG275 and it comes with an oil filter, fuel filter, air filter/cartridge, two spark plugs, change oil sticker, and two quarts of 10W30 engine oil. You can pick up a kit for $42.
Buy Now
We are committed to finding, researching, and recommending the best products. We earn commissions from purchases you make using the retail links in our product reviews. Learn more about how this works.