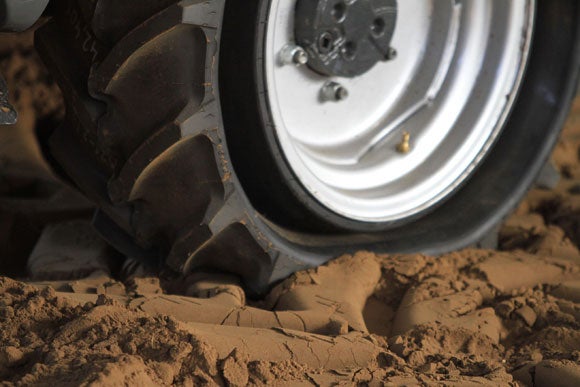 Mitas' PneuTrac tire concept will be on display at the 2014 Farm Progress Show, which takes place August 26-28 in Boone, Iowa.
Mitas will display PneuTrac mounted on a 38-inch rim at booth 16S for the first time ever in the United States.
"PneuTrac brings together the best of both worlds in traditional pneumatic tires and rubber tracks," Mitas says in a release.
Mitas says it is testing the PneuTrac concept on an 18-inch rim and has already started the first tests on a larger 38-inch rim tire.
"PneuTrac raised huge interest among farmers and machinery manufacturers after being displayed in Europe. We are determined to bring the concept into commercial production to meet their expectations," says Andrew Mabin, Mitas' sales and marketing director. "We still have some ways to go, but we knew that such an innovation, which is unique in the tire industry, needs time for development, testing and monitoring before being made available for sale to worldwide markets."