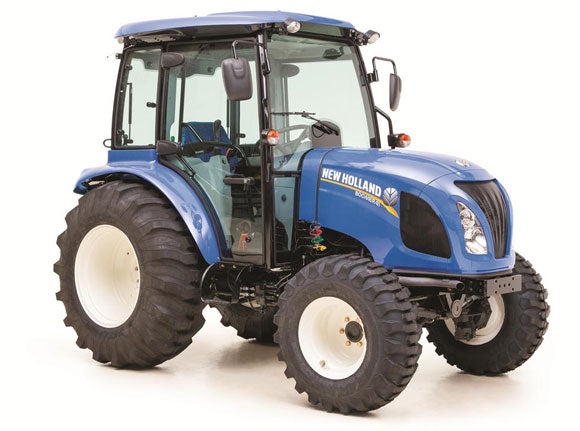 New Holland's Boomer 37/41/47 compact tractors are now available with a factory-installed cab.
"Whether you load mulch, mow the lawn, move snow, or do farm chores, New Holland's Boomer tractors have set the standard for efficiency, convenience, and ease of operation. Now, operators can work even more productively with the year-round comfort and protection of a cab," says Todd DeBock, Pro Work Tools Market Segment Leader.
New Holland boasts the climate-controlled cab provides heat for cold-weather comfort and air-conditioning when operating in hot, humid weather. Side and rear-opening windows provide natural ventilation in less harsh climates.
The cab features an adjustable cloth seat with fore/aft movement and adjustable arm rests. Controls are located on the right fender.
Boomer tractors are available with the choice of a three-range hydrostatic transmission or a synchronized shuttle shift.
Boomer tractors are powered by Tier 4B compliant engines. "Not only do these new engines comply with stringent Tier 4B emissions standards for decreased greenhouse gases and hydrocarbon pollution, they also operate more efficiently," New Holland says in a release.
The New Holland emissions treatment system uses a combination of internal Exhaust Gas Recirculation (EGR) to control Nitrogen Oxides (NOx) and a Diesel Oxidation Catalyst (DOC) with a Diesel Particulate Filter (DPF).