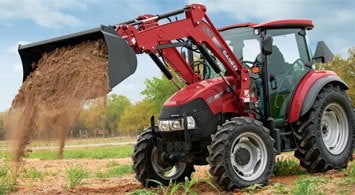 Just the name—Case IH, with the IH standing for International Harvester—conjures up images of farm machinery royalty along with a storied history that can be traced back to the invention of the mechanical reaper. Then Cyrus Hall McCormick's invention allowed a single operator to cut 10 acres in a single day—a task that up until then took as many as five men—and led to the setting up of manufacturing at the McCormick Harvesting Machine Co in Chicago, Ill.

At almost the same time Jerome Increase Case opens the Racine Threshing Machine Works and the two businesses nearly come together when the McCormick factory is destroyed in the Chicago Fire of 1871. Case offers to build machinery for McCormick but McCormick refuses and rebuilds with a bigger, more modern factory. 114 years would elapse before the two businesses would finally come together and along the way, a long list of innovations would be pioneered, including the first Power Take Off (PTO) which is used by every manufacturer today, Axial-flow rotary harvesting which improves threshing and grain quality, all the way to today's Advanced Farming System (AFS) which allows farmers to monitor yields using satellite technology. Since 1999 Case IH has been part of Case New Holland (CNH).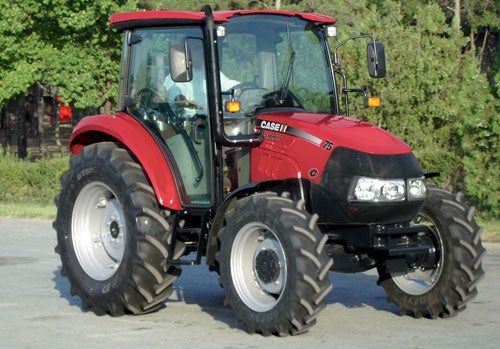 With that storied history in mind, we had a hard time containing our enthusiasm when the opportunity to put a 75C Cab tractor through its paces came up. The C Series of Farmall tractors consists of three machines that have been designed around input from customers and operators in the field. Ranging from 74 to 94 gross horsepower, the C Series delivers that power via four transmission choices: 8 x 8 mechanical shuttle, 8 x 8 hydraulic shuttle, 12 x 12 mechanical shuttle, and a 12 x 12 hydraulic shuttle. Our test tractor came with a turbocharged 3.2L (195 c.i.) 4-cylinder diesel engine rated to deliver 65 horsepower at the PTO and was equipped with the optional 12 x 12 hydraulic shuttle transmission that also comes with a creeper gear (more about this later). The PTO is fully independent and delivers rated power at 2,160 rpm. Our test tractor also came with the 540e (economy) option, which delivers a slightly muted power level at a fuel sipping 1,600 rpm.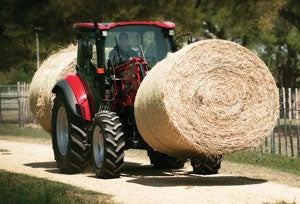 The Farmall 75C hydraulic system features separate hydraulic reservoirs that send 7.3 gpm to the steering and 12.5 gpm to the implement. This gives the 75C a rated 3,664 three point hitch (3PH) lift capacity at the industry standard 24" behind the link arms, which have easy outside adjustment and are telescopic. Options include up to three remotes.
Our test tractor was equipped with the L620 Loader and 72" bucket. It also came with the mechanical self-leveling option. With a lift height of 128" and a rated lift capacity of 2,356 lbs, this is a ready-to-get-some-work-done combination that is well matched to the 75C. We found the hydraulics responsive and well-modulated.
The cab on the 75C is as good as any in the business. Fit quality is first rate, noise suppression is good, and visibility through the tinted glass that is everywhere, including the forward portion of the roof, is top notch. The mechanical suspension cloth operator's seat was comfortable (an air suspension seat is available), the suspended pedals were right where you thought they should be, and the controls well marked and ergonomically placed. The instrumentation is analog: warning lights for air cleaner service, alternator, oil pressure, fuel sediment/water sensor, PTO engagement, head lamp high beam, low fuel, and parking brake; and gauges for fuel level, engine temp, tachometer and hour meter. All are of a style that contrasts nicely and is quite readable even in bright sunlight. Heat and air conditioning are standard and the vents well integrated into the console. Other standard features are: retractable sunscreen, front wiper and washer, dual locking doors, dual exterior mirrors, and side windows that open and a hinged rear window that fully opens. The steering wheel is adjustable and tilts.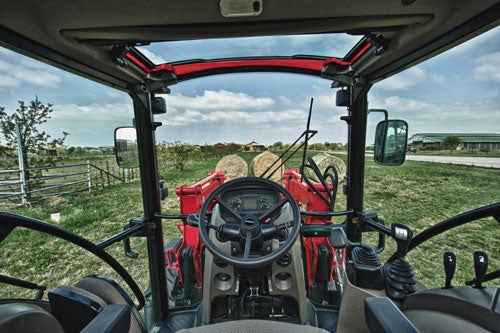 As mentioned earlier, our tractor was equipped with the optional creeper package, which provides eight additional gears (20 x 20) and gives an extra degree of control even in the toughest of conditions. The tires were 11.2R24 front and 16.9R30 rear (all R1W Ag) and can be reversed to adjust the track width from 60.8" to 76.6".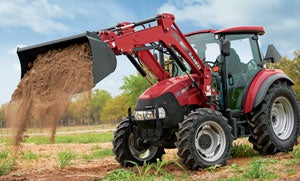 Outside the cab, we noted serviceability had certainly been designed into the C Series. Fluid check and fill points were all clearly marked and easy to get at, and filters and screens were the same. Options our test tractor didn't have that we might have circled on the order list weren't many, but might include external rear mechanical 3PH control and the abovementioned air ride seat. You get the idea. We liked this tractor just as it came.
At the end of the day we sadly parted company with the Farmall 75C, thanking Case IH for allowing us get acquainted and all agreeing that we were looking forward to checking out more products from the Case IH lineup in the near future.
Related Reading
2011 Case IH Overview
2012 Mahindra 5010 HST Cab Review
2010 New Holland Boomer 8N Review