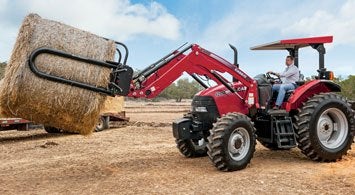 The first Farmall tractor was introduced in 1923. Though the Farmall wasn't the first tractor to be used on a farm, it was the first tractor capable of doing every job around the farm. Fast forward to today, and the new Farmall 100A Series continues that proud tradition.

The 100A Series Utility Tractor lineup is compromised of four models over two frame sizes. The Farmall 110A and 120A ride on 99.2" wheelbases and in 4WD open station configuration measure 161.4" long and 117.5" to the top of the foldable rollover protection system (ROPS) hoop. The 125A and 140A models complete the lineup and are slightly larger with six-cylinder powerplants.
COMPARE: Read our Case IH Farmall 75C review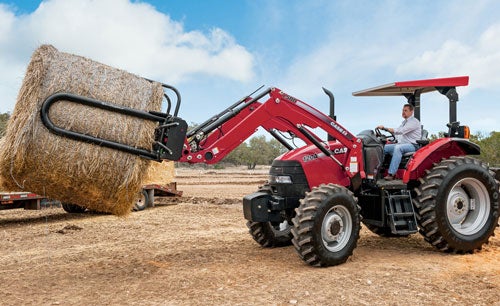 The subject of this week's review, the 120A, is powered by a Case FPT four-cylinder liquid-cooled turbodiesel that uses mechanical direct injection to output 118 gross horsepower at 2,200 RPM and 96 horsepower at the PTO. The 4.5L FPT mill is a "stroker" design with the cylinder bore smaller than the stroke (4.095" x 5.2") and two-valves/cylinder. EPA Tier III emissions requirements are met without the need for Selective Catalytic Reduction (SCR), Diesel Oxidation Catalyst (DOC), Exhaust Gas Recirculation (EGR) or a Diesel Particulate Filter (DPF). In 2014 Case IH tractors will get SCR-only technology to meet Tier IV mandates. Case IH SCR-only technology has already been incorporated in its high horsepower tractors and operates outside the engine as opposed to EGR or a hybrid system that combines both EGR and SCR, either of which directly impacts engine design and performance. Operating outside the engine achieves Tier IV requirements without compromising power.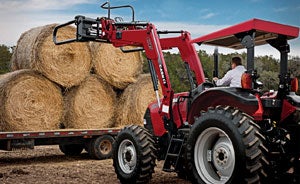 Output from the FPT is directed to an 8F/8R Power Shuttle transmission (an 8F/8R Synchro Shuttle will save you $1,796 and a 16F/8R Power Shuttle is a $1,801 option). With the standard Power Shuttle, clutchless changes in direction are as simple as the flick of the left side turn signal-like stalk. The optional 16F/8R transmission comes with hi-low gear selection in every range. Either Power Shuttle transmission will be ideal for loader work. Want the economy of a Synchro Shuttle transmission? It too will work fine, just be prepared to use the clutch pedal more frequently. Standard is a 30 kph (19 mph) transport speed. If more speed to transport from job to job is desired, a 40 kph (25 mph option is available, though you'll also need to check off the 4WD option on the order sheet. A 10:1 creeper option is another option and if desired, will set you back $2,228.
COMPETITION: Read our Massey Ferguson 4608 review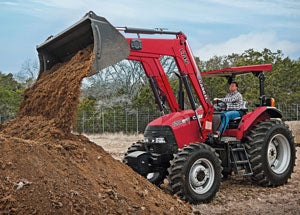 Hydraulics run through an open center fixed displacement pump flowing 31 gpm with 9 gpm going to power steering needs and 22 gpm available for implement requirements. With that much flow it's not surprising the Cat II 3PH with external hydraulic cylinders is rated to lift 7,200 lbs at the industry standard 24" (a reduced 5,400 lb lift option is available). An option a perspective purchaser most likely will check off is the loader valve and joystick. It will set you back $3,400, but we can tell you it is seamlessly incorporated and works quite nicely. When it comes time to change hydraulic fluid, though, don't be surprised when it takes almost 17 gallons. The 3PH lower link arms telescope for ease of attachment as do the stabilizers. Position and draft control are standard – the former so an implement can be returned to the exact user-selected position each and every time and the latter to control the load the implement puts on the tractor. Two remotes are standard, but the system can support up to four.
At the rear, the fully independent PTO is two-speed switchable and runs at either 540 or 1000 rpm. The drawbar is Cat II that swings and is extendable depending on the pull implement requirements.
The single loader available is the L745, which comes in non-self-leveling and mechanical self-leveling flavors, can lift 4,321 lbs to a max height of 146.8". Dump clearance is a lofty 109", so a 120A/L745 combo will clear just about any trailer or truck used on the farm or job site. Dig depth is 5.9" and breakout force is 5,335 lbs. With 22 gpm flowing, response is excellent. We measured no-load raise at 2.6 seconds, no-load lower at 1.9 seconds, and full dump and curl both at 2.1 seconds. Accordingly, Case IH recommends 1,697 lbs of rear ballast. Parking stands are standard and a bucket level indicator is built in. As well, the lock-n-go automatic couplers are sure to save hydraulic fluid over time. A variety of buckets, bale forks, spears, pallet forks and grapple buckets are also available.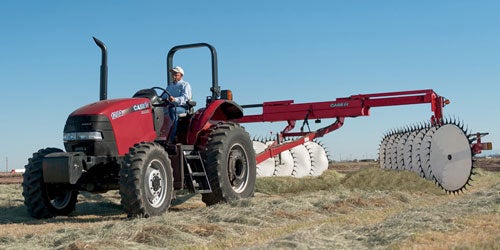 Climb up the left side steps (right side steps are optional) and the operator is treated to a spacious platform that includes a flat floor, comfortable suspension seat (an air ride seat is optional) with armrests, ergonomically positioned color-coded levers and controls, and an automotive-style backlit dash. Foot pedals are suspended with the clutch on the left, the split brakes in the middle and the foot throttle on the right (a traditional hand throttle is located on the dash). It's the kind of cockpit you won't mind spending long hours in.
COMPETITION: Read our John Deere 6125R review
The 120A standard ride is on 18.4 x 34 8PR Firestone R1 (Ag) tires rear and 14.9-24 6PR Firestone R1 tires in the front. Other tire options are numerous and include duals.
With a base MSRP of $57,355 (4WD open station), the 120A will appeal to the price-conscious buyer who is looking for a capable 8,818 lb., 118 hp performer. If you're in the market for a machine of this size and class, check out the 120A before 2014 when the added cost and complexity of Tier IV emissions controls becomes a factor to consider.