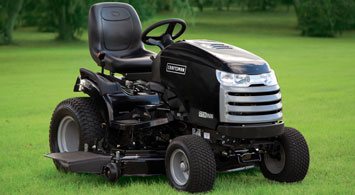 Sears' Craftsman brand has unveiled a new CTX lawn tractor in an unlikely, yet unique, location; the North American International Auto Show in Detroit, Mich. The display, set up in the lobby of Cobo Hall in downtown Detroit, features the latest versions of the long-running CTX series – the CTX9000 and CTX9500.
So while the location of this new tractor reveal is unusual the reasoning, says Craftsman, is not.
"We are launching this new line of Craftsman tractors because homeowners with larger lawns and more rugged terrains want a durable, high-performance tractor mower to help them maintain a beautiful lawn," says Kris Malkoski, vice president and general manager of the Craftsman brand. "Because Detroit has given us great performing cars with best-in-class features, we think it is logical to bring a tractor to the Auto Show that does the same." These new CTX tractors will all feature upgrades over the previous generation, including new implements.
So, looking at the display in Cobo Hall (and the literature) it's good to see that Craftsman began the update process with what should always be first – the all important frame. Specifically the company points out that the new one-piece frame uses welds for maximum strength and a cast-iron front axle. These features will be the base for each new CTX tractor whether you choose the 42, 46, 52 or 54-inch body.
Also improved for this generation is the versatility and simplicity of the single most important feature on a Garden Tractor – the mower.  A new quick deck removal system is designed to make it simple to convert this grass cutter to straight tractor duties around the yard quickly. However the greatest benefit will probably be realized by the owner when performing regular maintenance like cleaning or blade sharpening.
In addition, attachments that can transform the tractor into a hauler, aerator, dethatcher, cultivator, sweeper or snow plow will also gain a key advantage with the new quick deck removal system.
A new electronic height adjustment feature is also featured on the updated CTX. This should give owners a quick and accurate reading when choosing the height of cut on their lawn – as well as much more efficient positioning for any and all belly mounted attachments – all with the simple push of a button.
Of course cutting is also a function of proper traction and to that end Craftsman has installed a unique automatic traction control system that drives both rear wheels independently. This means that if one wheel begins to slip (specifically on a wet, steep incline) the other wheel maintains forward motion and prevents the tractor from cutting into the lawn. Craftsman says this is its version of "off-roading" with the CTX.
Engine horsepower in the CTX tractors continues to be more than adequate, however to increase ease of starting and maximize peak engine performance Craftsman has added a new electronic fuel management system that mimics the ease of starting associated with automobiles. This technology is designed to improve ease of use and long-term reliability, specifically because it does away with the carburetor in favor of a closed (computer metered) fuel injection system.
Also new this year is an operator comfort package that includes cruise control, full instrumentation with color-coded controls, soft grip tilted steering wheel and on the higher-end CTX models power steering has also been added along with an onboard 12-Volt DC adapter. We here at Tractor.com expect to fully "lawn-test" the new CTX a little later in the year. Watch for the review.
Available Models:
 CTX-9000 Series: #25004 (42-inch Yard Tractor) and #25005 (46-inch Yard Tractor)
 CTX-9500 Series: #25006 (52-inch Garden Tractor and #25007 (54-inch Garden Tractor)
Specifications:
* 22 – 30 horsepower Briggs & Stratton engine with Electronic Fuel Management ( specifics vary by model)
* Eight MPH forward speed and Three MPH reverse speed is standard for optimal cutting and getting the job done quicker
* New CTX has an 18-inch turning radius for greater maneuverability
* 42 – 54-inch decks all with electric height adjustment
* MSRP between $2,999.99 – $6,499.99
* Availability: Coming in February 2012  to Sears stores nationwide