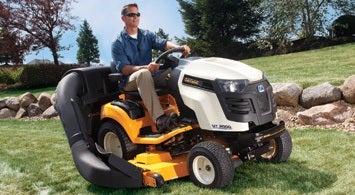 So you're in the market for a heavy duty garden tractor. Have you looked at Cub Cadet lately? We thought it was time we did and were excited to get behind the wheel of its latest top dog offering.

Cub Cadet production began in 1960 at the International Harvester Kentucky facility where tractors—some such as the International Cub and Cub Low-Boy which garner a cult-like following even to this day—were also made. With the advent of the big box store and their marketing of cheaper models, the higher-end Cub struggled. In 1981, MTD purchased Cub Cadet, and for a time ran it as an independent subsidiary, but over time merged the brand into its corporate umbrella where a commonality of parts could be shared with the YardMachines, YardMan, White Outdoor, Bolens and Troy-Bilt product lines.
Fast forward to today. Cub Cadet tractor sales are split between two series: Series 1000 lawn tractors and Series 2000 garden tractors. Our interest was in the garden tractor lineup, so we visited our local dealer and were promptly led to a shiny yellow, white and black GTX 2100. All we could say was sweeeeet!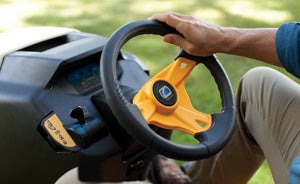 The GTX 2100 is powered by a 23 HP Kohler Command OHV V-Twin engine. This is a commercial gem powerplant that has a full pressure automotive-style oiling system with a spin-on filter. Power from the engine is transferred to the hydrostatic transmission via a direct drive shaft. This translates into efficient power transfer with no belts to slip or break. Control over the hydrostat is by a twin side-by-side pedal system that many prefer over the treadle pedal used by some competitors.
The operator's platform is a modern uncluttered design that has undoubtedly been influenced by the automotive industry. The steering wheel is a thick overmolded assembly that just plain feels good in your hands. That it tilts and steers the front wheels via an effortless electronic power steering system is an added plus. The GTX 2100 comes with a high-back adjustable seat with armrests and clearly marked controls for the Power Take Off (PTO), throttle, cruise control, parking brake and halogen lights.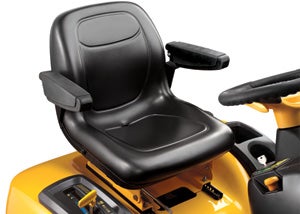 Our test tractor came with a 3-blade 54" stamped mowing deck. We're a little skeptical of the SmartJet deck wash system, but the dealer told us that it does work and that he has yet to see a deck rust out from its use. The V-Twin powerplant is a good match for the 54" deck and powered through 6" grass without strain. 42", 48" and 50" decks are also available, and for the bush hog challenged operators out there, a fabricated commercial design deck is available as an option. The GTX 2100 also comes with electric lift on the mower deck which makes selecting the 1.5" to 4" cut height preference a simple flick of a switch.
And while the competition has gone to cast aluminum transmissions, and in some cases front axles, the GTX 2100 comes with heavy duty cast iron drive train that is sure to lead to many trouble-free years of use. Combine that with fully welded steel frame, what more could you want? That was the question asked of us by the dealer we visited, before he let on that for 2012 Cub is also offering its GTX 2154LE Special Edition tractor that will add niceties such as two-tone hood with colors and scheme that are a throwback to original Cub designs, LED headlights, HD brush guard, and an electric lift for implements such as a snowblower or a plow.
With a 4 year/400 hour and 5 year/500 hour limited warranty, it wouldn't be difficult to find a place for a GTX 2100 (or 2154LE) in our garage. You might think so too.
Related Reading
2011 Cub Cadet Yanmar Ex3200 TLB Review
2012 Kubota BX 1860 Review
2011 John Deere Select Series X500 Review