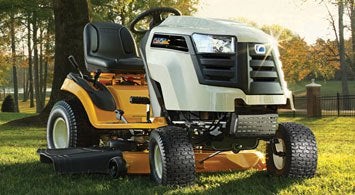 Last fall we had the pleasure of getting acquainted with Cub Cadet's 2000 Series in the guise of its GTX 2100 and when the opportunity to test a little brother arose, off we were to our favorite Cub with smiles on our faces.

The Cub Cadet 1000 Series lineup consists of twelve tractors ranging from 18 to 27 horsepower and with mower sizes ranging from 2-blade 42" to 3-blade 54" decks. If that isn't enough to keep your head swimming, you also get to pick from Kohler or Kawasaki powerplants. Tough choices all, but we settled on the LTX 1046 KW which comes with a 21.5 horsepower Kawasaki V-twin and 2-blade 46" mowing deck Cub rates for use on up to 3 acres. The Kawasaki powerplant has a professional-grade designation and is an easy starting, smooth running gem of an engine. With overhead valves (OHV), cast iron cylinder sleeves, and full-pressure lubrication, this is a unit designed for long life.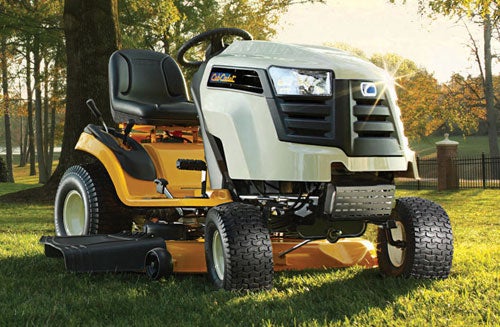 The transmission in the LTX 1046 is a tried and proven TuffTorq sealed unit that is mated to an easy-to-use twin pedal system. Offering unlimited control over the 0-5.2 mph forward and 0-2.3 mph reverse ground speed, the LTX 1046 comes with standard cruise control and is driven by belt (you have to step up to the 2000 series to get shaft drive).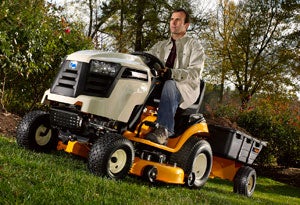 We found the operator's platform roomy with well marked controls. On the left fenderwell, which is made from steel and includes a grab rail, is a storage bin; on the right, also with a grab rail, a cup holder right and the deck lift lever. A cargo net is positioned below the instrument panel, which includes ignition switch, electric PTO knob, throttle, electronic system monitor, brake and cruise control. The LTX 1046 seat is a high-back design with 12 selectable positions and 6" of travel that we have no doubt will yield hours of comfortable use. The steering, though manual, was quite effortless (more on this later).
The owner's manual is detailed and begins with the requisite six pages of warning and safety materials. And as all of the manufacturers are pushed by lawsuits and governmental mandated regulations to provide the safest machines possible, Cub has chosen a reverse mowing safety system that we applaud. Rather than have you press a button to mow in reverse each time you need to back up, Cub has a two-position key switch that makes more sense. To start the tractor, the key switch is turned to the right and then settles into a detent just to the left that gets a green designation. To engage what Cub calls their RevTEK Reverse Mowing system, the operator turns the key one position left of the green to a yellow area then presses an orange triangular button. The RevTEK remains engaged until the PTO is turned off or the operator leaves his or her seat. Nice. Cub rates the LTX 1046 safe to mow on slopes up to 15 degrees and even includes an easy-to-use gauge to quantify the safe range.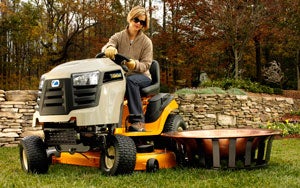 Headlamps are standard and turn on and off with the key switch. The hood and grill are made of an almost indestructible ABS material that is resistant to chemicals and scratches. The LTX 1046 comes with a 3.3 gallon gas tank with a visible level indicator.
Under the operator's platform and tying engine, transmission, and front axle (heavy duty cast iron) together is a robotically welded nine-gauge steel frame. 3/4" greaseable front spindles with automotive-style ball joints yield a super sharp 12" turning radius which we found could be turned more aggressively than needed—especially in wet, soft conditions—and would caution potential owners to take it easy. Their lawns will thank them for it. Cub Cadet outfitted the LTX 1046 with 15 x 6 front and 20 x 8 rear turf tires.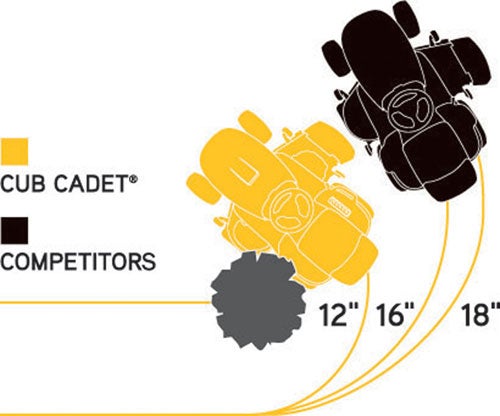 When it comes time to mow, and that is what most owners will spend most of their time doing, the LTX 1046 46" Signature Cut deck is up to the challenge. An easy-to-use deck lift system gives the operator full control over cut height and is adjustable in 12 positions from 1.5" to 4". The 46" deck also comes with Cub's SmartJet deck wash system. We've never been fans of adding water to metallic components, but have yet to hear of a deck rusting out from an owner using a deck wash system. Still, if this was in our garage, we might opt for removing the deck periodically and accomplishing the cleaning the good old fashioned way. The deck is a quick attach design, though there is a belt guard that requires a wrench to remove. We'll call it almost quick attach.
The LTX 1046 weighs 513 lbs. including the deck and has a 47.5" wheelbase and a 69" overall length. Cub stands behind the LTX 1046 with a 3-year/120-hour warranty and extends coverage to the driveline with a 5 year/500 hr limited warranty. With a MSRP of $2199 and a current sale price of $1999, the LTX 1046 might just be that tractor you have been looking for.
Related Reading
2012 Cub Cadet GTX 2100 Review
2012 Craftsman CTX9000 and CTX9500 Preview [Video]
2011 John Deere D170 Review
2012 Kubota BX 1860 Review
2011 Simplicity Broadmoor 20/52 Review