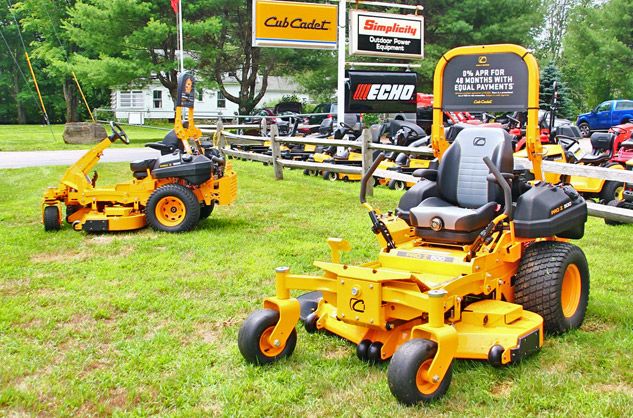 For a landscaper, municipal mower, or homeowner with acreage, the Cub Cadet Pro Z 500 series zero-turn mower is well-worth checking out.
Cub Cadet is a respected name, established in 1960 as part of International Harvester to address the need for a line of small, heavy-duty tractors. The dependability of these early machines are legendary, with Cub Cadet Cub, Lo-Boy, and Original tractors using the time tested belt drive from flywheel to shaft to three-speed transmissions still winning tractor pulls around the globe. Cub Cadet was acquired by MTD in 1981 and hasn't varied the recipe of manufacturing quality products made-in-America.
Cub Cadet entered the Professional, or Commercial, Zero-Turn market in late 2016 after a development process that involved 28 dealers, 100 landscapers, and thousands of hours of testing. The resultant four-model series from this development process ranges from 23.5 – 35 horsepower, 35 – 56 lb-ft of torque, and carries MSRP sticker pricing from $6,599 to $12,999. Ho-hum, did the marketplace really need another zero-turn? Many Cub Cadet dealers didn't think so. So, when Tractor.com received an invite from the good folks at the Brentwood Power Equipment Center in Brentwood, NH to test Z 500 models and find out what those dealers were missing, we jumped at the opportunity. But first some technical details.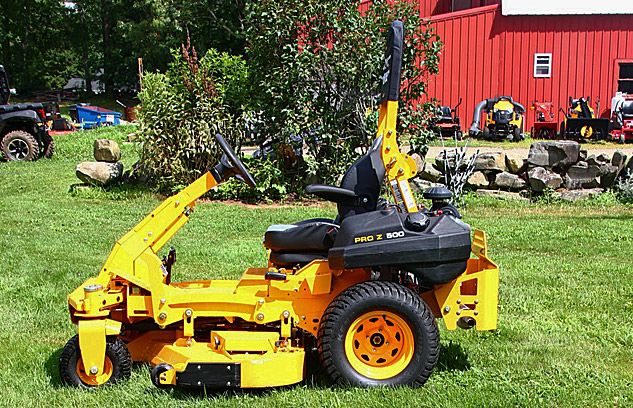 Cub Cadet Pro Z 500 models in the series hierarchy fit above the Pro Z100 models and just below the Pro Z 700 and Pro Z 900 models. Powered by Kawasaki FX730v (726cc / 23.5hp / 48" deck) or FX850v (852cc / 27hp / 54" or 60" decks) engines, and with 14.9 gallons of onboard fuel (twin 7.45-gallon tanks), you know these machines have the innards to do some serious work. Our test models came with FX850v engines making 27 horsepower and 44.6 lb-ft of torque.
Supporting those heavy-duty innards is a heavy-duty welded 3/8" x 5" full-length all-steel frame with a 2" x 3" pivoting front axle that has 4-1/2" of travel (2-1/4" each side) to maximize ground contact and minimize turf scalping. Further aiding operator comfort is an optional isolation-dampening system (standard on Pro Z 700 and 900 models). Tie-down slots are integrated into the frame. The rear bumper is 5/16" steel, comes standard with a trailer hitch, and is predrilled for an impressive lineup of optional attachments.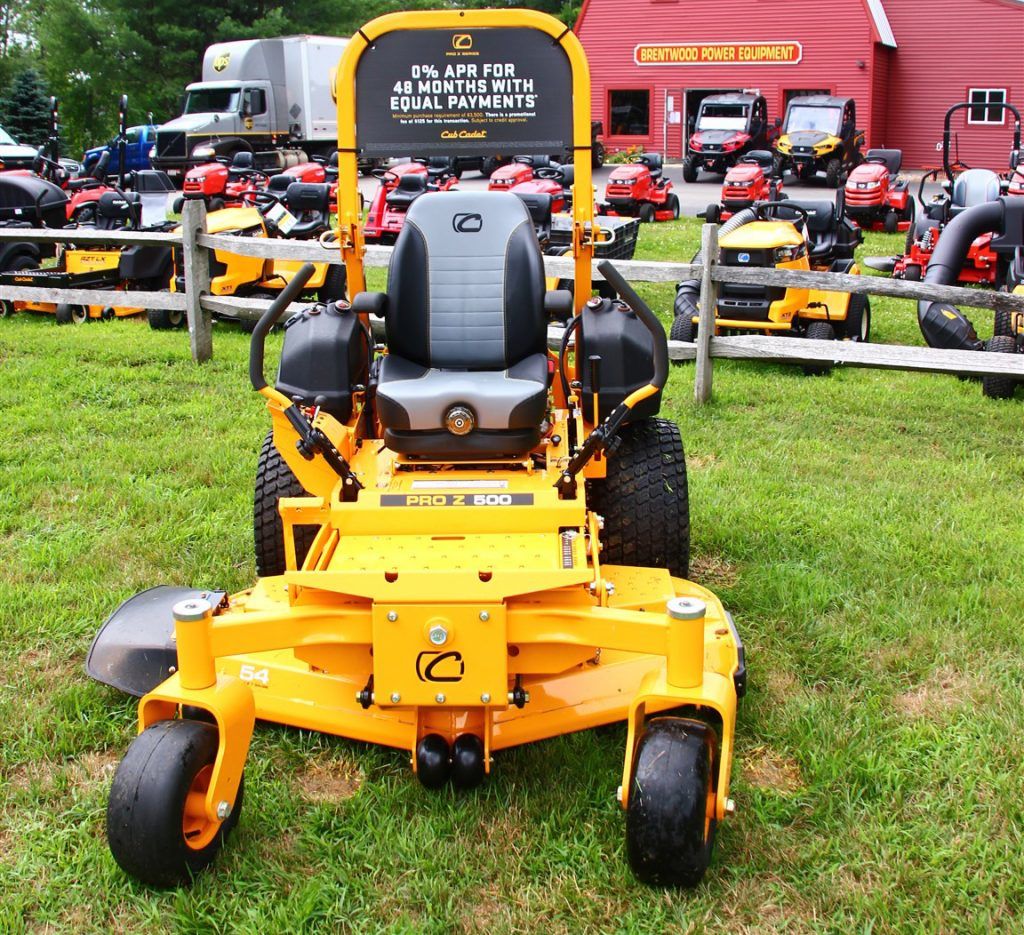 One look at the ½" thick front yokes with sealed ball bearings, 5" steel hubs, and smooth 13" x 6.5"-6 or turf 15" x 6"-6 front tires, and any seasoned zero-turn operator will recognize the extent Cub Cadet has gone to ensure long, trouble-free hours in the toughest of conditions. And to protect against the elements, everything gets an automotive-grade e-coating prior to powder coat – yellow of course.
Drive power to the ground comes from a 12cc Parker HTJ transmission with self-contained pump and wheel motor that allows ground speeds of up to 10 mph forward and 5 mph reverse. Every zero-turn operator knows potential ground speed is one thing, but what can actually be accomplished on surfaces more realistically less-smooth than soccer fields is another. This is where the extra-thick bolstered seat that is adjustable for operator weight comes into play. That said, serious operators will probably want the optional Pro Z Air-Ride seat (standard on Pro Z 900 models). With air-ride control (fingertip control to onboard air compressor) EVC cushioning for vibration control, isolation dampening under the seat, angle adjustment, padded armrests, and lumbar support, high-speed mowing is truly possible.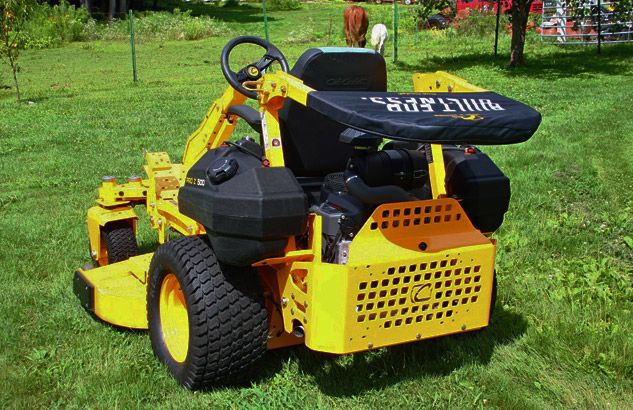 Cub Cadet Pro Z 500 tractors can be outfitted with triple 7-gauge decks in 48", 54", and 60" widths. These are some of the thickest, strongest decks in the industry with ¼" rolled leading edge, 5/16" side reinforcements, a ¾" wear guard, maintenance-free spindle assembly, flexible discharge chute, high-lift Marbain blades (up to 18,500 fpm), 3" total blade overlap, and optional rear striping roller (standard on Z 700 and Z 900 models). So heavy-duty are these decks that they come with a five-year warranty (three-year unit unlimited hours/five-year deck up to 1,750 hours).
We were fortunate to be able to test two Z 500 models side-by-side. One was a lap bar Z 500 and the other a steering wheel-controlled Z 500 model. First, the lap bar Z 500 which was outfitted with a 54" deck. Firing up the FX850v, we measured a quiet 82 dBA idle from the operator seat, increasing to 94 dBA at PTO rpm. Modulation over the speed range and directional control was excellent, with one hand fingertip operation possible for those so inclined. Seesawing the lap bars in opposite directions – something seasoned operators avoid due to turf damage – barely left evidence of heavy-handed operation. And the pivoting front axle worked like a dream on uneven terrain and on a drainage ditch we traversed.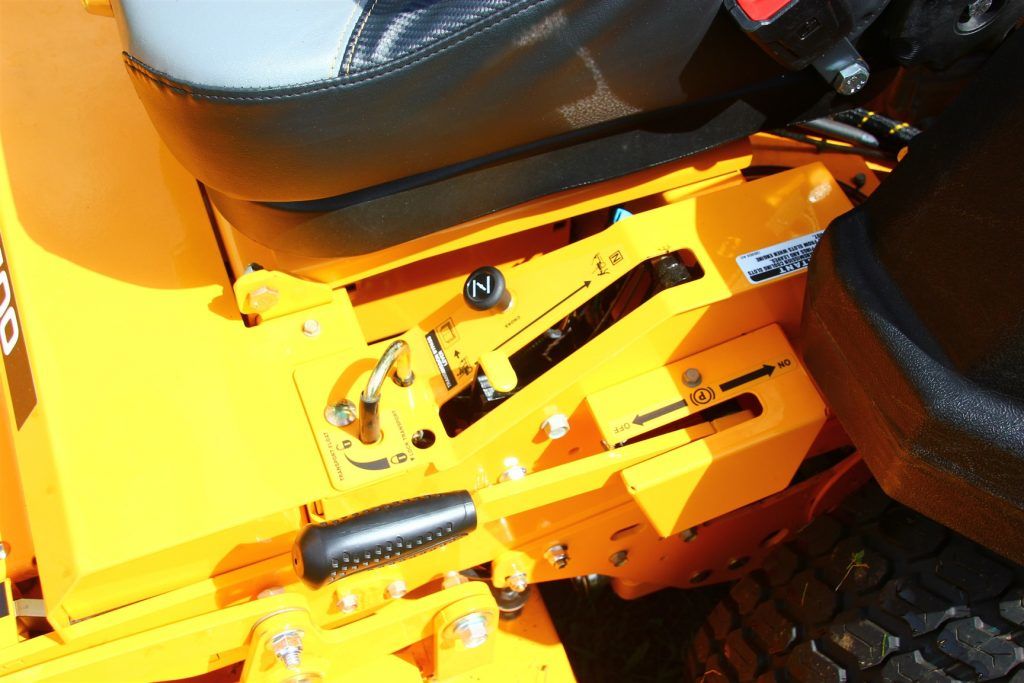 Steering wheel control might be something an experienced operator will sneer at, but the system employed on the Cub Cadet Pro Z series is something every zero-turn operator should at least try. It's that good. Tractor.com first experienced the first generation of this system back in 2014 when we tested an RZT 42 with steering wheel control. That model was homeowner oriented, but worked quite well and efficiently. Fast-forward to the Pro Z series and we can say the system has advanced quite impressively. Bringing true four-wheel steering control, Cub Cadet claims an increase of 10% in acres per hour performance. Our steering wheel test rig was outfitted with a 60" deck with which we got silly, turning the wheel all the way to lock at full throttle and with the hydro pedal depressed all the way, spinning the Z 500 like a wind-driven pinwheel. After a dozen turns or so (who's counting) we stopped to inspect the damage. Amazingly, it was almost non-existent. Cub Cadet also claims straight mowing capability on hillside slopes up to 20% grade for steering wheel equipped Pro Z machines.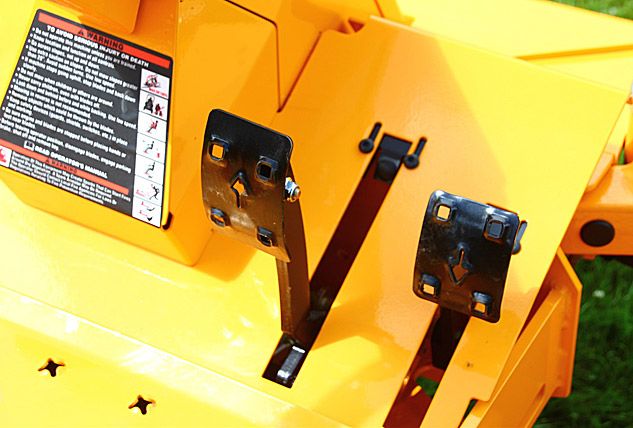 The two test machines we spent time with MSRP for $9,299 and $10,499 (Z 500 lap bar/54" deck and Z 500 steering wheel/60" deck respectively).
For a landscaper, municipal mower, or homeowner with acreage, the Cub Cadet Pro Z series is definitely a welcome addition to a marketplace segment many thought over-saturated and certainly well-worth checking out. And for those in the vicinity of Brentwood, New Hampshire, and considering a zero-turn for the first time all the way to that experienced landscaper ready for an upgrade in equipment, a stop at the Brentwood Power Equipment Center would be the perfect place to start.