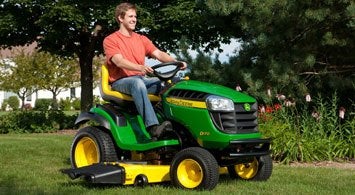 Is a box store John Deere the same as the ones sold at a dealer? For some reason that same question wrapped around an invalid rumor refuses to go away, even though the exact tractors sold at the box stores are sold at John Deere dealers all around the world (more on this later).

The John Deere 100 series, currently sporting a D prefix, is compromised of eight models ranging from 17.5 to 26 horsepower. For our test, we selected the D170 model, which is the top of the line offering in this entry level series. Under the hood, a JD Loy polymer molded unit that won't dent or rust and is impervious to UV light, the D170 is powered by a John Deere spec'd 26 horsepower Briggs & Stratton air cooled V-Twin which is given its ELS designation for Extended Life Service. Briggs & Stratton achieves this extended life through niceties such as cast iron piston sleeves, full pressure lubrication with automotive-style spin on filters, and filters between the gas tank and engine along with a dual-sealed large capacity cartridge air filter.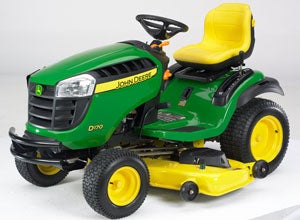 Power from the V-Twin is routed through a Kanzaki TuffTorq K46 hydrostatic transmission that is actuated by Deere's patented two-pedal system. This setup gets a near-universal thumbs up and offers infinite control over forward and reverse ground speeds. It also allows the addition of a cruise control function, which on the D170 is standard. The brake is an internal wet disk unit that provides positive stopping power without the need for adjustment.
The operators' platform is typical Deere, that is to say uncluttered, ergonomic, and with everything color-coded. The high back seat with lumbar support is adjustable and sits on springs, allowing for hours of comfortable operation. We aren't crazy about the visual fuel level indicator used on this series of tractor but it is functional and certainly costs less than an electronic sender and gauge. The single lever throttle combines control over the engine speed and choke, and there is an hour meter that blinks to remind you of service intervals. All John Deere lawn and garden tractors are equipped with reverse implement option (RIO), which requires the operator to press a button on the dash before depressing the reverse pedal while the power take off (PTO) is engaged. Undoubtedly an industry reaction—though implemented differently from manufacturer to manufacturer—to lawsuits over mowing accidents, we'll admit it is a least favorite feature of ours. A cupholder is standard and there is a small glovebox/storage compartment integrated into the fenderwell.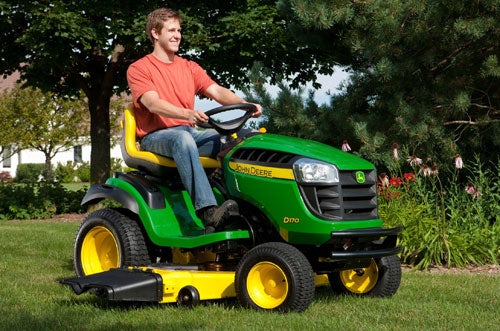 The John Deere D170 comes standard with a 54-inch three-blade mower deck. Given the Edge Cutting System designation by Deere, the deep decks are designed in such a way that the airflow lifts grass for a precise, even cut. Adjustment over the one to four-inch cut height is accomplished by the operator without having to leave their seat and is aided by a spring. And when the job is completed, a washout port is provided for easy clean up.
With the 54-inch deck, the uncut circle left after a 180 degree turn was 18 inches, and we found the steering effort quite acceptable. A cast iron axle with ¾-inch diameter spindles driven by sector and pinion gears surely plays a part, but credit the use of greaseable zerk fittings over the sealed fittings used by many competitors in this price range.
Deere lists 32 tools/implements that work with the D170, even including a soft snow cab and a front snow blower. About the only option for the tractor itself is a dealer-installed 12V outlet for your cell phone or iPod. The D170 has a MSRP of $2,799 and comes with Deere's 30-day return policy. D170's that stay with the homeowner, as we're sure most will, come with a two-year or 120-hour limited warranty.
So, is a box store John Deere the same as the ones sold at a dealer? The answer is yes. If you purchase a 100 series tractor from your local box store, set up and service are done by an authorized dealer. And though the MSRP is the same, the box stores often have incentives where if you use their credit card you can discounts of $100 or more. If you do and are asked if you have a real Deere, answer YES and put an end to this silly controversy.
Related Reading
2011 John Deere Select Series X304 4WS Review
2011 John Deere Select Series X500 Review
2011 John Deere X748 Review
2011 Simplicity Broadmoor 20/52 Review