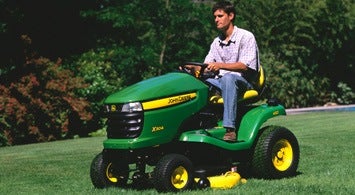 Is mowing around trees taking up precious time, but you're not quite ready or willing to give up a steering wheel for the lever controls of a ZTrak? Maybe it's time to take a look at a four-wheel steer (4WS) tractor. If so, John Deere has just the model for your budget and needs.

Before we get into detail, we'll offer a little product primer for those confused by the Deere numbering system. All tractors beginning with an "X" prefix fall under the "Select Series" designation. Beginning with the X300, X500 and X700, within each of the three ranges are models that offer more bells and whistles as the numbers increase. The X304 is the most inexpensive model that comes with 4WS and for that reason was the tractor we focused on.
Manufactured in Horicon, Ill. at John Deere's state-of-the-art factory, the X304 begins with a heavy-duty robotically welded frame designed to handle a long list of attachments, including two-stage snow blowers, front blades, dethatchers, tow-behind sprayers, aerators, rollers, and broadcast spreaders. Deere even offers a tractor shovel option that, while not a front end loader, will have your wheelbarrow hiding in shame.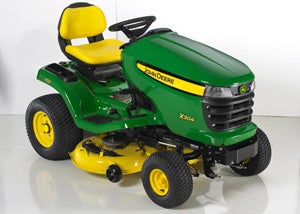 Powered by an 18 hp John Deere iTorque air-cooled V-Twin engine, the X304 puts power to the ground via a Tuff Torq K46 transmission (some early models were equipped with K58 transmissions and if you can find one so equipped, it is a stronger unit; but remember, the X304 isn't a skid-steer nor was it intended to be) that is controlled by a Twin Touch side-by-side pedal arrangement that many feel is the industry standard for comfort. The Kawasaki-sourced powerplant features full pressure lubrication with a spin-on oil filter and is commendably quiet for all it puts out. A 3.3-gal fuel tank provides plenty of runtime supply, though we can't exactly say the V-Twin sips gasoline.
A single 42" Edge 2-blade mowing deck comes with the X304, but is available with a mulch option that does away with the discharge chute, allowing the operator to trim equally as well on either side. Either way, the uncut circle left by the X304, to us the true measurement of maneuverability, comes in at a tiny 16" which in a lot of cases will relegate the weedwacker to the shed for longer periods of time. Nice.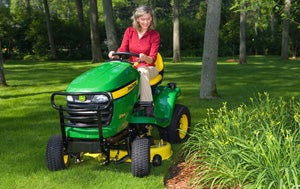 And while the X304 is the most inexpensive model with 4WS, it doesn't skimp on features such as the comfortable high-back seat, easy-to-use foot pedal deck lift system, electric power take off (PTO), 20×10 rear and 15×6 front tires, and a deck leveling system that can make sure the cut is ballpark perfect right from the driver's seat. The Xenoy hood, while perhaps controversial with the all-metal crowd, is designed to give the owner many years of fade-free scratch resistant service and at the same time keep up that proud John Deere look.
So, what were our thoughts on the 4WS system? First the good: even with the relatively small 42" deck (a wider deck decreases the uncut circle) the X304 maneuverability is right on par with a ZTrak and really reduces the impact on a lawn even while making tight turns. The bad: the way the rear of the tractor swings out while turning takes some getting used to. Once you get past the learning curve, which isn't difficult, the benefits make it clear that 4WS is here to stay.
With a 4-year/300 hour limited warranty, Deere's 30-day full refund if not satisfied test drive, and a MSRP of $3,699, and dealer incentives including attractive financing, only those inclined to the lever controls of a ZTrak would find anything to dislike.
Related Reading
2011 John Deere Select Series X500 Review
2011 John Deere X748 Review
2011 John Deere 2520 4WD Compact Tractor Review
2012 Cub Cadet GTX 2100 Review