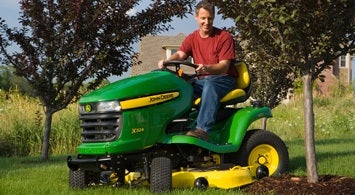 As John Deere celebrates its 175th year, we marvel at the improvements that have trickled down over those years—many of which we take for granted. All Wheel Steer technology (AWS) is one of those improvements and we're fast becoming fans of how this technology translates into reduced time performing the task at hand.

A few months ago we tested the John Deere X304, the entry-level model in this series with AWS, and came away quite impressed. When our local dealer informed us that a big brother X324 was available for us to try out, we were off to the land of green. With the X324 ringing in at about a $1000 premium ($4699 vs. $3699) over the X304, we were curious to see what the consumer gets for that hefty jump in cost. The simple answer is that John Deere, as in all of its product lines, gives you a little more each step up in the model scale. More horsepower, larger transmission, bigger mowing deck—and the list goes on. Below we'll talk specifics.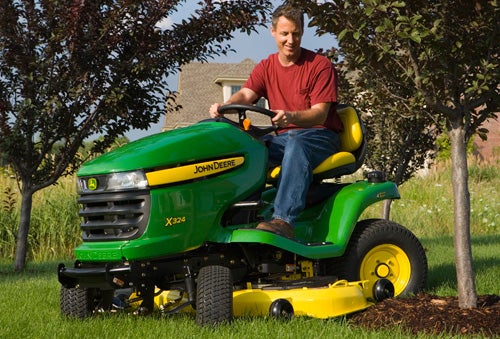 The X324 starts with a robotically welded full frame that is made of 3MM steel and reinforced at stress points (bumper and rear hitch) with 3.8mm metal. After a durable powder coat paint application an air-cooled 726 cc Kawasaki V-Twin that makes 22 horsepower at 3600 RPMs is attached to the frame. This is a deliciously smooth and quiet powerplant that comes with automotive-like niceties like full pressure lubrication with a changeable spin-on/off oil filter, cast iron cylinder liners, overhead valves, two-stage air filter and a flywheel alternator generating 15 amps. The front axle is nodular cast iron and supports 15×6-6 tires (the rear gets 20×10-10 tires) with greaseable spindles and ball joints. With the AWS system, this translates to a turning radius of 15" and an uncut circle of 9", which is the true measure of maneuverability.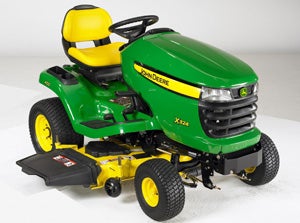 The transmission powering the X324 is a Kanzaki Tuff Torq K58 hydrostatic unit that is actuated by Deere's two-pedal arrangement which our testers feel is one of the most ergonomically designed systems available. The K58 is a heavy duty design with 1" axles and high-strength gears. Its internal charge pump makes for quieter operation, which translates to reduced whine for the operator, who gets infinite control over the 0-5.9 mph forward and 0-3.5 mph reverse ranges. Brakes are internal wet-disc and never need to be adjusted.
The X324 gets Deere's 48" 3-blade Edge Xtra mowing deck which starts with a 3mm stamped shell and is designed for maximum airflow. The deck is mulch compatible (with an optional mulch kit) and comes with spring-loaded anti-scalp adjusters that make changing height settings a snap and also allow for the wheels to be turned 90 degrees for easy removal—you just roll the deck out from under the tractor. For that perfectly level cut, Deere makes it easy to adjust side-to-side tilt from the operator's seat and includes a gauge that fits in the height adjustment knob and a hex key for this purpose. Front to back rake is also adjustable, but you need to get off the tractor to make this rarely needed adjustment. Mowing height adjustment is controllable in ¼" increments from 1" to 4" and the deck is lifted by a pedal that can be adjusted for lift effort preferences.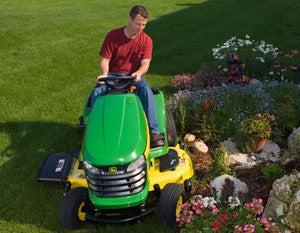 The operator gets a well laid out platform with color coded controls and a 15" open-back seat with 7" of travel over 15 pre-set positions and a suspension adjustment for operator weight. Under the seat is a tool tray and there is a cupholder and storage tray on the left fenderwell. Our tractor came with an optional 12V outlet conveniently located on the console so there's no need to worry about draining your iPhone battery while mowing. Cruise control is standard and adding fuel to the 3.3-gallon tank was especially easy with the large mouth cap located on the left rear fenderwell. The Xenoy hood, which is nearly indestructible, hides scratches, and won't rust or dent, and is also designed to vent hot air out the front and away from the operator. Nice! We were also impressed by the separate throttle and choke arrangement – Deere engineers equipped the latter with a spring that prevents the operator from unknowingly running the tractor with the choke on.
The X324 comes with one of our least favorite devices that we all are forced to get accustomed to—the dreaded Reverse Implement Operation (RIO). It makes the operator lift and hold the Power Take Off (PTO) switch while pressing the reverse lever . . . each time they wish to reverse while the blades are turning. While we are in agreement with turning and looking behind you before backing up, making the operator push a button doesn't ensure this and only adds more effort to what should be a relaxing day taking care of one's lawn.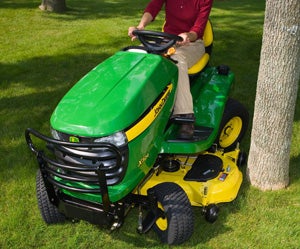 The X324 has a wheelbase of 49.4" and an overall length of 72". It weighs 714 lbs without fluids and sits 43" high. So is the X324 worth $1000 more than the X304? We thought so. Both deliver solid values, but the more powerful engine, wider deck and K58 tranny along with the niceties mentioned above make this a tractor we wouldn't mind seeing in our garage or shed. Add to that Deere's 175 years of experience and a four-year, 300-hour warranty and you might think so too.
Related Reading
2011 John Deere Select Series X304 4WS Review
2011 John Deere D170 Review
2011 John Deere Select Series X500 Review