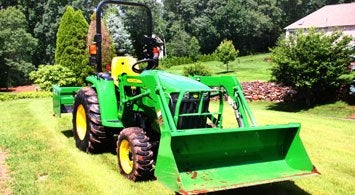 Tractor.com first reviewed the John Deere 3038E in 2012 and called it an "economically priced tractor that doesn't skimp on performance." Since then, the 3038E has received several upgrades, enough so that we planned to do a re-test in the near future. When we received a call from John Deere asking if we could think of some projects to do with a 3038E for the next month or so, our answer was: Let us think about it – YES!

Our test tractor was delivered on June 24th by Farmington Valley Equipment, in Farmington, Conn. The hour meter read 1.0, the fuel gauge read 7/8, and the tractor was clean and shiny, sporting a fresh coat of wax. By the end of the first day, the hour meter read 6.0, the fuel gauge was down to 3/8, and the tractor was no longer showroom clean. Whoo hoo! But first, let's revert to some technical basics.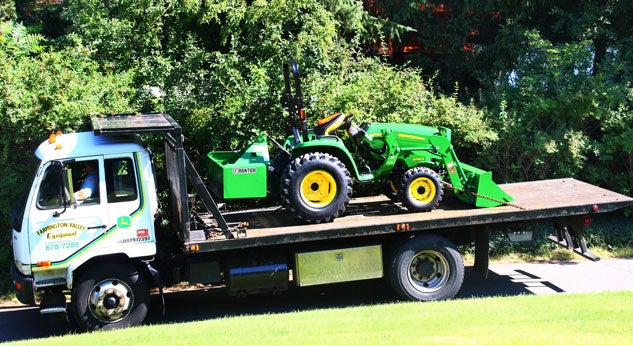 For 2015, the 3038E receives a new EPA Final Tier IV (FT4) engine. Bearing the designation 3TNV86CT-NJT, the three-cylinder 1.6L Yanmar powerplant is rated to deliver 36.7 gross horsepower with 30 hp available at the power take off (PTO). While the gross output is slightly down from the 3TNV84T powering the tractor we tested in 2012 (37.1 hp), the PTO rating is identical and torque at 2500 rpm is up by 14.3 lb-ft (77.0 vs. 62.7). Drop down to 1625 rpm and the new powerplant will deliver as much as 97.4 lb-ft of torque! And as FT4 engines invariably are, the noise levels are markedly quieter. We didn't take a sound reading in 2012, but sound readings from the operator's seat at 950 rpm (idle) averaged just 80-82 dBA, which is around 30 dBA above ambient.
COMPARISON: Read our review of the 2015 Mahindra 1538 HST
Output from the turbocharged 3TNV86CT-NJT is sent to a two-range hydrostatic transmission controlled by an ergonomically pleasant side-by-side pedal arrangement. Operator effort is minimal with the system, delivering well modulated control over the 0-14.1 forward and 0-6.6 mph reverse speeds. Hydraulics run through a twin pump system flowing 4.0 gpm to power steering requirements and 5.3 gpm to implement needs (9.3 gpm total). Lift capacity for the Cat I three-point hitch (3PH) is 1356 lbs to the industry standard of 24" behind link arms. Position control is standard, so an implement can be repeatedly returned to a precise, selectable height.
In the course of conversations with John Deere, we were asked what implements we would like the 3038E to come with. Our request was for a loader and box blade, which would be perfect for a land reclaiming project we had in mind. Our test tractor is equipped with a DL160 loader, 61" bucket, and a Frontier BB2065 box blade.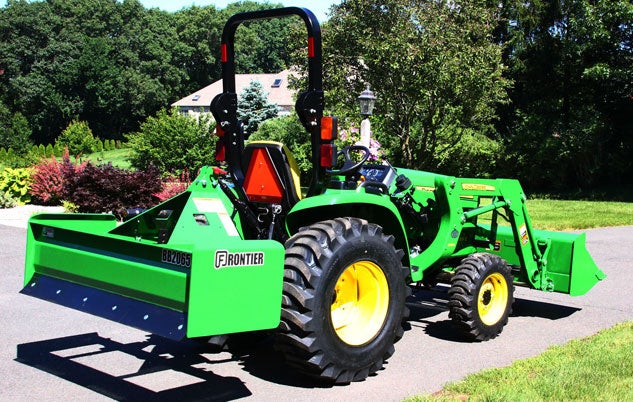 The D160 loader is a fixed loader, meaning it's not easily removable. Rated to lift 1186 lbs to a max height of 84", the DL160 hydraulic requirements of 5 gpm and 2495 psi of pressure are well matched to the 3038E system. Full dump clearance is 63", so most pickup beds fall within the combination capability. Full raise cycle takes 3.3 seconds, full lower 2.8 seconds, full dump 1.8 seconds and full curl 1.9 seconds. The DL160 can provide up to 1704 lbs of breakout force and is able to dig up to 5" deep. Though the loader stays on the tractor, the bucket is removable, requiring just the pull of two quick-clip pins. The setup, however, is not skid-steer compatible.
The Frontier BB2065 box blade has a 17-cubic-foot capacity within the box and is rated for use on tractors from 23 to 55 hp. Measuring 66" wide and weighing 500 lbs, the BB2065 uses (4) three-position adjustable scarifiers, two reversible moldboard plows (forward and reverse facing), and is fabricated from heavy 3/8" steel plate.
R1 (Ag) tires are standard, though R3 (Turf) and R4 (Industrial) options are available at a slight upcharge. Our test tractor was equipped with Galaxy Marathoner R4 tires size 25×8.5-14 6PR front and 15.00-19.5 6PR rear. The tires were not loaded for extra weight, so with 35 psi in the front and 20 psi in the rear, we hoped the 500-pound box blade would provide enough counterbalance for the tasks we had in mind.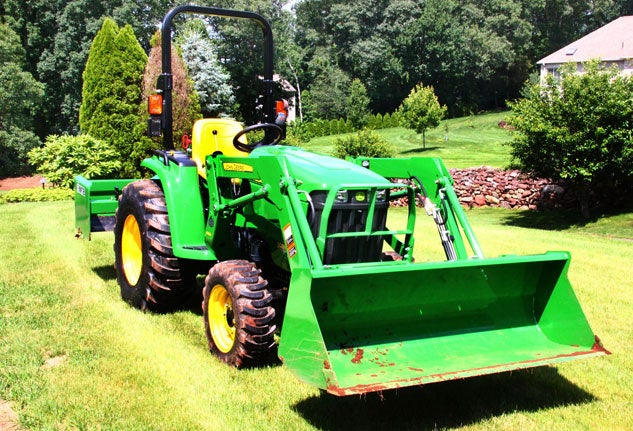 Two options prospective purchasers might consider that our test tractor was not equipped with would be an extra rear remote ($888) and cruise control ($250). Our test tractor, however, did come with the optional $168 drawbar and $327 hood guard. Other than that, a standard 3038E is nicely equipped.
COMPARISON: Read our review of the 2015 Kubota L4600 HST
The big change on the 3038E for 2015 is the EPA FT4 engine. Using a high pressure common rail system (CRS), electric control unit (ECU), and diesel particulate filter (DPF), FT4 emissions compliance is achieved without the need for diesel exhaust fluid (DEF) additions. The DPF system operates in three modes: passive, active and parked. During normal operation (passive cleaning), most particulate matter (PM) is eliminated by normal exhaust stream heat generation. In circumstances of low use, PM can build up to a point where an active cycle is initiated. During active cleaning, small amounts of fuel are injected into the exhaust stream, raising the temperature to the point where a chemical reaction occurs that oxidizes the PM. Like passive cleaning, an active cycle requires no operator involvement, and there is no interruption to tractor operation. Parked cleaning requires the tractor be parked for around 30 minutes and not in enclosed conditions, such as inside a barn. Generally this cycle only occurs when automatic operation has been turned off for extended periods of time. The other big change, and sure to be appreciated, is the adoption of a foldable ROPS over the earlier models fixed hoop.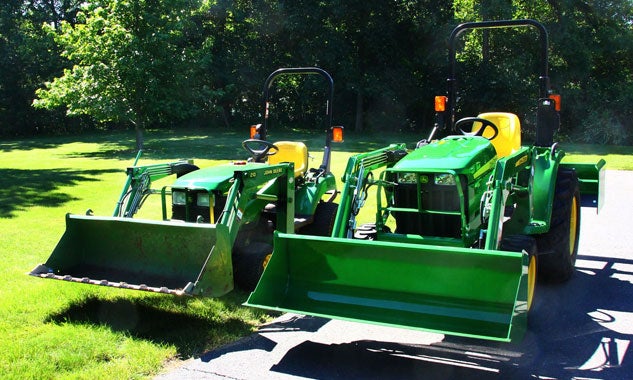 Climbing up into the operator seat, we found the layout comfortable. There is a slight cast iron transmission tunnel, but in no way did any of our testers think it made their feet cramped. The side-by-side pedals received universal praise, though the incorporation of the differential lock into the single brake pedal didn't seem as positive a location as a standalone pedal would have. In the field that ¾" – 1" engagement range didn't deliver that same "stomp on the pedal and we're engaged" message, and we often wondered if the differential lock was engaged or we were just hitting the brakes. The location of the H – M – L orange ball-topped range selector felt perfect, as did the position of the orange handled ratcheting parking brake lever. The tool box on the left fender, the cup holder on the right, and the grab handles on both were just right. And view over the hood and loader arms didn't seem compromised, even with the square boom/hood layout.
COMPARISON: Read our review of the 2012 John Deere 3038E
The 3038E measures 111" long by 58" wide and rides on a 60" wheelbase. Height to the top of the hood is 51" and 82.3" to the extended ROPS (67" folded). Ground clearance is 13" and the 2222-pound 3038E has a turn radius of 75.2". Carrying a MSRP of $20,699 (tractor only) with incentives such as 0% APR 60 momths or $2750 cash bonus and a $1750 implement bonus if two or more implements are ordered with the tractor, the 3038E offers a lot of bang for the buck.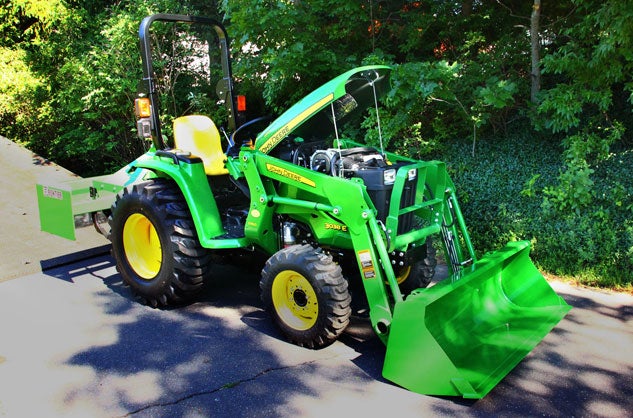 As the long-term test unfolds, we plan on giving Tractor.com readers a midway through update and then a long-term wrap up, complete with before and after project pictures. While we're not likely to get to the 200-hour engine oil/filter replacement or 400-hour transmission fluid/filter change, we're sure to get past the 10-hour check wheel bolt torque interval while giving it our best to rack up additional hours.