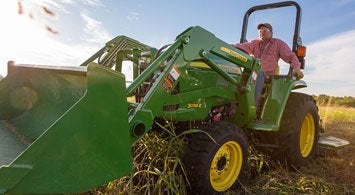 Parting ways with our long-term test John Deere 3038E was a sad moment – such was the combination of all-around capability it offered along with enough comfort to have us questioning the "E" economy classification. This was not completely the case when we first tested the 3038E in 2012. True, the capability was there then, but a number of comfort features included in the 2015 model were not.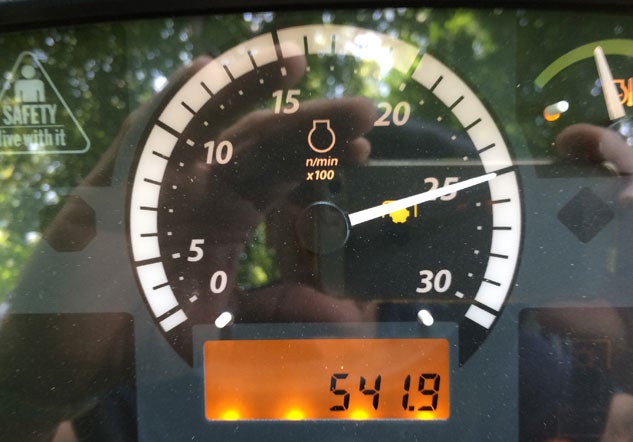 Those improvements include a new digital dash cluster. Though an analog tachometer still sits center stage, the LCD display now lets the operator know the precise power take off (PTO) rpm. The display is also configurable to display important tractor statuses from engine hours to emission control levels and contains on-board diagnostics that are compatible with the John Deere Service ADVISOR service. Other upgrades from the previous generation 3038E include a folding rollover protection system (ROPS) – the previous generation fixed hoop cleared most garage/barn doors but could still be a challenge near and around trees – and a EPA-friendly Final Tier 4 (FT4) powerplant.
That Yanmar 3TNV86T-NJT engine displaces 1.568L and is turbocharged, delivering either 36.7 or 37.3 gross horsepower at 2500 rpm, depending on the rating system used. The added complexity required to achieve FT4 compliance, whether we like it or not, is here to stay and cannot be overlooked. Soot, particulate matter, NOx and associated terminology are all part of the jargon we must know about and understand. The diesel particulate filter (DPF) used in this powerplant has been chosen because it works seamlessly under most circumstances without robbing engine horsepower. And though the FT4 systems are in large part responsible for the almost $4K price differential (2012 to 2015), 3038E owners will benefit from better fuel efficiency, quieter operating sound levels, as well as the knowledge they are being good environmental stewards.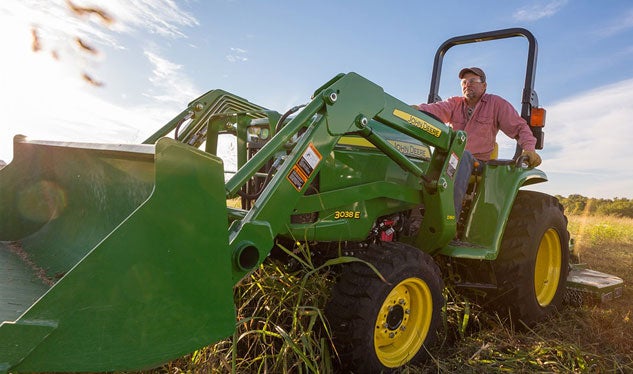 Another benefit not so easily seen, but that we came to appreciate over our long-term test period, was the more steeply canted front beams used on the DL160 loader. Our initial thought was that the design might reduce bucket visibility, especially without a bucket level indicator, but none of our test drivers felt it did. The design certainly increases stability while loaded by keeping the carried weight closer to the front axle, and as a secondary benefit, decreases the required storage footprint while improving overall maneuverability.
2015 John Deere 3038E Project: Part I
Since one of our large projects was the reclaiming of nearly ½ acre of overgrown land, we also came to appreciate the tie rod positioning behind the front axle. In the heat of battling with the overgrowth, there were several times we wondered if the tie rods had been less protected would we be needing to make adjustments or ,worse yet, having to replace something expensive.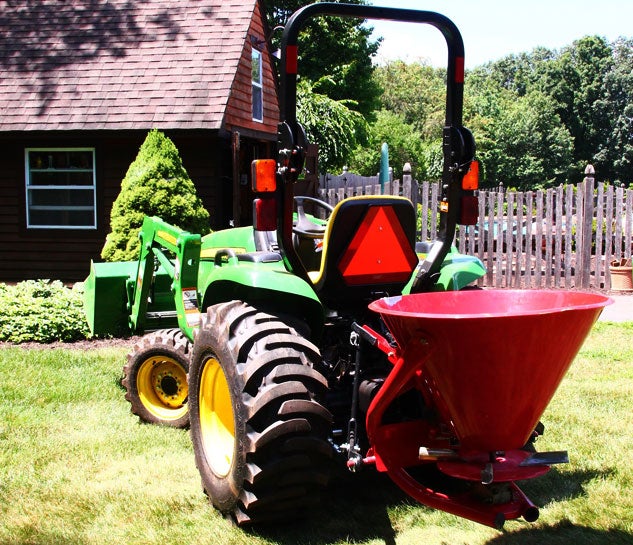 Two options our test tractor did not have that we would probably select if we were purchasing a 3038E would be the cruise control, which would be actuated by a rocker switch on the right fender console next to the PTO engagement, and a rear hydraulic outlet. Our test tractor did have the optional three-position drawbar which is rated to carry 882 lbs of vertical load. Unless a prospective buyer only intends to use the three point hitch (3PH) to carry rear loads, we would recommend this addition.
Some other tidbits to point out center around the hood and fender cowl and rear 3PH/PTO. John Deere uses a plastic alloy for the hood top and fender cowl. Compared to competitors that use steel exclusively, some will say this is an act of cheapening while others will decry the advantages of resistance to denting, UV fading and reduction of rattles over time. We think both have advantages and disadvantages, which means the preference comes down to individual fancy. At the rear, the 3PH lower link arms do not telescope, so attaching a heavy implement can come down to a wrestling match. John Deere offers the excellent iMatch hitch system as a solution, though implements will need to have specific spacings and matching bushings ($22.54/set) to make the system work. And for those intending to use implements such as a post hole digger or chipper, they will need to have cinder blocks or suitcase weights on hand to fool the operator presence seat switch or plan on having a second person sit in the seat.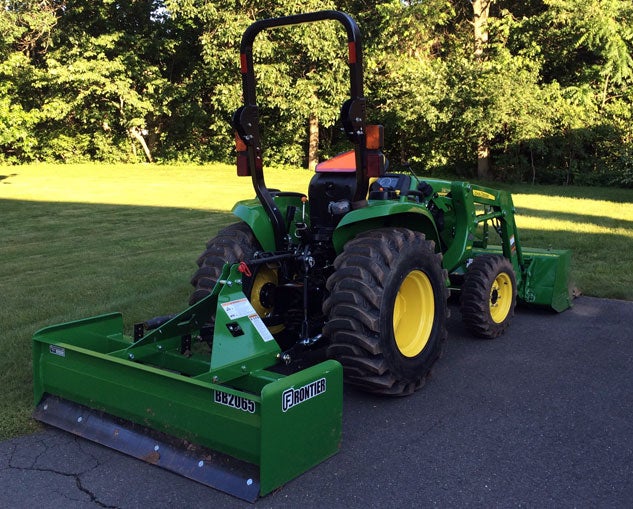 When the sun goes down, the 55W halogen headlamps projected a somewhat narrow focal angle, influenced as much by the grille guard and loader arms as by their output. For night owl users, optional ROPS mounted LED lighting can be ordered. For fun, we played with the online "build your own" feature and clicking every available box, including the DL160 loader, and we could only get the 3038E to just over $28K. That is a lot of tractor for the buck.
2015 John Deere 3038E Project: Part II
So other than what we've detailed above, what does the 3038E give up to its $5K more expensive 3039R sibling and should that make a difference to a prospective purchaser? The answer to that, of course, is subjective, but if that purchaser can live without a mid-PTO, third hydro range, tilt wheel, loader joystick not integrated into the right fender console, split brakes, removable loader, factory backhoe, and the smooth modulation of eHydro and the slick eThrottle that system offers, then the $20,669 base MSRP 3038E might be that perfect 38 HP class machine for their stable.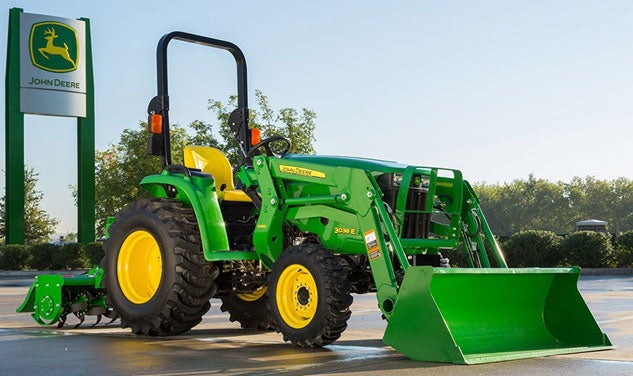 Reading through the owner's manual while waiting for the Farmington Valley Equipment truck to take away the 3038E, we noted the 200 hr. engine oil/400 hr. transmission fluid change intervals and marveled at the service record showing intervals up to six years and six thousand hours. Bravo! It's the kind of thinking that says a lot about a manufacturer's commitment to and expectation of longevity.