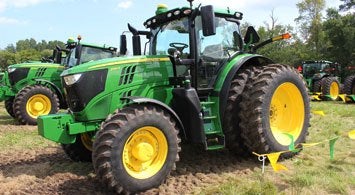 For 2015, the John Deere 6 Series will consist of seven tractors ranging from 105 to 215 horsepower and spread over three frame sizes. The four 6D tractors (6105D, 6115D, 6130D and 6140D) get a five-horsepower bump across the board along with two new transmissions, a standard 12/12 PowrReverser and an optional 24/12 PowrReverser.

The three new 6R tractors (6175R, 6195R, 6215R) have three transmission choices beginning with the standard 20-speed Auto Quad Plus transmission which offers four power-shiftable gears in each range, an optional Direct Drive transmission which comes with convenience upgrades but still has the mechanical efficiencies of a manual gear transmission, or an Infinitely Variable Transmission (IVT) which offers the ultimate in control and convenience.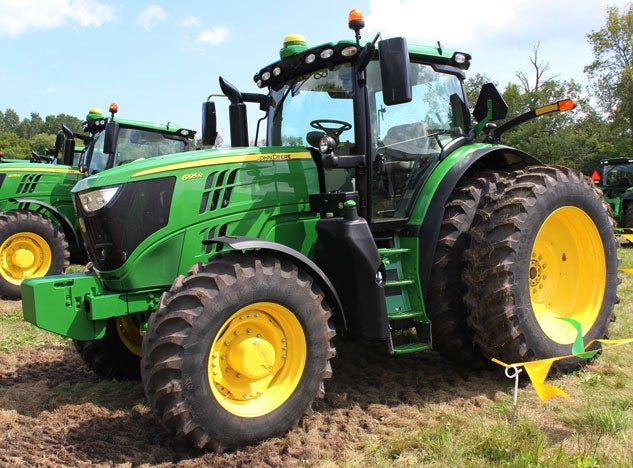 At the John Deere Ride n Drive in Milwaukee, Brad Tolbert, marketing manager for the 6 Family, told attendees that purchasers of tractors in this horsepower range do more varying applications than any other. That could mean row-crop operations, feeding cattle, moving hay bales, running a baler or driving a grain cart, many of which require the switching of implements. To that end, John Deere has increased the hydraulic capacity, added new rear remote couplers that are easier to attach and detach, improved visibility to the rear Selective Control Valves (SCVs), and with the CommandARM option, added a 30-degree right hand swivel to the operator seat.
COMPARISON: Read our review of the 2015 John Deere 9620R
The 6195R we chose as our test tractor comes with a John Deere PowerTech six-cylinder 6.8L powerplant. Rated to deliver 195 gross and 158 Power Take Off (PTO) horsepower at 2100 rpm, EPA Final Tier 4 (FT4) emissions compliance is met through high-pressure common rail fuel injection, the use of twin turbochargers, air-to-air aftercooling, cooled exhaust gas recirculation (EGR), and the addition of diesel exhaust fluid (DEF) to the exhaust stream. Intelligent Power Management (IPM) allows for up to a 40 hp boost automatically whenever the load calls for it. Along with the FT4 improvements, oil change intervals have been extended to 750 hours from 500.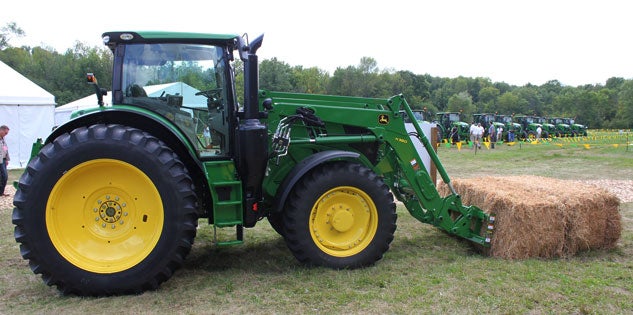 Our 6195R was also equipped with the optional IVT with overdrive that will maintain transport speeds at lower rpm, reducing noise and fuel consumption. The IVT allows an operator to dial in the desired ground speed and forget about it, with the system automatically compensating for varying loads. And when the operator needs to manually vary ground speed, the joystick with a rabbit fore and a turtle aft makes for easy control, though we liked the little thumbwheel on the joystick for minute adjustments even better.
COMPARISON: Read our review of the 2014 Case IH Maxxum 115
Also helping add increased visibility to address the demands of 6 Series purchasers, the updated ComfortView cab with minimal pillars and optional panorama roof creates a nice, if not plush, environment to spend the day. On the option page, selecting the Premium Cab with the CommandARM or the RH Console will run you $9,336, but the cab suspension either comes with adds just that much comfort to make it well worth the cost. As expected, the steering wheel tilts and telescopes, the seat is air ride and adjustable, and air circulation is well thought through. Sound levels inside the cab ranged from 72 to 82 dBA and there's no question two people can easily converse or that the stereo would see use. We didn't get to ask how much room there is inside the updated cab, but it felt significantly increased over the previous generation tractors.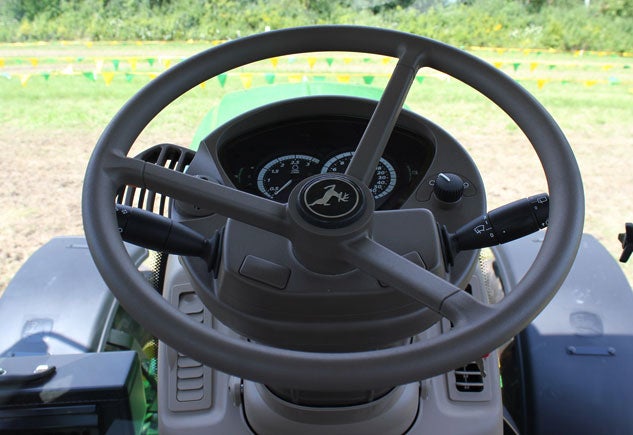 As mentioned, hydraulic capacity has increased with up to 41 gpm available that can be directed through up to six SCVs (5 SCVs with Power Beyond). This gives the Cat 3 three-point hitch (3PH) a lift capacity of 10,697 lbs with Cat 3N upping the ante to 11,990 lbs. The 3PH also has electric load sensing for varied load conditions and hitch dampening for improved ride stability.
Farming and electronics these days go hand in hand and 6R tractors come standard with lots of goodies with even more options should they be desired. Standard is the Generation 4 Command Center with a 7" touch screen. For tractors that will predominately be used for loader work, a 7" screen would be a visibility increasing choice. But for the best view of electronically monitored functions, the optional 10" display is what you want. After our test ride we did a little math. Take the $166,954 base price of a 6195R, add the Premium Cab with CommandARM, 10" display ($1,500), StarFire 3000 ($7,195), John Deere Remote Display Access with three-year subscription ($7,195), AutoTrac ($4,618), Premium Radio ($356), go the max on remotes ($4,117) and select the handy three-speed PTO (540E/1000/1000E) with power assist shift ($889), and you easily are approaching $200K. Certainly not inexpensive, but this is one deluxe, high-horsepower large frame tractor.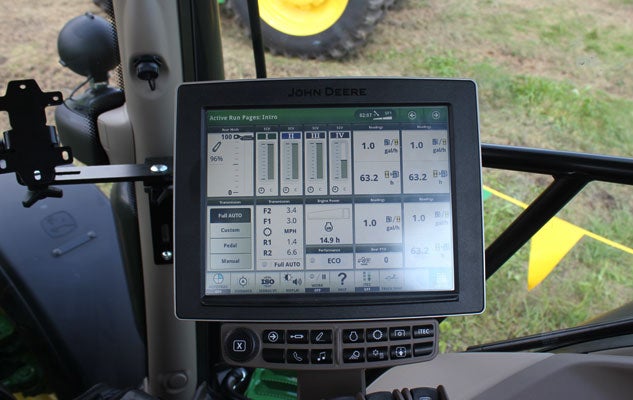 The loader matched to 6R tractors has also received changes. Replacing the 741 loader, the H380 now offers Return to Position (RTP) and Electronic Self-Leveling (ESL), and in 2014 received the AE50 Award by the American Society of Agricultural and Biological Engineers for those innovations. Hydraulic lines are concealed in the loader booms for protection and appearance, and a single point hydraulic hose is available for quick, trouble free connections. RTP is great for repetitive loader functions and can be preset for two boom and two bucket positions. The H380 also comes with a suspension system that reduces shock, especially when driving over rough surfaces.
COMPARISON: Read our review of the 2013 New Holland T6.140
The 26,660 lb 6195R rides on a 110.2" wheelbase and has 20.2" to 23.9" of ground clearance, depending on selected axle options. Other options we might consider are the electric telescoping mirrors, utility box on rear weights, and the five-liter capacity field refrigerator for those long days. With a feel consistent of 7R and 8R tractors, workers on a farm using those machines will need to spend little time getting used to 6Rs.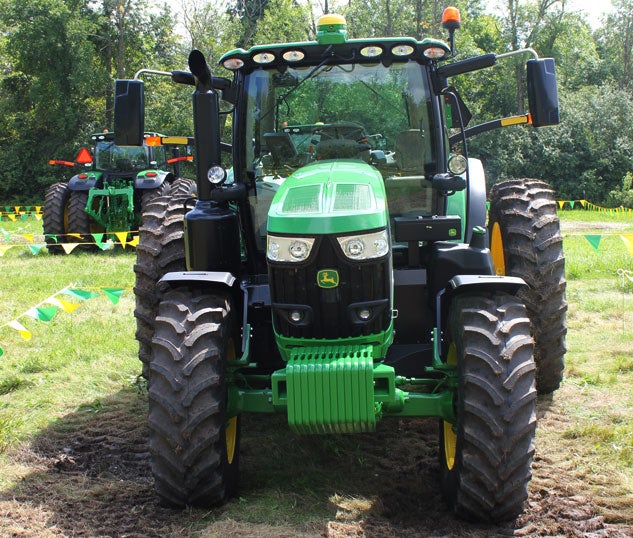 For a versatile tractor in this horsepower range with a host of premium features and improved visibility, performance and economy, the John Deere 6195R is well worth getting acquainted with.