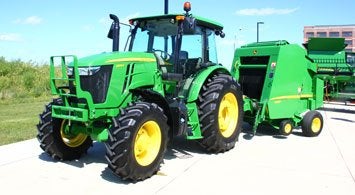 Waterloo, Iowa holds a special place in the rich history of John Deere. Not only has it been home to John Deere operations since the acquisition of the Waterloo Gasoline Engine Company in 1918, but is the place where important models, beginning with the Model D in 1923, and all the way to the current 6R, 7R, 8R and 9R, have been made.

When the media invitation went out in June, we knew the event would be held at the recently opened John Deere Tractor & Engine Museum in Waterloo, and assumed the focus would be on that rich history. Arriving for the event, we were pleasantly surprised to learn the program would not only include a nostalgic nod to the past, but a forward look to what to expect for 2016, including production of the 9RX four-track tractor we first got a glimpse of a year ago at the John Deere "Committed to Lead" event held in Milwaukee.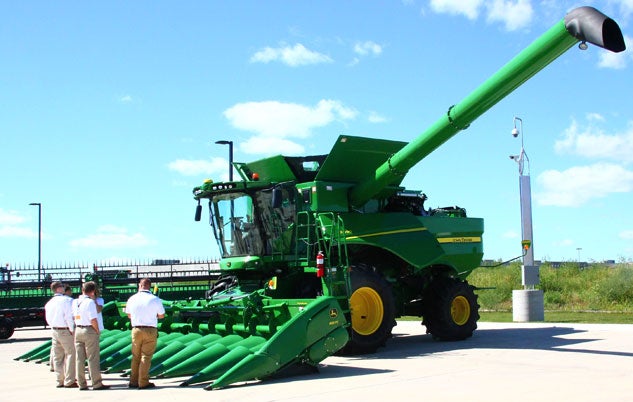 The "Reveal" presentation began inside a classroom partitioned off from the Tractor & Engine Museum. First up were improvements to the S-Series combines, including the 12% larger cleaning sieve which helps achieve a 10% processing increase in corn (13% in wheat and canola), as well as a 12-row folding corn head which can process six more acres a day compared to traditional units while lowering operating costs by as much as 15%. Maintenance improvements and Active Terrain Adjustment, which automatically control fans speed and sieve/chaffer openings, optimizes performance and minimizes grain loss on slopes.
2015 John Deere Tractor Lineup Unveiled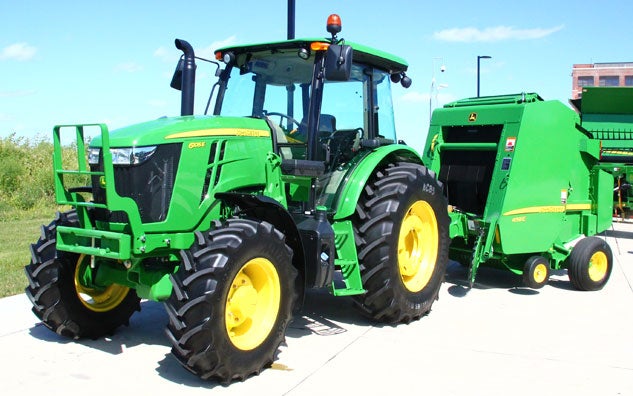 Next we were introduced to the W155 Self-Propelled Windrower, which comes with a 155 hp PowerTech 4.5L engine that's EPA Final Tier 4 (FT4) compliant and provides extra low-speed oomph that's ideal for high altitude operation and improved acceleration without stalling. When equipped with AutoTrac, operators can expect overlap to be reduced by 90% and result in more acres of productivity per hour. And for transport, the operator station reverses, allowing for better control. As well, top speed increases by as much as 9.5%. For hale bale production, the economical 459E round baler is designed to make tight 4′ x 5′ bales at higher speeds using an optional Edge-to-Edge net wrap system. Well matched to the new 6E Series tractors, which range in horsepower from 105 to 135 and can be optioned with a 15-degree swivel seat ideal for monitoring baling operation, purchasers of this combination can expect more speed and efficiency, as well as a reduction in spoilage of 30-60%.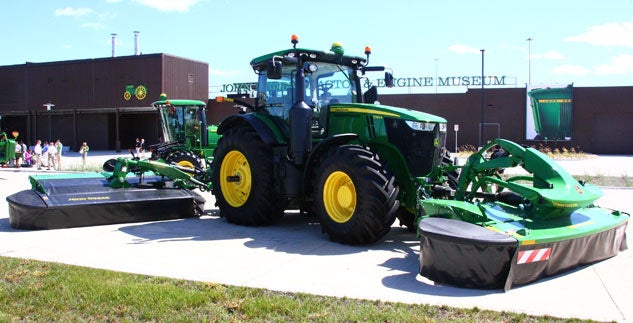 For mowing/conditioning, a five-model triple Mo-Co lineup will be available in several configurations, with cutting widths of 8.7, 9.5 and 9.7 meters. In conjunction with AutoTrac guidance, mowing and conditioning is possible at speeds of up to 20 mph, and, depending on tractor horsepower, allow transport speeds of up 30 mph. Combinations using either a F310R or F350R (3.1 or 3.5 meters) unit and either one or two R870R, R950R or R990R (8.7, 9.5 or 9.7 meters) rear units result in more hay cutting per hour, which is especially critical for weather-sensitive field conditions.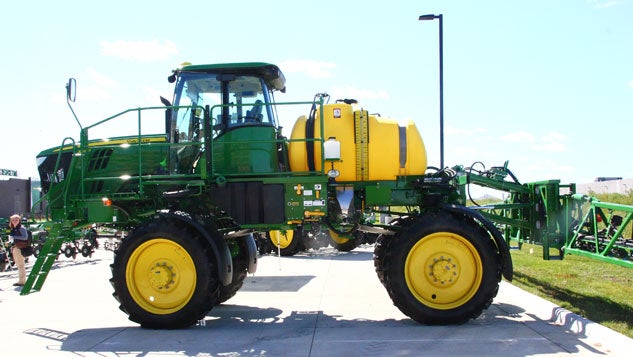 For customers using newer 1770NT, 1790 and model DB planters, John Deere will offer an ExactEmerge retrofit kit to improve planting accuracy and performance while increasing speed. Planters retrofitted with ExactEmerge technology can see a doubling of planting speed (10 mph vs. 5 mph) with higher quality results. Retrofit kits require GreenStar 3 2630 display for full operation. With an already impressive Self-Propelled sprayer lineup (R4030, R4038 and R4045), John Deere perceived the need for a smaller, lighter weight machine. The R4023, which replaces the 4630, is designed to fill that need. Powered by a 4.5L 173 hp FT4 engine and outfitted with four-wheel hydrostatic drive, 600-gallon poly tank, 80′ booms that can fold to 60′, the R4023 is ideal for smaller, odd-shaped fields. Spray speeds of up to 20 mph are not only possible when equipped with the optional Soft Shock system, but are achievable even in challenging field conditions. As might be expected, the R4023 is fully compatible with technologies such as SprayStar, BoomTrac Pro, John Deere Section Control, JDLink and Boom Return to Height.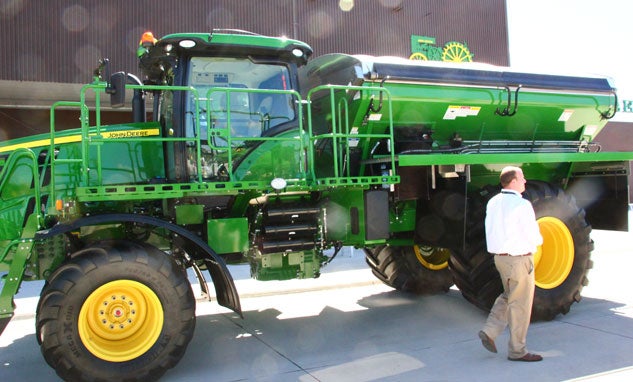 As the 2016 John Deere product reveal continued, we suspected the highlight would be an update on the 9RX track tractors, which did eventually follow – but not without another surprise which required a promise to not reveal until after the official Aug. 26th 12:00 PM unveiling. There were not a lot of details available, but the High-Capacity Nutrient Applicator we saw will certainly be an exciting addition to the big green lineup. We look forward to getting behind the wheel and under the hood of one of these as they become available.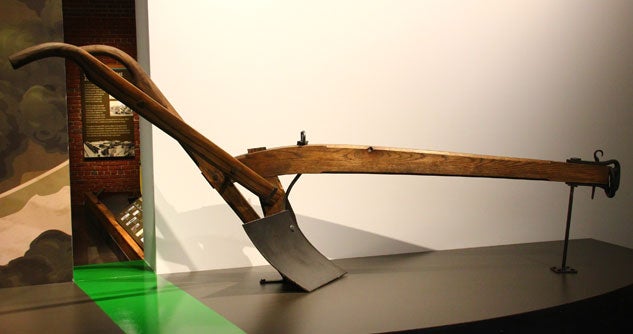 Following an opportunity to climb inside the new products mentioned, the event moved to the museum where curators Rosa Grant and Josh Waddle led the group on a tour, beginning with the polished-steel plow John Deere fabricated in his blacksmith shop in 1837 that could cut clean furrows in tough soil conditions. In 1839 John Deere manufactured 10 of these plows. In 1841, production was 75, and a year later, 100. By 1849 a workforce of 16 manufactured 2,136 plows and Deere & Company was well on its way to becoming the agricultural leader it is today.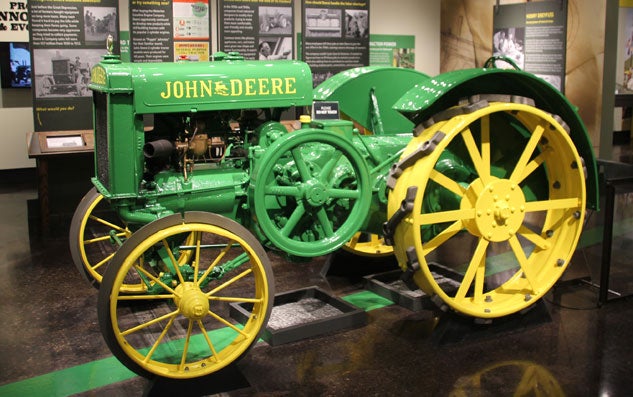 The following day the group headed to the Tractor Cab Assembly Operation at 3500 E. Donald Street in Waterloo. This is the facility that has manufactured important agricultural tractors such as the 3010 and 4010, and is currently where the 6R, 7R, 8R and 9R tractors are assembled. A factory tour on shuttle carts pulled by 1025r tractors opened eyes as to what is required by John Deere to carefully assemble and test each machine before it can be shipped to the dealer network.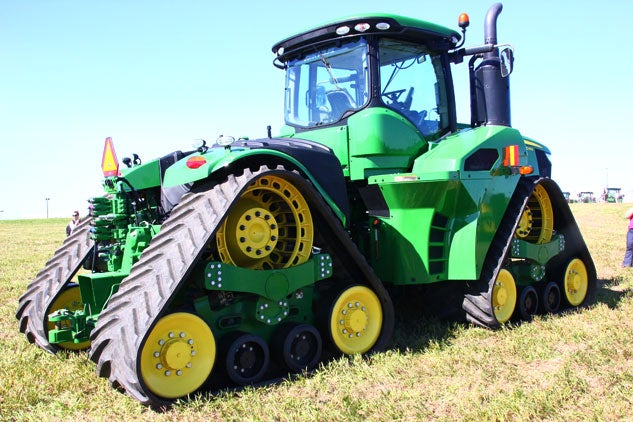 After the tour, a 9620RX was unveiled, black drape and all. The unveiling, though impressive as it was, led to an even more impressive field demonstration where a wheeled (duals) 9620R, tracked 9520RT and 9620RX showed the different degrees of maneuverability and obstacle (ramp) handling inherent with each configuration. We'll have more details when we can put a 9RX through its full paces, but our observation is that the wheeled tractor showed remarkable maneuverability through its articulating design, while the tracked machine, which could turn on a dime, did so only with quite a bit of turf disturbance. The 9620RX fell somewhere in between, with minimal turf damage, amazing obstacle and slope articulation, and with very little operator jostling.

John Deere Waterloo operations employs some 5500 individuals in six facilities (Product Engineering, Foundry, Engine Works, Drivetrain Operations, Service Parts, and the Tractor Cab Assembly plant we visited) that cover 7.2 million square feet. Tours are open to the public, but be sure to call ahead and reserve a spot. Likewise, the museum, which is open on Tuesday through Saturday from 10 am to 6 pm, is a highly recommended.