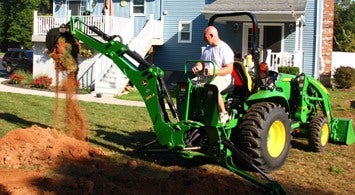 One thing is for certain about our John Deere 3033R long-term test tractor – it never let us down. And while we kept engine hours below the agreed-upon 25-hour mark, with tasks that included reconfiguring an existing firepit and digging another from scratch, relocating arborvitae trees, spreading topsoil, moving boulders, and digging out numerous stumps, we never stalled the tractor, had to tighten a loose nut/bolt (we did check wheel bolt torque for safety sake), clean up any kind of spill, or have to top off any fluid other than diesel fuel.
While this may seem to be expected performance from a new tractor, we can't say this is the quality/performance level of every long-term test tractor we've had.
Another thing that stood out during our time with the John Deere 3033R was the top-to-bottom ergonomic engineering along with model itineration refinements that have brought it to its current state. To say John Deere knows ergonomic design may sound like a cliché, but misses the point: while every tractor manufacturer today incorporates ergonomic thought into their designs, John Deere seems to always be one step ahead. That comfortability, ease of use, and fit/function framed many a conversation long after the tractor work for the day was finished. Comments like "the new tilt wheel mechanism is much more positive than the one used on the Three-Thousand Twenty series tractors" (which for the time was quite nice) or, "this is the first backhoe I've taken off and put back on without struggling with some pin, mount point, or angle", kept popping up.
Traction was another area where the John Deere 3033R shined. Even factoring in the added weight of tractor-loader-backhoe packages which nearly always equates to great traction, the 3033R TLB combination achieves near-perfect balance to the point where we rarely needed to engage 4WD. Our test tractor was outfitted with R4 industrial tires, which are a good compromise with traction near that of R1 Ag tires, but more turf friendly. Industrial, Ag and Turf tires are all available on the 3033R.
And speaking of turf, the ability to vary the hydrostatic transmission rollout handily minimizes damage by delaying the time/distance between when a foot comes off the hydro pedal and when the tractor stops. Rotate the switch the other way, and the delay becomes nonexistent, and great for tasks such as loader work. In-between are infinite settings for any condition imaginable.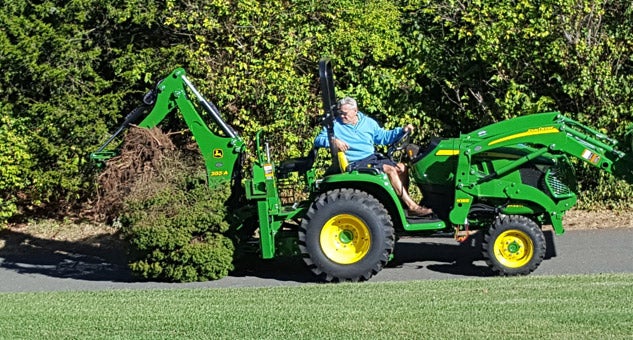 Though the John Deere 3033R is a deluxe model, there are options available. Deere offers a factory cab, complete with heat, air conditioning, and Jensen Stereo with AM/FM and Weatherband (SIRIUS Satellite-ready). Fender extensions (rear) and turnable front would be something to consider. As comfortable as the standard seat is, an air ride seat is available. If we were making the purchase, though, we're not sure if we'd spring for the added cost. Our advice would be to try out the standard seat first. The mid power take-off (PTO) would be another option to consider, and would be necessary if a mid-mount mower (MMM) is to be used. For extensive nighttime work, several lighting options are also available.
Two mid-mount mowers are available with cut widths of 60" and 72". Both are side-discharge, mulch kit compatible, and are drive-over designs. John Deere has taken the drive-over design to the next level, where the driveshaft connects automatically (Autoconnect). Both decks are 7-iron designs, which mean they are heavy-duty and durable, even up to commercial use. The one attachment the John Deere 3033R cannot handle as opposed to the higher horsepower 3039R and 3046R siblings, is a flail mower.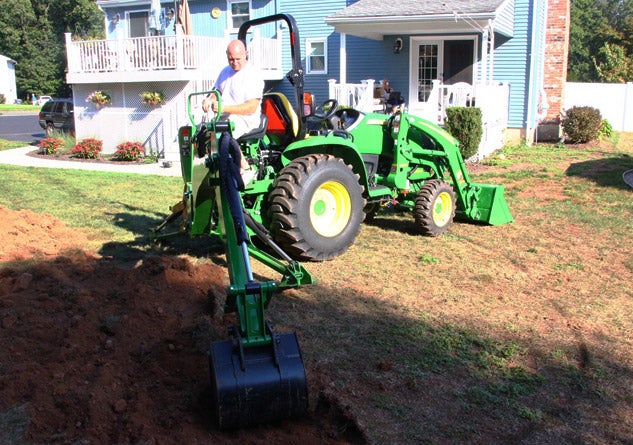 Our test tractor was outfitted with the H165 loader, which is rated to lift 1598 lbs to a max height of 102". Dump clearance is 80". For a few dollars less, the H160 is offered and can lift 1360 lbs to a max height of 90". Dump clearance is 69". In our opinion, the 3033R is so well matched to the H165 with the 61" heavy-duty bucket, we'd stick with that combination.
Our test tractor was also outfitted with the 385A backhoe which can dig to a depth of 103" and has a reach of 140". As with the loaders, John Deere also offers a model 375A with slightly reduced performance (94" dig depth and 129" reach). Boom lift and dipperstick forces are also reduced. And while we can't say how the 375A fares in the field, we came away so impressed with the 385A backhoe that if it were our purchase, that would be the way we would go. The 18" bucket was also the perfect choice, well-within the tractors capabilities, and big-enough to get some work done.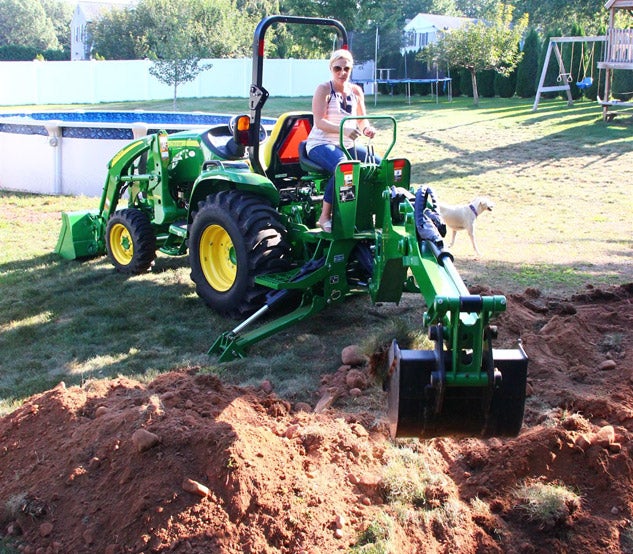 Two transmissions are available for the John Deere 3033R and the 3039R, the three-range hydrostatic unit our test tractor came with, or a 12F x 12R PowrReverser unit. While we enjoyed our time with the hydrostatic transmission, its comfortable side-by-side pedal arrangement with buffered pedal actuation, and switchable eThrottle which mates engine rpm to pedal position when engaged, we're also familiar with John Deere's PowrReverser transmissions and if it were our purchase we'd have to consider both. 3046R purchasers can only select the hydrostatic transmission.
Other features worth mentioning that our first two reports didn't include? There are a couple, beginning with the headlamps which have high-low settings, much the same as on an automobile. The four-way flashers are activated by a pressure sensitive switch positioned in the control pod on the right side of the dash. Convenient and easy to access. It's a theme John Deere has woven into all the 3033R controls and interfaces.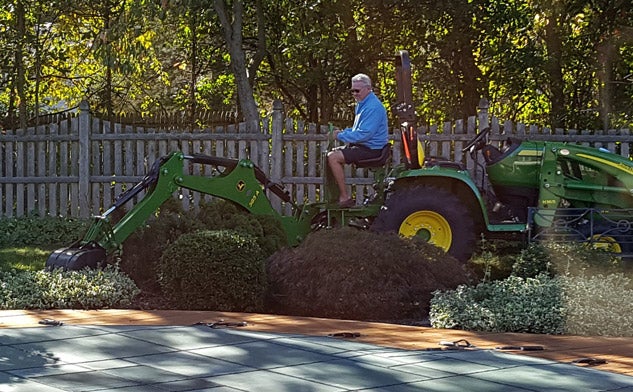 So, were there things that didn't work as advertised or we didn't like? Not many, and all having to do with the backhoe we so liked. The first is the step up to the backhoe seating position location on the stabilizer leg, requiring the operator to first lower the stabilizer before climbing up into the seat. Not a big deal, but we found ourselves taking the big step up to the platform, settling into the seat, then lowering the stabilizers. Also, there was some side drift of the backhoe boom. Not a lot, but enough that every few minutes we would tap the right control lever to straighten the position. We questioned our dealer (Farmington Valley Equipment in Farmington, Conn.), who checked and told Tractor.com there was a DTAC (dealer technical assistance center) tag open on this subject. Evidently, it's a condition that not all tractors exhibit, and on those that do, it is minor.
John Deere backs up the 3033R tractor with a six-year powertrain warranty. For those looking for more comprehensive coverage, a PowerGard Maintenance Program is available bringing extended coverage together with tractor maintenance including parts, labor, and travel. Knowing how bulletproof these Yanmar-powered tractors are, we'd skip the added coverage and do the maintenance ourselves (simple) and put that extra money towards another implement.
If our readers have gotten the impression that we truly enjoyed spending time with our long-term test John Deere 3033R TLB, it is the message we intended to convey. The 3033R was definitely a tractor we hoped John Deere would forget they loaned out.