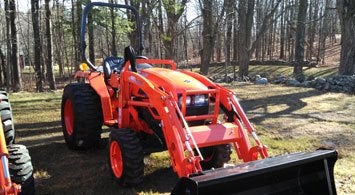 Kioti first introduced its tractors to the North American marketplace in 1986. Since then, the South Korean-based manufacturer has carved out a reputation for quality and value. And while we look forward to reviewing its new EPA Final Tier 4 (FT4) compliant NX series, we appreciate the wide ranging product line with tractors as deluxe as the DK90 we tested in Dec. 2012 or the no-frills DS3510 we cover in this edition.

The DS3510 is powered by a Daedong 3A165LWD 100.5 ci three-cylinder diesel that makes 34 gross horsepower at 2600 rpm with a power take off (PTO) rating of 27.6 hp. This is a close cousin to the powerplant used in the CK35 HST we reviewed in January, and similarly, meets EPA Tier III/Interim Tier IV emissions requirements without the need for exhaust aftertreatment. Beginning in 2015 when FT4 requirements kick in, the DS3510 will need to undergo big changes to meet those standards, making us wonder if the series will survive.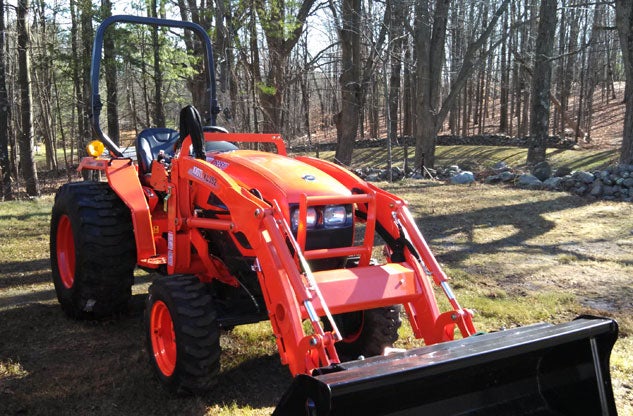 Output from the engine is sent to an 8F x 8R constant shuttle transmission controlled by a left hand turn signal-like stalk mounted off of the steering column – close enough for easy reach, though not fingertip close. A dual stage dry clutch (depress part way for gear or directional changes while allowing the PTO to run, or fully to also stop the PTO) is utilized and easily gotten used to. Gear changes are a little awkward, but that is to be expected in a purely mechanical, no-frills machine. PTO speed is selectable for 540 or 1000 rpm and is "live" meaning the clutch needs to be used to engage or disengage the PTO. There is no mid option. Forward speed ranges from 0.83 to 11.89 mph and reverse 0.76 to 10.84 mph.
COMPARISON: 2013 Kioti CK35 HST Review
Hydraulics run through a tandem pump flowing 12.7 gpm – enough to give the Cat I three-point hitch (3PH) a lift capacity of 2238 lbs at the industry standard of 24" aft of hitch and still leaving plenty of flow for the hydrostatic power steering. Position control is standard, so an implement can be returned to an operator selectable height each and every time, but there is no load sensing ability. At idle this is not a factor, but at PTO speeds with a heavy implement running, the hydraulic flow and lift speed is enough to make the motion a little unsettling. And unlike the CK35, the lower link ends do not telescope for ease of attachment but are what you would expect of a no-frills machine.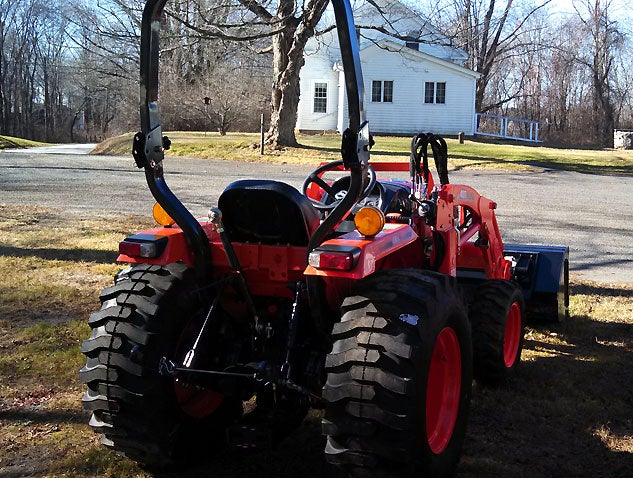 Climb up onto the operator's platform (literally, as there is no step) and you are treated to a somewhat odd mix of old and new. While the gauge cluster is the same as the CK35 and is easy to read even in direct sunlight, there are a lot of levers and linkages that would be hidden on a more modern design. For example, the shuttle shift linkage goes directly from the turn signal stalk to the transmission below and is fully exposed. And that transmission extends well above the platform floor, taking up a lot of valuable cockpit real estate.
COMPARISON: 2013 Mahindra 3535 4WD Shuttle Review
Levers and controls, though color coded and well-marked, aren't exactly intuitive and seem dated – though all our testers thought they were easy enough to get used to. Settling into the seat, which is a mid-back design with fore/aft travel adjustment but not much else, we found the space cozy (the steel fenders do wrap closely) but still comfortable. A tilt wheel would have been nice, but on the DS3510 there is no provision for this feature.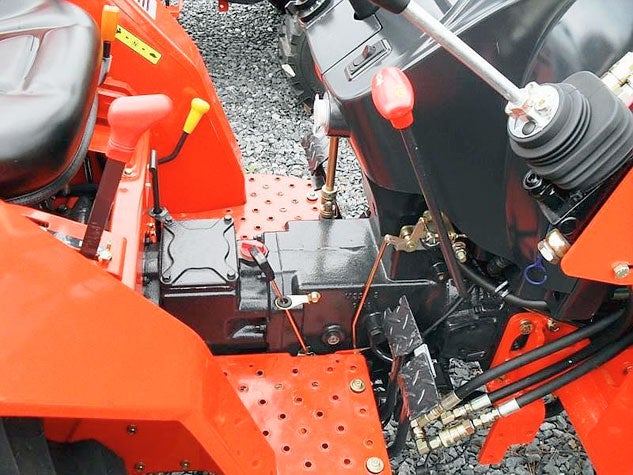 Our test tractors were equipped with Kioti's model KL352 front end loaders (FEL) which are rated to lift 1155 lbs to a height of 92.5". We say tractors, since our local dealer was fortunate to have in stock a DS3510/KL352 with another in tractor-loader-backhoe (TLB) configuration. For both, a 60" 7.06 cf (9.53 cf heaped) skid-steer bucket is standard and quite well matched. We measured dump clearance at 73.6" and were impressed that at the full dump position the dig edge rotates until it points at the radiator grill. Recommended rear counter-ballast is 700 lbs. Another cost-saving feature of the DS3510 over the CK35 is the location of the loader joystick, in this case, mounted on top of the loader stanchion. The operator does have to reach farther and higher, but it is a position that grew on our testers who found loader performance to be snappy, with full raise taking 3.9 seconds, full lower 2.8 seconds, full dump 2.7 seconds and full curl 2.4 seconds.
For the TLB tractor, which was outfitted with Kioti's KB2475 backhoe, counterbalance came in the form of 1069 lbs out back. The KB2475 is a frame mount, quick attach design that can be removed in minutes without tools. The system operates at 2466 psi and can dig to a depth of 89.7" with 125.1 inches of reach and a swing arc of 180 degrees. Dig force is 2817 lbs.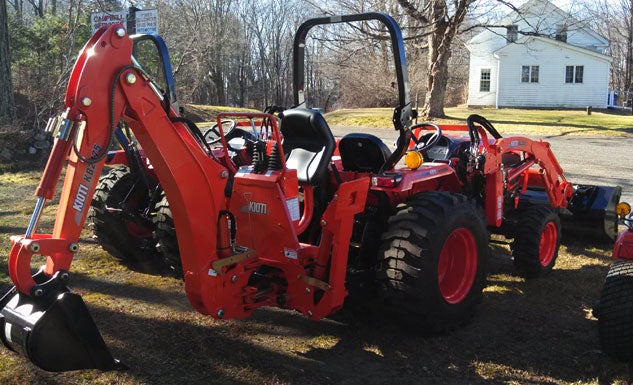 Both tractors were equipped with R4 industrial tires, size 25×8.5-14 front and 15-19.5 rear. Tire options include R1 Ag and R3 turf. The DS3510 is slightly smaller in footprint than a CK35, measuring 113" long by 51.7" wide and 88.6" to the top of the ROPS which folds for barn/shed clearance. With a curb weight (tractor-only) of 2897 lbs spread over a 64.6" wheelbase, the DS3510 was quite maneuverable. Using the brakes, turn radius was a respectable 9.5'.
COMPARISON: 2012 John Deere 3038E Review
So that brings us to the question: should someone in the market for a 34 hp compact utility tractor (CUT) opt for the more expensive CK35 or save a few bucks with the DS3510? The answer would depend. If one was willing to forego a climb-aboard-step, tilt wheel, integrated loader joystick, telescopic 3PH lower link arms, and a few more niceties, the DS3510 certainly wouldn't leave them lacking for performance. We did see a dealer advertise on the internet for a new DS3510 with loader, 18' trailer, 5' rotary cutter, post hole digger (PHD), 6' rear blade, bale spear and pallet forks for $23,725. That would be a smoking deal. And who knows; if Kioti decides to phase out the DS series with the FT4 rollout; there may even be better deals to come.
With a four-year full fleet warranty, meaning for the homeowner, farmer, rancher, municipality, or commercial landscaper, the DS3510 might just be that perfect 34 HP tractor you've been looking for.