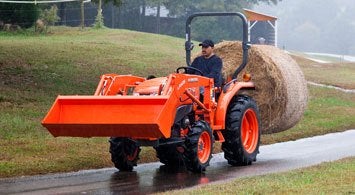 With more than one half of all tractors sold in the US being less than 50 HP, the compact utility tractor (CUT) market is one manufacturers pay careful attention to. Kubota has long held a sheer number advantage, but each year the competition grows tougher with big name manufacturers vying to offer more for less – well maybe not, if you factor inflation's debilitating stranglehold on purchasing power. Value, though, is the driving force, and as a result, readers have seen a wide array of competitively priced offerings gracing Tractor.com pages.

The Standard L Series from Kubota is aimed directly at this marketplace. With three models, the 33 HP L3301, the 37.5 HP L3901, and the 47.5 HP L4701, and each with hydrostatic and gear transmission choices, ever since the new product announcement we've been looking forward getting some seat time with one of these tractors. Last week we got to do just that with an L3301. But first, some tech talk.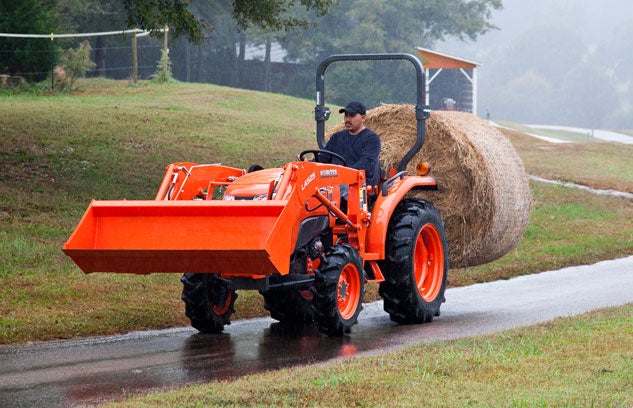 L3301 and L3901 tractors are very similar, with the major difference while sharing the same 111.4 cubic inch three-cylinder block, being the rated engine output. The frame size, transmission used, hydraulic system and lift capacities are all identical. The 4701 is an entirely different tractor, getting a larger frame, a four-cylinder engine, higher capacity hydraulic system, with one major nicety we'll touch on later.
COMPARISON: Read our review of the 2014 John Deere 4052R Open Station
For the L3301 (and L3901) rated power comes at 2700 RPM. In tractors outfitted with gear transmissions, the power take off (PTO) output is 27.7. For hydrostatic (HST) equipped tractors, the PTO output is slightly lower but still a job getting-it-done 26.2. All Standard L models are EPA Final Tier 4 (FT4) compliant, utilizing common rail system (CRS), electrically controlled direct injection, and diesel particulate filtration (DPF). Order a L3301 (or L3901) with a gear transmission and you'll get four forward and reverse gears with two gear ranges (8F / 8R) and mechanical synchro shuttle shifting between forward and reverse. Order a L3301 (or L3901) with a hydrostatic transmission, and you'll get a three-range (L – M – H) unit controlled by a right foot treadle pedal. Top speed for gear tractors is 13.2 MPH and 14.1 MPH for HST models.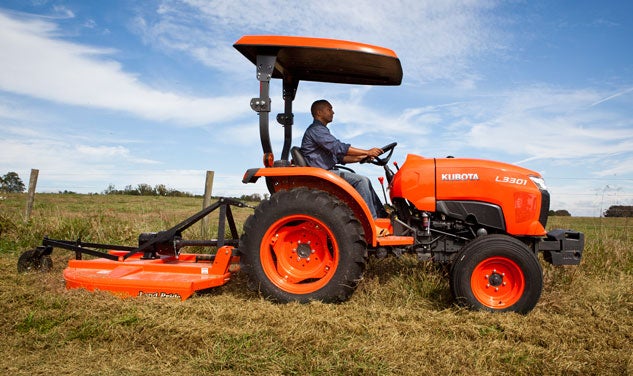 Hydraulics run through a twin pump system that flows 6.8 gpm to implement requirements and 4.1 gpm to power steering needs (10.9 gpm total). This gives the Cat I three-point hitch (3PH) a lift capacity of 1,435 lbs at the industry standard of 24" behind lift point. Position control is standard, so an implement can be lifted and returned to a precise operator-selectable position time after time. Fixed lower link arms and turnbuckle outboard stabilizers are standard fare, but telescopic options for both are available to aid in attaching/detaching implements. Up to three remotes are supported and can be stackable with self-cancelling detents and float options.
COMPARISON: Read our review of the 2014 Massey Ferguson 1734E HST
Climb up into the adjustable suspension seat from the left side (there is no step or grab rail on the right) and you'll find an operator-friendly layout with color-coded knobs and levers, bright backlit dash with a mix of analog and digital readouts, basically flat operator platform (just a small transmission hump), retractable seatbelt, cup holder, and toolbox (behind the seat for non-backhoe models, on the fender for backhoe equipped tractors). Our test tractor was equipped cruise control, an option on HST-only tractors. L3301 (and L3901) tractors have the split brake levers positioned above the treadle pedal, which is contortionist-difficult to utilize for situations such as tight brake turning. At least L4701 models have the split brake pedals repositioned on the left side.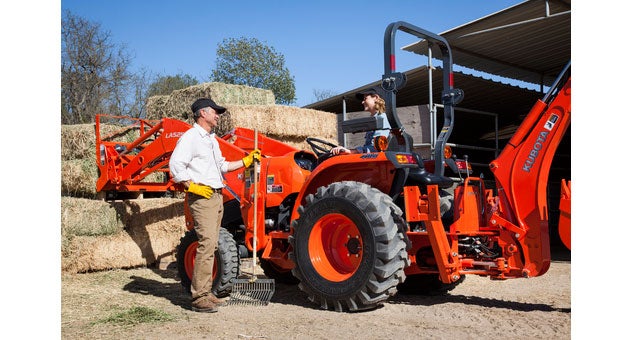 Firing up the 111.4ci mill is a smokeless, quiet event as we have come to expect from FT4 engines. Low range felt perfect for high load demands and the treadle pedal, though not necessarily our preferred interface, received high marks for modulation and control. Medium range worked out to an all-around compromise and was perfect for almost every task we were able to put the L3301 through. High range, with its 14.1 MPH top speed, is just the thing for transportation from job to job or site to site.
Our test tractor was outfitted with Kubota's model LA525 loader, which features an 1,134 lb lift capacity to a height of 94.3". Kubota rates the breakout force at 2,462 lbs and a dig depth of 6.9". We measured 3.5 seconds to full raise, 2.3 seconds to full lower, 1.7 seconds to full dump, and 2.2 seconds to full curl. Response was excellent and so was the ability to raise/lower/dump/curl at the same time. HST L3301 (and L3901) models come with live continuous PTOs with overrunning clutches to help protect against driveline damage. 540 rear PTO RPM comes at an engine speed of 2580 RPM (gear tractors 2430 RPM) and there is no mid PTO option. The PTO has a stationary feature, which allows a pump or generator to be operated without an operator in the seat.
COMPARISON: Read our review of the 2014 New Holland Workmaster 40
Kubota matches its BH77 backhoe to the L3301, which offers a 91.8" dig depth, 180-degree swing arc, 3,421 lb dig force at the bucket cylinder (2,190 lbs at the dipperstick cylinder), and 124.2" of reach. A six-position mechanical thumb is a worthwhile option.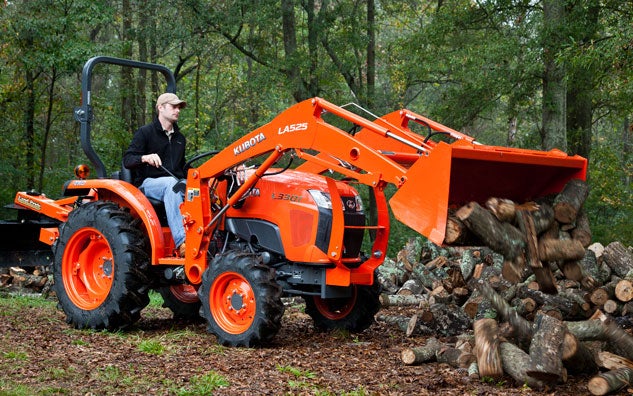 Other features include an offset filler tube for the 11.1-gallon fuel tank, folding ROPS, and one-piece gas strut supported hood. We were surprised to find the air filter a single element unit with a dual option offered, but such is the pressure these days to keep costs competitive. Ag (R1), Turf (R3) and Industrial (R4) tire choices are possible, with R3s coming in the cheapest, R1s are $124 more and R4s carry an additional $654 premium. MSRP for an R1 equipped L3301 with HST is $19,603; add the LA525 loader, and you are looking at $23,916. Cruise is an additional $205.
L3301 (and L3901) tractors measure 116.3" long by 91.7" high (ROPS up) and are 55.1" wide. Ground clearance is 13.4" and the turning radius with brakes applied is 8.2'. HST tractors weigh 2,778 lbs and gear models 2,734 lbs. Incentives are available, including 0 down, 0% financing, up to five years.
If you are in the market for a tractor of this size and class, you would be missing out if you didn't include the L3301 in your short list.