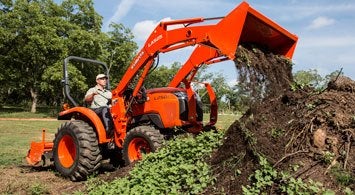 Kubota's dealer meeting held in Nashville in October contained a number of anticipated new arrivals, including the Z700X Series of z-traks, the M7 series of up to 170-horsepower tractors, the SSV Series of skid-steer machines, and the L2501 Compact Utility Tractor (CUT). Tractor.com intends to get behind the wheel of these new offerings, especially the M7 machines when production begins the second quarter of 2015 at Kubota's newly constructed factory in France. That being said, if the subject of this week's review quickly becomes a best-seller, we won't be surprised.

The L2501 story begins with a Kubota three-cylinder 100.47 ci diesel that is EPA Final Tier 4 (FT4) compliant without the need for a diesel particulate filter (DPF). The engine utilizes direct injection to make 24.8 gross horsepower at a low 2200 rpm and delivers 19 power take off (PTO) horsepower for hydrostatic (HST) variants, and 20.5 PTO horsepower for gear transmission models.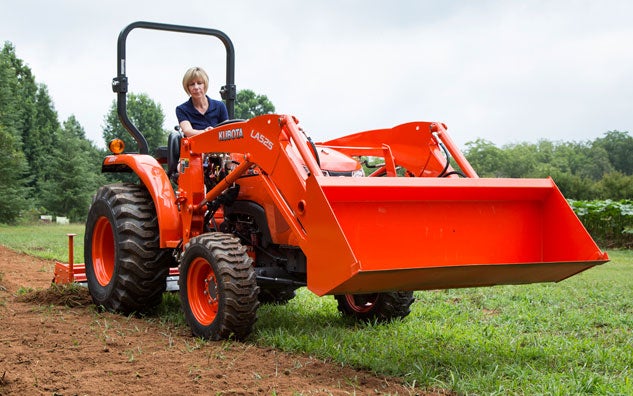 We suspect most L2501s will be delivered with Kubota's excellent three-range HST transmission that utilizes a treadle pedal to infinitely modulate the 0-11.5 mph forward and 0-10.3 mph reverse speed capability. For those that opt for gear drive, the shift pattern is inline from forward to reverse and features four synchro-shuttle gears over two ranges (8F x 4R). Speed range for gear transmission L2501s is 0.9-10.7 mph forward and 1.2-3.9 mph reverse. Gear models also come with an overrunning clutch, while HST models have continuous live PTOs. For either variant, a stationary PTO setting is possible, so chippers, generators and other stationary equipment can be run without the operator in the driver's seat.
COMPARISON: Read our review of the 2014 John Deere 2025R
Hydraulics are from a twin pump unit operating at 2205 psi with the main pump flowing 5.15 gpm to implement requirements and the secondary pump flowing 3.13 gpm to power steering needs (8.28 gpm total). This gives the Cat I three-point hitch (3PH) a lift capacity of 1,918 lbs at lift point and 1,389 lbs at the industry standard of 24" behind. Position control is standard fare, so an operator can expect to return an implement to a precise, selectable position time after time. Link ends are fixed (no telescoping option) and stabilizer adjustment is via outboard turnbuckles. A 540 rpm rear PTO is standard (no mid-PTO is offered) and for HST tractors, PTO rpm is reached at 2105 engine rpm (gear tractors 1910 engine rpm).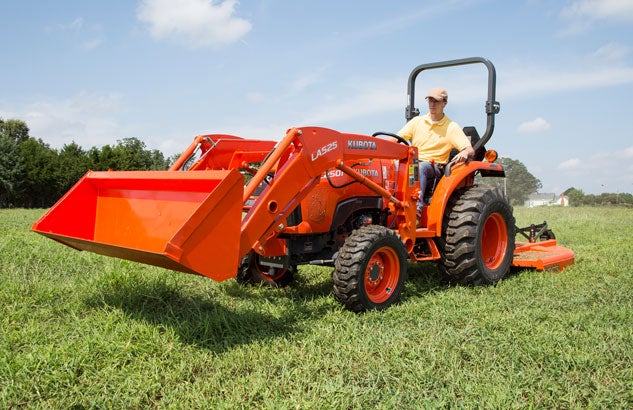 Climb up into the platform, which is spacious with just a small transmission hump, and there is plenty of foot room. Gear transmission tractors get a foot throttle, while HST tractors get the abovementioned treadle control which is positioned entirely above deck. We found the control well modulated, with operators given the choice to drive forward by pressing down with their toes and reversing using their heels, or for those so inclined, reversing by slipping their foot under the toe pedal and lifting up. The twin, split-brake pedals are located above the HST pedal, which requires a degree of gymnastic ability to apply both at the same time, but is somewhat more functional for gear transmission users, with the hand throttle maintaining directional speed. Rounding out the cockpit layout is a well-lit, cleanly laid out dash panel, ergonomically placed, color-coded controls, cup holder on the right fender, toolbox behind the operator seat (backhoe models have the toolbox mounted next to the seat), optional cruise control (HST models only), folding ROPS and retractable seatbelt.
COMPARISON: Read our review of the 2014 Yanmar 324 HST
The hood is a one-piece steel unit, slanted for ease of visibility, with a gas strut modulating the opening and closing. Onboard fuel capacity is 10 gallons, so the L2501 will go long hours between fillings, with the operator sure to appreciate the offset filler cap location (right side of hood).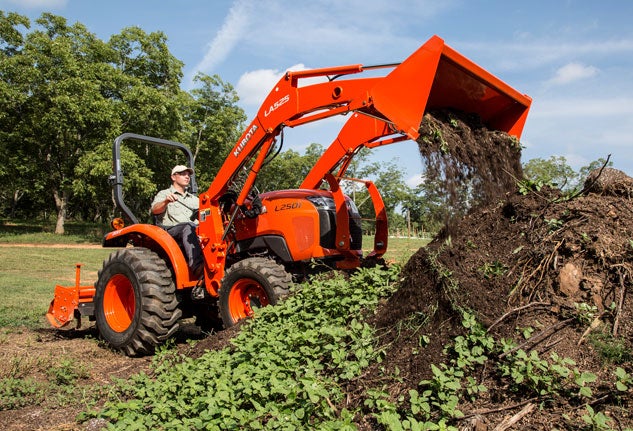 Loader choice for the L2501 is Kubota's LA525. Specifications for this combo have not yet been released, but on the L3901, where implement hydraulic flow is 6.8 gpm, the LA525 is rated to lift 1,131 lbs to a max height of 94.3". Expect somewhat diminished performance from the L2501's 5.15 gpm, but capabilities should be class competitive. As expected from a "value" tractor, niceties such as incorporating the joystick into the fender console are not included. On the L2501, the loader joystick is mounted on top of the right-side loader stanchion. The straight arm design, though, will feel familiar to Kubota operators and is not at all difficult to get used to. Level sighting is through a bent arm indicator, with the bend pointing to the level "sweet" spot.
The L2501 HST measures 110.6" long x 55.1" wide. Height to the top of the ROPS is 91.7" and the tractor rides on a 63.3" wheelbase while offering 13.6 inches of ground clearance (gear tractors have slightly different dimensions). Turning radius with brakes applied is 8.2', and the 4WD tractor weighs 2,623 lbs.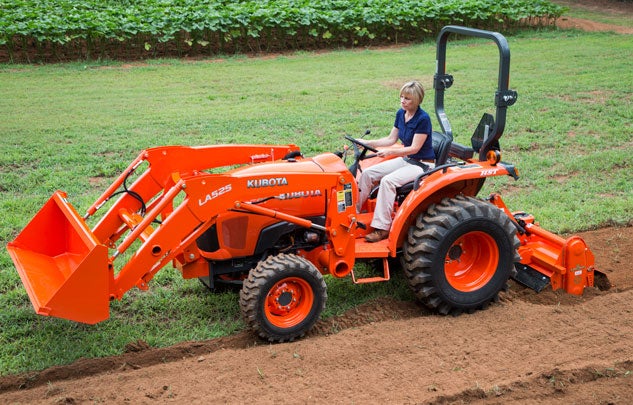 Tire choices run the gamut with Ag, Industrial and Turf options. Choose Ag (HST tractors) and the fronts are 27.2-16 while the rears are 11.2-24. Select Industrial (R4) and the fronts are 27 x 8.50 with the rears 15-19.5.
COMPARISON: Read our review of the 2014 Mahindra Max 24 HST
In addition to the LA525 loader mentioned above, a full range of Kubota implements, including a backhoe, are compatible with the L2501 – along with an implement range recently expanded by the newly announced Kubota/Land Pride alliance.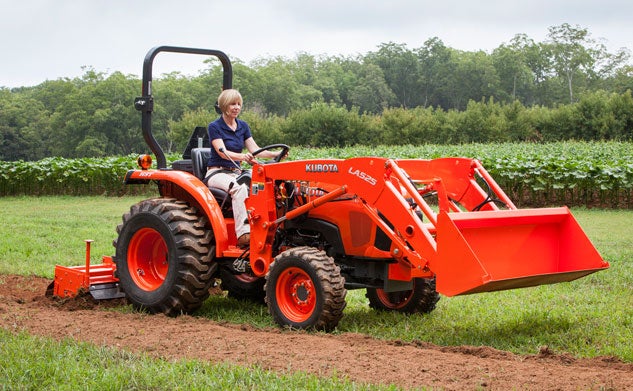 The L2501 is a tractor designed to appeal to first time tractor owners who desire a larger chassis than most entry-level machines, 25 HP power, and an affordable price. And while a few more costly niceties may have been sacrificed, performance has not – expanding the L2501 appeal to a much wider range of users than just first time owners. With MSRP for an HST transmission equipped L2501 at just $16,533, we expect Kubota dealers will see a lot of these machines move off of their lots.
For anyone in the market for a tractor of this size and power, check out the L2501. We think you'll be impressed.