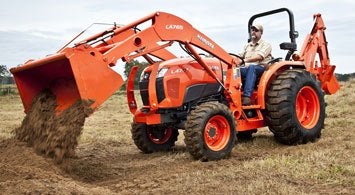 Kubota's standard L Series consists of four current models, the 24.8 hp L2501, 33 hp L3301, 37.5 hp L3901, and 47.3 hp L4701, which is the subject of this review.

The L2501 is an all-new model, while the latter three are replacements for the previous generation L3200, L3800 and L4600. This is a workhorse series well-suited for everything from estate maintenance to commercial landscaping and small farming use. While lacking the ultra plush cab comforts of the Grand L60, the L4701 comes with just about every nicety expected from an open station machine.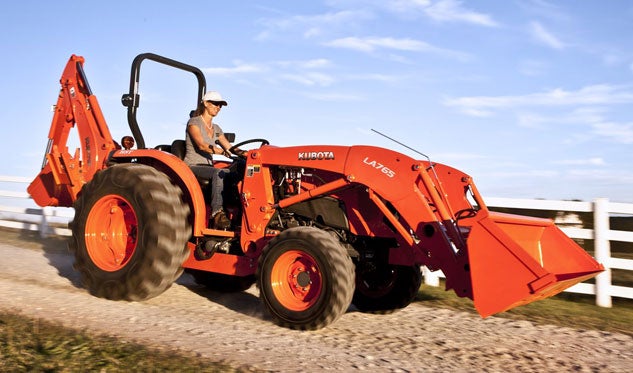 Power comes from a Kubota engine that uses a high pressure common rail system (CRS) in conjunction with direct injection and a diesel particulate filter (DPF) to achieve EPA Final Tier 4 (FT4) emissions compliance. The 148.5 cubic inch mill operating at 2600 rpm makes 47.3 gross and 37.8 power take off (PTO) horsepower. Transmission choices are a constant mesh 8F/8R gear unit with synchronized shuttle or, as in the case of our test tractor, a three-range hydrostatic transmission (HST). Gear equipped tractors gain a little more PTO horsepower (39.3) without the losses inherent in hydrostatic drives, but many don't find them as easy or friendly to operate.
COMPARISON: Read our review of the 2015 Kubota L4600 HST
Order an L4701 with HST transmission and you'll get the upgraded 44.5cc Feather-Step hydraulic servo system that increases pedal responsiveness while reducing user effort. Operator interface is through an "r" shaped treadle pedal that offers excellent modulation over the 0-15 mph forward and 0-14.2 mph reverse speed ranges. While a treadle pedal to some isn't the most ergonomically friendly interface, Kubota positions the pedal with ample room for an operator to easily slip their right toe from above the forward pedal to underneath, allowing forward/reverse control from a heel pivot. Operators that prefer traditional toe/heel operation will feel right at home. Either way, the Feather-Step system dampening is quite nice and a big step up from manual hydrostatic control.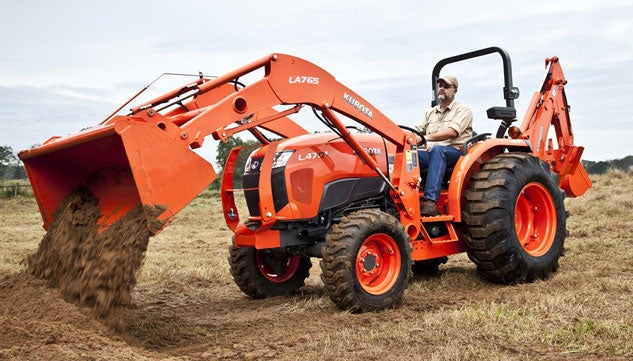 Output from the twin pump open center hydraulic system flows 7.8 gpm to implement demands and 4.7 gpm to power steering needs (12.5 gpm total). This gives the Cat I three-point hitch (3PH) a lift capacity of 2320 lbs at the industry standard of 24" behind the lift point. As other manufacturers today have begun to do, Kubota also publishes the lift capacity at lift point, which in the case of the L4701 is 2870 lbs. Position control is standard, so an implement can repeatedly be returned to an operator selectable height. Lower lift arm ends are fixed, though the outboard stabilizers telescope for easy adjustability. For additional versatility, the L4701 can support a rear remote with up to three valve positions.
COMPARISON: Read our review of the John Deere 3039R Open Station
Climb up into the comfortable high back adjustable suspension seat and the operator platform is uncomplicated with ergonomically positioned controls, pedals and levers. The dash is digital LCD with a large tachometer in the center that has a yellow mark for 540 rear PTO rpm, which comes at 2640 engine rpm. The dash also displays a digital hour meter, fuel and temperature gauges, indicators for turn signals, parking brake, front wheel drive engagement, and yellow and red alert lamps for traditional warnings.
The engagement knob for the electric over hydraulic rear PTO is located to the right of the seat and is engaged by a push and turn, or disengaged by a tap of the knob. And unlike the L3301 and L3901, the split brake pedals have been moved to the left side, making their functionality full. Cruise control, which keeps working speed constant, is standard on the L4701 and is actuated by a step-less hand lever.
Our test tractor was outfitted with a LA765 loader, which is rated to lift 1684 lbs to a 105.2" lift height. Dump clearance is 81.2", so a 6' tall trailer or pickup bed is easily accessed. Dig depth is 6.1" with the LA765 supporting several styles of 72" wide buckets that range from light to heavy-duty design.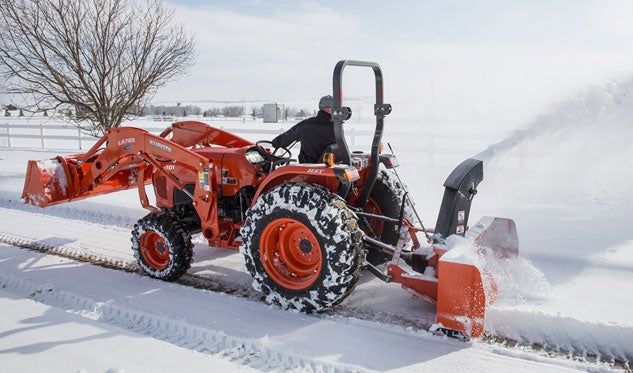 Though our tractor was not equipped with a backhoe, Kubota matches the BH92 to the L4701. So equipped, the tractor can dig up to 106.1" with a reach of 149.6". Swing arc is a full 180 degrees with a variety of buckets and bucket sizes offered. A separate seat for the backhoe simplifies a sometimes complicated setup when compared to seats that swivel.
COMPARISON: Read our review of the 2014 Massey Ferguson 1734E HST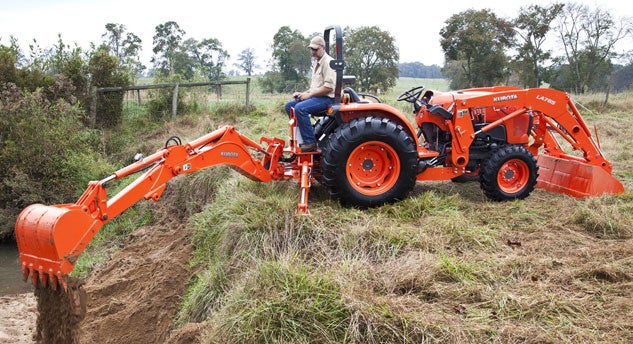 Other niceties include an offset fuel filler, which makes filling the 13.5-gallon fuel tank easier, folding ROPS, right fender cup holder, and one-piece hood that raises/lowers on a gas strut. The L4701 measures 119.5" tall by 62.4" wide and rides on a 72.6" wheelbase. Height to the top of the ROPS is 91.7" and the L4701 has 15.2" of ground clearance. Tire options include turf (R3), Ag (R1) or industrial (R4), as our test tractor was so equipped (sizes 10.0-16.5 front and 17.5L-24 rear).
Using the split brakes to aid turning radius, the L4701 can be rotated in 8.5'. Tractor-only weight for the assembled-in-Georgia Kubota L4701 is 3307 lbs. With an MSRP of $27,123 and a 24-month/1500-hour bumper-to-bumper warranty (powertrain is warranted for 36 month/2000 hours), incentives that include cash back, $0 down for 60 months at 0% interest, and rebates for ordering two or more qualifying implements, the L4701 might just be that perfect sub 50 hp small frame compact you have been wanting to add to your stable.