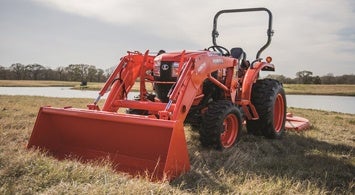 The Kubota L Series consists of 10 tractors spread over two sub series: the Standard L, and the Grand L. Gross horsepower ratings range from 24.8 to 47.3 for Standard L models, and 37 to 62 for Grand L models. This week we chose to review the "entry level" model from the Grand L series, but with Kubota's sometimes confusing numerology and nomenclature, we'll begin with a run-through of the entire L series.

Standard L tractors are based on two chassis sizes and come with two Kubota transmission choices, an 8F/4R gear (L2501) 8F/8R (rest of the models) inline synchro-shuttle, or a three-range hydrostatic (HST). There is no factory cab option. Standard L tractors are "value" offerings with lesser hydraulics, no option for a mid-power take-off (PTO), joystick affixed to the loader stanchion, fixed lower link ends on the three-point hitch (3PH), and turnbuckle stabilizers. That said, these tractors are highly capable and come with enough niceties to blur where "value" ends and "deluxe" begins.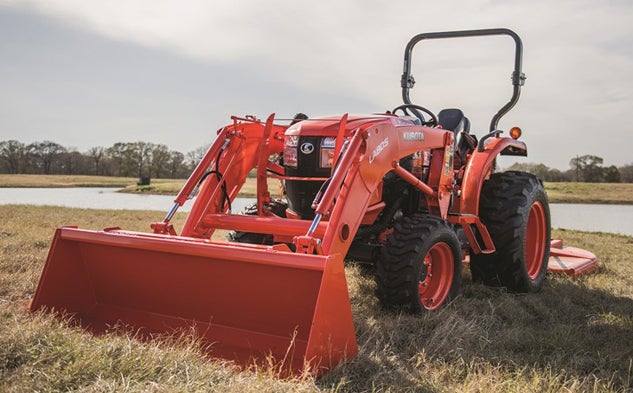 Grand L tractors are based on three chassis sizes and come with three Kubota transmission choices, an 8F/8R Fully Synchronized Main & Shuttle (FST) with two ranges, a 12F/8R Glide Shift (GST) unit with clutchless operation, and a three-range HST+ transmission with added electronic control. A factory cab option is available across the lineup. Grand L tractors also come with a number of added niceties including, increased hydraulic capability, a mid-PTO option, joystick integrated into the operator cockpit, telescopic stabilizer ends and an outboard pin adjustable stabilizer arrangement.
COMPARISON: Read our review of the Kubota L47 TLB
The Grand L3560 (35 net horsepower/60 development itineration=3560) is powered by a Kubota E-TVCS engine that uses common rail system (CRS) injection, exhaust gas recirculation (EGR) and a diesel particulate filter (DPF) to achieve EPA Final Tier 4 (FT4) compliance. Aspiration for the 111.4-cubic-inch three-cylinder powerplant is natural (no turbo), with rated power coming at 2700 rpm. For tractors outfitted with FST or GST transmissions, the PTO rating is 29 horsepower.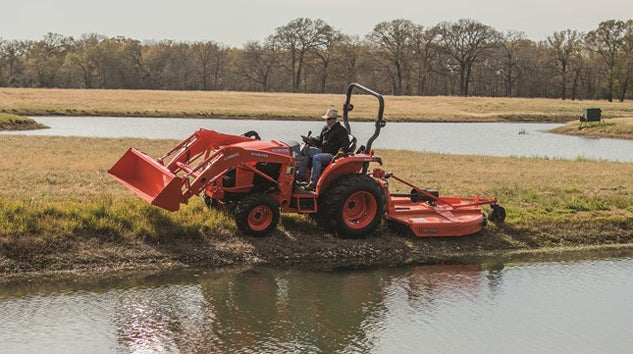 Hydraulics run through a twin pump system flowing 8.3 gpm to implement demand and 4.9 gpm to the power steering circuit (13.2 gpm total). This allows the Cat I 3PH to have a lift capacity of 2646 lbs measured at the industry standard of 24" behind lift point. Position control is standard, so an implement can be easily and efficiently returned to a preset point time after time. Draft control, which varies 3PH depth according to load, is an option. The system can support up to three rear remotes. As mentioned above, the adjustability of the lower link ends and stabilizers reduces the need to "muscle" implement hookups and is sure to be an appreciated feature. An independent 540 rpm rear PTO and 2000 rpm mid (if so equipped) round out implement drive.
Two curved boom loaders are available for the Grand L3560, Kubota's LA555 which delivers an 1190 lb. lift capacity to 92.9" height with a dump clearance of 72.4" or the LA805 which delivers a 1720 lb. lift capacity to 105" height with a dump clearance of 80.4". Both come with a two-lever skid-steer compatible attachment system and can support an optional third function kit to run a 4-in-1 bucket or grapple. Cycle times for the LA805 are 3.2 seconds full raise, 2.0 seconds full lower, 1.9 seconds full curl, and 1.3 seconds full dump. A 72" bucket is sized perfectly to the LA805 and nicely covers the tread with the tires in the widest position. Kubota's hydraulic system also allows for simultaneous lift/curl, lower/dump, which can be a nice time saver.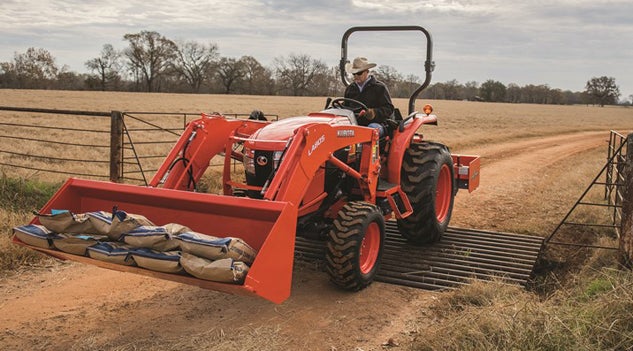 For users needing a backhoe, Kubota matches two to the Grand L3560: the BH77 which has a 91" dig depth, 180-degree swing arc, 160.2" reach and breakout force of 3339 and 2097 lbs respectively to the bucket cylinder and dipperstick, and the BH92 which has a 109.8" dig depth, 180-degree swing arc, 192.3" reach and breakout force of 4548 and 2698 lbs respectively to the bucket cylinder and dipperstick. Both backhoes utilize a separate seat, so there is no fussing to reverse a single seat when swapping from the tractor operator station position to that of the backhoe. Bucket sizes from 10" to 36" are available, as is a mechanical thumb option.
COMPARISON: Read our review of the Kubota Grand L6060 Cab
Climb up into the spacious operator cockpit and you'll find a nearly flat floor, with just a small transmission hump, intuitive control layout, modern dash, tilt wheel, and a deluxe suspension seat with swivel function (an air-ride seat is available). With a cab option, it's no surprise most control levers are grouped into the right fender console. Those include the loader joystick, cupholder & storage tray, 3PH position control, 3PH draft control (if so equipped), PTO engagement/disengagement switch, and rear remote levers (if so outfitted). The dash module is backlit and reads clear even in full sun and includes an analog tachometer to the left, fuel and temperature gauges to the right, display indicators above and below, and an LCD readout with functions such as engine hours, trip meter, fuel consumption, PTO rpm, and particulate filter accumulation. There is ability to tie into the system electronic power behind the seat, but there is no standard 12V outlet.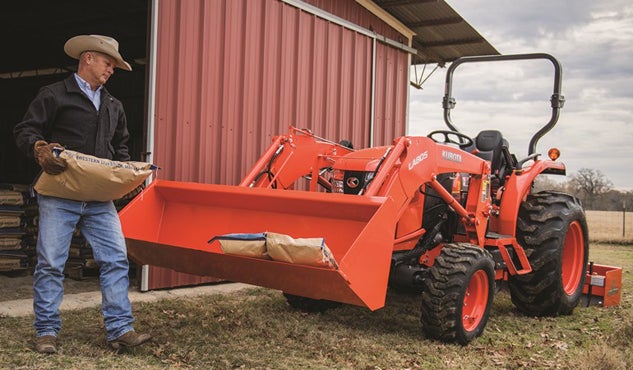 Other niceties include deck level fuel fill (13.5 gallons), tool box, owner's manual storage, rubber floor mat, and metal hood and fenders. Galaxy turf, LSW turf, Industrial (R4), and Ag (R1) tires are available. Standard R1 Ag tires measure 7.0-16 front and 12.4-24 rear. The Grand L3560 measures 115" long by 59.8" wide and rides on a 71.1" wheelbase with 13.5" of ground clearance. Height to the top of the ROPS is 97.2" and is 85" when folded down. Turn radius with braking aid is 8.9'. For comparison, a Grand L3560 with LA805 loader and 72" bucket measures 174" long from 3PH lower link end to front bucket edge.
With a MSRP of $25,393 (tractor, R4 tires, and mid-PTO) the Grand L3560 definitely fits right into that deluxe, capable budget-friendly tractor niche. Factor in Kubota's legendary reliability backed by a six-year powertrain warranty, incentives that include 0% 84 months with 20% down (60 months 0% down) cash back, and implement bundling discounts, and the Kubota Grand L3560 would be well worth consideration for any homeowner with acreage, hobby farmer, municipality, or landscape business.