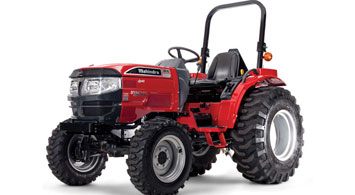 The North American farmer has an image, including jeans, a button-up shirt and a well-known American-built tractor behind him. However, since 1994 India's Mahindra & Mahindra (M&M) has been building and selling units in North America as Mahindra USA.

The United States is not entirely unfamiliar with Mahindra. In 1945 M&M was contracted to produce the iconic Willy's Jeep for GI's stationed in India.
M&N has certainly come a long way since then as it is now one of the largest tractor companies in the world with claimed sales of over 150,000 units annually in 10 countries. Not surprisingly, this is the number one selling brand in India as well.
For the person who needs a light to medium duty tractor, M&M offers its 16 series of tractors. The 16 series ranges in engine options, body styling and sizes, and drive train set-ups.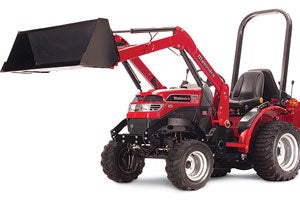 The recommended uses for the 16 series vary from home gardening applications, lawn and grounds maintenance, and even light construction. Regardless of what you need your unit for you always start with choosing the heart of your machine – the engine.
This series ranges in power options starting as low as 18 hp and ranges to upwards of 30 hp. All of these engines are three-cylinder diesels and feature four stroke indirect injection technologies. M&M builds all its own engines as well; unlike some of its major competitors who outsource engine production to other companies.
M&M claims that its 18-hp engine outperforms direct model competitors at Kubota, New Holland, and Massey Ferguson. M&N boasts that its engine achieves its rated hp at a lower RPM than the three other Tractors tested.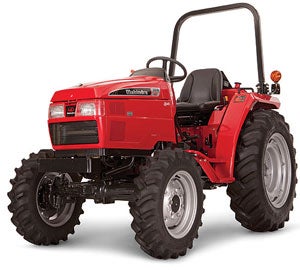 Regardless of these claims, we do know this, those engines are ready to power your attachments and get your work done. Based on engine size all of the PTO rated horsepower numbers are different but they all share one thing in common – percentages. The difference between the engine hp and the PTO hp translates into a variable of power lost or power captured and on average M&M's 16 series ranks consistently above 75 percent.
What does all that mean? It means that you've got plenty of power to work with and you're not wasting as much time or fuel to do it. The PTO on these units is ready to run whatever implement you may have – big or small.
Speaking of attachments, M&M offers up a wide variety of implements to mate with its tractors. Each of the models in the 16 series has two commonly sold implements; a backhoe attachment and a front end loader. Some of the smaller units in the series can also be ordered with under-deck mowers and optional mid-PTO.
The rear ends of these tractors are equipped with a category 1 three-point hitch. The lift capacity ranges anywhere from 1,400 lbs on the smaller models all the way up to 2,646 lbs. This means you can pick exactly what you need.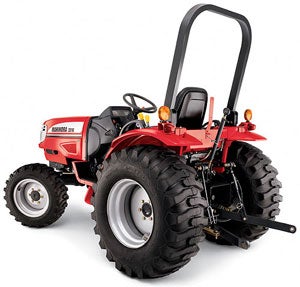 Aside from the work aspects of the design the Mahindra 16 series has been built to be comfortable and user friendly. This starts with the easy access floor boards and wide open operator decks which make getting on and off the tractor much more comfortable and allows mounting from both sides of the machine.
The deluxe suspension seat offers ergonomic comfort for the operator while still sitting you up for an excellent view of what's around you. The forward swept hood additionally helps you to see obstacles or what you're working on easier.
Another simple to see feature is the multifunction instrument panel behind the steering wheel. This station provides you with all the information necessary for the operation of the tractor.
With its folding ROPS (roll over protection system), easy fold-up seat, and latch system to lock the clutch pedal, the ability to store the Mahindra 16 series is made quick and easy.
Some other nice features for operators include a toolbox behind the driver, ergonomic controls to operate the geared or Hydrostatic transmission (your choice), and your choice of industrial or turf tires at no extra cost.
The M&M 16 series of tractors is best suited for small to medium sized properties and they would be a welcomed addition to anyone's garage.