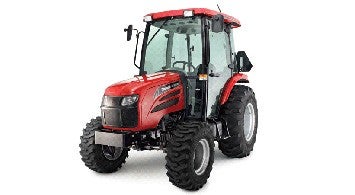 The Mahindra corporate story dates back to 1945 when it assembled Willys Jeeps for U.S. troops stationed in India. After WWII, Mahindra branched out into other manufacturing endeavors, and in 1963 joined forces with International Harvester to produce the popular B-414 for the Indian market. In-house development of Mahindra's own line of tractors followed. Today, Mahindra ranks as one of the largest tractor manufacturers in the world and produces over 150,000 tractors annually.

With that in mind, the model we chose to review was the 5010 4WD Cab model which when equipped with a hydrostatic transmission (HST) puts 38 hp to the power take off (PTO). This is tractor capable of running that heavy duty 8-foot rotary cutter or lifting nearly a ton and a half to full lift height. In other words, this is a make no excuses, serious performing machine. For the record, a gear transmission is also available.
We've gotten especially fond of cab tractors as of late — who doesn't appreciate being cool inside when it's hot in the field and toasty warm behind the wheel when it's cold outside? It's here that Mahindra's quality and attention to detail really shines. The fit is on par with any other manufacturer, the amount of glass used makes for great views from the front, rear, or either side over the work being done, and the extra wide doors even click shut with vault-like automotive precision. There is a front and rear wiper/washer, folding side mirrors and plenty of work lights.
Behind the wheel the operator is treated to — besides that filtered, climate-controlled environment — a flat, uncluttered platform, comfortable adjustable seat, twin side-by-side hydro pedals, an upscale instrument panel with easy-to-read gauges, a tilt wheel, and cup holders that will make them feel more like he or she is behind the wheel of a well-appointed automobile than a tractor. The three-range hydro makes for easy matching of gearing to the job to be done, and directs a separate 5 gal/min flow to the power steering, which was two-finger easy even under load.
The ML155 loader our test tractor was equipped with was solidly-built and felt responsive, which wasn't surprising with 9.5 gal/min coming from the hydraulic system. As mentioned earlier, its rated lift capacity is 2991 pounds and the bucket attaching system is compatible with skid-steer attachments so sharing of buckets, grapples and forks with friends or renting of them from your local rental center becomes possible.
At the rear, the 5010 three point hitch (3PH) is rated to lift 3314 lbs. The category-1 3PH arms come with telescopic check chains and the link length is adjustable for ease of use. As expected in this category, position control is standard. The rear remote hydraulic outlet is also standard – something that is normally an option with the competition.
The 4-cylinder diesel is rated at 49 gross hp and is direct injected for maximum fuel economy, which combined with the 16-gallon tank, makes for long hours before the need to fill up. All of the service points were color coded and easily accessible and we couldn't but help be impressed by Mahindra's use of castings — even the chassis is cast iron — and heavy gauge metal. With a curb weight of 4078 pounds, an overall length of 126.3 inches, and a width of 62.6 inches, the 5010 is one hefty, sizable tractor. Mahindra seems to think so too and stands behind it with a five-year powertrain warranty.
The dealer we talked to told us parts availability was on par with any other major tractor manufacturer and that any part he didn't stock could be had the next day using an overnight shipping company.
For anyone doubting Mahindra's quality and commitment to manufacturing excellence, they need to go no further than the 2007 Japan Quality Metal award for excellence in customer focus, overall quality and business processes. This is an honor awarded to a tractor manufacturer for the very first time.
With a super-competitive pricing structure, dealer initiatives and low-rate, long-term financing available, this may just be the time to check out the Mahindra line.
Related Reading
2011 Mahindra Model 16 Overview
Mahindra to Open New Plant in India