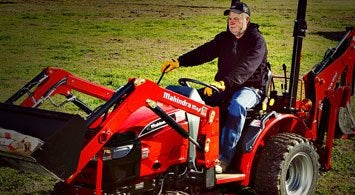 Last fall we had the pleasure of reviewing the Mahindra 5010 HST Cab Tractor and while we were at the dealership one of our testers remarked there was a little sub compact tractor (SCUT) in the front of the lot that looked like a machine he would sometime in the future like to review. The model tractor was Mahindra's 2216. The dealer told us that it was one of his best selling tractors but that if we waited just a little longer, a radical redesign was coming. That time is now.

SCUT tractors by their very nature are a study in compromises. To get that low center of gravity they are outfitted with smallish tires, which result in limited three point hitch (3PH) lift height capacities. To get to that price point, niceties such as folding roll over protective structure (ROPS), transmission coolers, and position control over the 3PH are omitted and replaced with stationary ROPS, plastic fans and guess-where-the-3PH-position-is controls. What the purchaser gets are capable tractors that can do those Lawn and Garden tractor tasks such as mowing with somewhat more added versatility with the addition of attachments such as small loaders and backhoes. With the Max 22 (and its bigger brothers: the Max 25 and Max 28XL), Mahindra has engineered out the compromises and takes the SCUT tractor class to a whole new Max.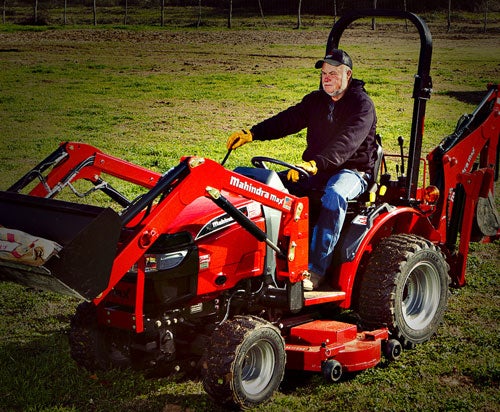 Max tractors all begin with real tractor underpinnings, meaning the frame. Unlike some of the competition, a Max features a full length frame, which equates to greater strength and allows for greater lift capacities. In the case with our Max 22 test tractor, the 3PH is rated to lift 980 lbs at the industry standard 24" behind link arms. Notable competitors, the John Deere 1023E/1026R and the Kubota BX lineup carry respective ratings of 681 and 670 lbs. That is a sizeable difference, opening the door for an entirely different class of implements. Behind that lift capacity is a hydraulic pump that flows another gallon per minute more than the abovementioned machines (7.3 gpm vs. 6.3 gpm) making the responsiveness of the ML 202 loader our Max 22 was equipped with downright snappy. We were also impressed by the ML 202's lift capacity to full lift height, which Mahindra conservatively rates at 900 lbs.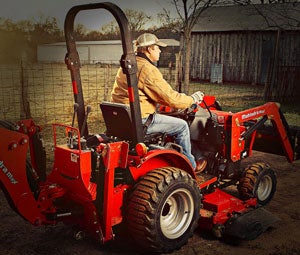 Propelled by a four-stroke liquid cooled three-cylinder diesel rated at 22 gross horsepower, the Max 22, with its two-range hydrostatic transmission, hardly worked up a sweat, even while moving full bucket loads of gravel. And the Max 22 horsepower comes at an industry leading 2500 rpm, which means longer life and better fuel consumption. Nice.
Our test tractor was also equipped with the MAH 1660 mid-mount mower (MMM), which was a heavy three-bladed gem measuring 60" in width and with a sturdy gear box yielding a blade tip speed in excess of 18,000 feet per minute. While we weren't able to get any mowing time in (it's winter in the northeast) we're sure with that kind of speed and powered by 17 horsepower at the power take off (PTO), the MAH 1660 will find a loyal following of homeowners and parks and recreation operators who will be quite pleased at the quality of cut. The MAH 1660 is a drive-over style deck, which makes for easy attachment/detachment.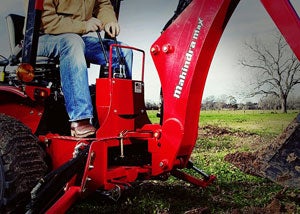 Our testers universally commented at the stability of the Max 22. Chalk that up to the heavy frame and construction that gets the tractor-alone weight to 1693 lbs and tires that are taller than the competition (our Max 22 was equipped with 20 x 8.00 – 10 front and 29 x 12.50 – 15 rear turf tires). And though you may be thinking greater weight and bigger tires equal more turf impact and damage, we were reminded by the dealer that the footprint per square inch is better than the competition. Ag and Industrial tire combinations are also available.
Two areas we thought Mahindra fell a little short on were the hydraulic pedal arrangement and the location of the loader joystick. While neither were showstoppers, we felt a radical redesign, as the Max is touted to be, could have included improved ergonomics in those two areas. Other than that, we found the operator's platform to be uncluttered, roomy, with excellent gauges and well-marked controls, and with an adjustable seat that is among the best in its class.
With a five-year limited warranty, best-in-class turning radius, availability of a snow blower, front blade, broom and backhoe that can be added at any time in the future, and rock bottom pricing, if you're in the market for a SCUT tractor, check out the soon-to-be-arriving-at-dealers-near-you Max 22. We think you'll be impressed. We were.
Related Reading
2012 Mahindra 5010 HST Cab Review
2011 Mahindra Model 16 Overview