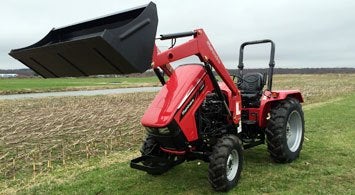 Today's tractors have certainly gotten more complex. With the majority of purchasers clamoring for ease of use and an ever growing list of creature comforts, manufacturers have stepped up to the plate with deluxe, premium, and special edition models. Air ride seat with heat and ventilation? No problem. Hydrostatic or hydraulic shuttle transmissions? Not a problem either. Power take-off (PTO) implements that attach without the operator leaving their seat? That's available today as well.

The problem with these niceties is that they come at additional cost and complexity. Though many would say increased productivity makes the additional cost well worthwhile, there are some who just don't need or want to pay a premium or deal with that complexity. The Mahindra 4500 series is aimed squarely at that segment of the marketplace.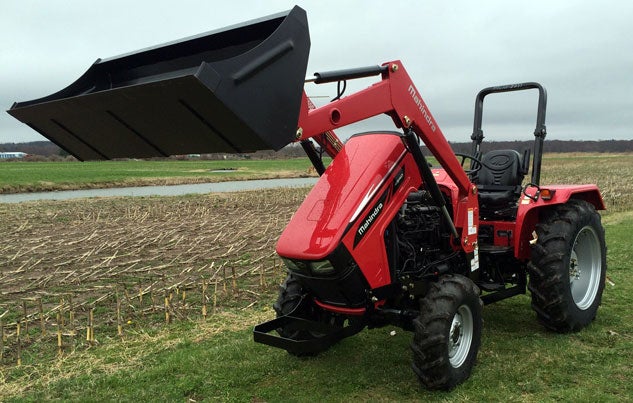 Our test took place on a rainy Friday, where the good folks at Ellington Agway had ready a 4540 open station tractor and a 2565 cab tractor (review forthcoming). A new Mahindra mPact XTV was the perfect vehicle to do the ferrying duty out to the north forty where the two tractors along with wide range of the Mahindra lineup were waiting. But first, some series technical details.
The 4500 series consists of three models: the 4540 and 4550 available in 2WD or 4WD and the 4565 available only in 2WD. Power comes from Mahindra mCRD engines, which achieve EPA Final Tier 4 (FT4) emissions compliance without having to rely on a diesel particulate filter (DPF) or additions of diesel exhaust fluid (DEF) often called AdBlue. This results in reduced complexity and heat generation and no possibility of filter replacement down the road. For the 4540 and 4550, the engines are naturally aspirated four-cylinder, direct injection, water-cooled diesels displacing 167 cubic inches. For the 4540 power output is 41 gross horsepower with the 4550 getting a few more ponies to an even 48, all at 2300 rpm. The 4565 is powered by a three-cylinder turbocharged and intercooled engine making 62 horsepower.
COMPARISON: Read our review of the 2016 Massey Ferguson 2705E
The transmission used across the model range is a time tested full constant mesh 8F / 2R manual gear unit with the shift levers positioned on the transmission hump between the operator's feet. The left range lever has low forward and high backward while the right gear lever has four gears in a traditional H pattern with reverse back and to the left. All the levers, hardware and pedals are beefy and substantial, with seemingly zero attention paid to weight reduction or material cost. On the right side of the floorboard is a ratchet lock parking brake lever, right heel differential lock, foot throttle (there is a hand throttle as well), and split brake pedals.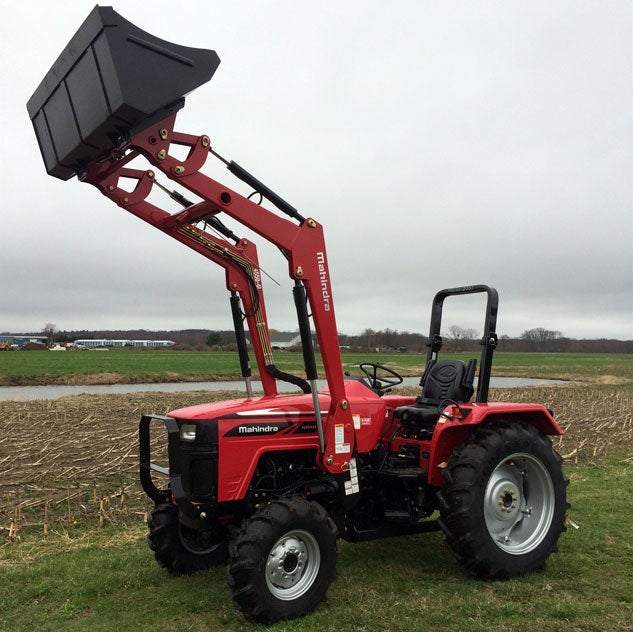 On the left side of the floorboard is the clutch pedal and a pull up/push down 2WD/4WD lever. Rubber vibration and anti-slip mats cover the left and right floorboard sides but all the pedals are painted metal. To the left of the seat, which adjusts fore and aft and for operator weight, is a lever for the live PTO. There is plenty of space between the seat and fenderwells, including room for a left side cupholder. Right of the seat is a lever control for the three-point hitch (3PH), that though perfectly functional with position and draft control, looks like it was sourced straight from a marine supply catalog.
Read our 2015 John Deere 3038E Project
Hydraulics run through an open center system with 5.8 gpm going to the power steering system and 8.7 gpm to implement requirements (14.5 gpm total). The Cat I/II 3PH has a lift capacity of 3,527 lbs (3,525 for 2WD 4540s). A single rear remote is an option on 4540 models (standard on 4550) with the 4565 having an option of either one or two spools. Lower link arms are fixed but the outboard stabilizers telescope for quick cinching up of implement slack. The drawbar is heavy steel and uses a U pin to adjust to several locations left, center, and right. Castings for the transmission and axles are beefy and certainly look like they were designed for heavy duty conditions. There is no mid-PTO option, but 540 rpm at the rear PTO comes at 2058 engine rpm. PTO horsepower ratings are 31 for the 4540, 38 for the 4550, and 52 for the 2WD 4565.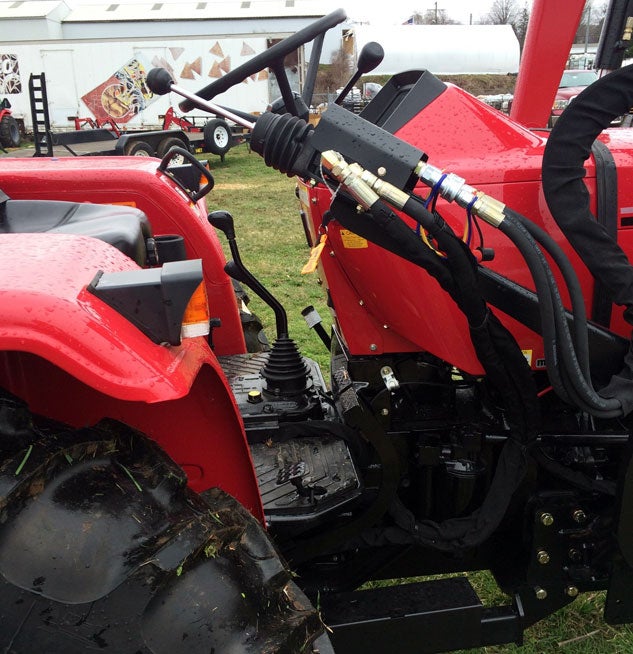 Climb up into the cockpit (single step only on the left side) and you'll find it's a little tight stepping between the transmission levers and seat, but once you're situated in the operator seat the wide platform allows for plenty of room. The dashboard display is backlit with large, legible gauges for all the operator needs to know. The steering wheel is fixed, but the angle is in no way uncomfortable. There is a left hand turn signal stalk with horn button that is exactly that. We kept wanting the turn signal stalk to be a hydraulic shuttle lever, but that isn't what this tractor is about. The joystick control is mounted to the loader stanchion, which gives it close proximity to the hand throttle and steering wheel.
COMPARISON: Read our review of the 2016 Kubota L4701 HST
Firing up the 4540, we measured a dBA reading of 80 at idle and 90 at PTO speed – not bad for an open station tractor with all steel/iron construction. Starting off in low range, second gear, the clutch engagement was 75% nothing with all the action coming in at the last 25%. Shifting gears was fairly effortless and accompanied by nice, precise and defined clicks. A few minutes of driving the tractor and we found ourselves barely looking down for a gear change. Shifting into high range, and the 4540 could really get going. Though we found fourth gear, high range is something you'd want to work towards with only 41 horsepower on tap. Stability was excellent, due to the wide stance and loaded rear tires. Riding over choppy ground, the tractor felt planted.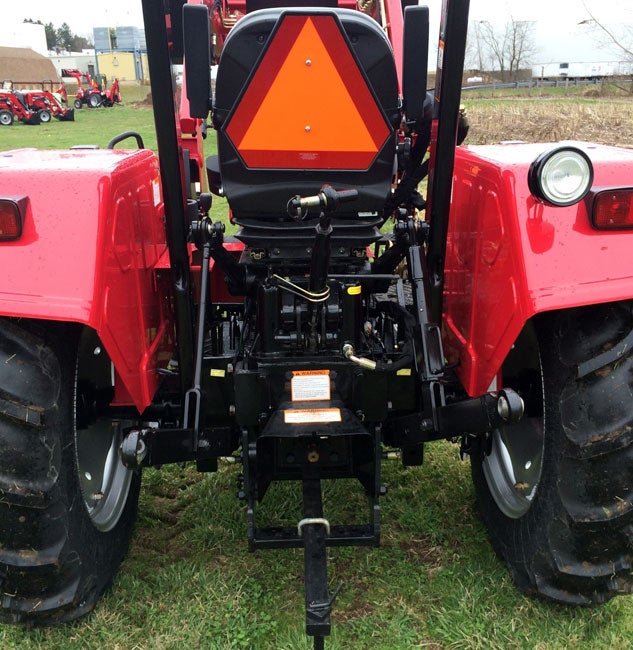 Our test tractor was outfitted with Mahindra's 4550-4L loader, which can lift 2,866 lbs to a max height of 116.5". Dump clearance is 88.4" which is plenty of height to clear most trailer/pickup/carts commonly used for specialty or hobby farming – target usage applications for the 4500 series. Using 8.29 gpm of hydraulic flow at 2500 rpm, the 4550L-4L has rated cycle times of 6.2 seconds full raise, 4.0 seconds full lower, and 2.7 seconds full dump or curl. A 72" bucket with skid steer style attachment points is standard. For prospective purchasers requiring a backhoe, the model 4550B is sized to fit the 4540/4550 with 101" dig depth, 135" of reach, a 180-degree swing arc and 3,670 lbs dig force at the bucket (2,310 lbs at the dipperstick).
The 4540 measures 128.9" long by 82.6" wide and is 92.6" high to the top of the foldable ROPS. Turn radius for the 5,192 lb 4540 is 10.5'. Ag (R1) tires 6×16 front and 12.4×28 rear are standard with industrial (R4) 12×16.5 front and 16.9×24 rear as an option. MSRP for a 2WD 4540 is $17,955 and $23,288 when equipped with 4WD.
For a specialty or hobby farm or material handling application requiring a heavy, no-frills 41 hp tractor, the Mahindra 4540 certainly delivers. If the slightly dated design isn't an impediment, the 4540 would be well worth considering. For those in the vicinity of Ellington, CT, Ellington Agway with their friendly, knowledgeable staff and extensive inventory would be a good place to start.