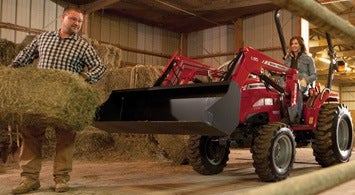 It's been a long time since I checked out the Massey Ferguson lineup, but after doing so I came away quite impressed. The 1500 Series is perhaps the broadest lineup of compact tractors any manufacturer offers. Ranging from 22.5 to 59.1 horsepower, and with loader lift capacities ranging from 800 to 2527 lbs, if you can't find the right tractor here for your needs, you've overlooked something. The 1526 is a brand new offering aimed squarely at a market where Deere, Kubota and New Holland have solid followings, and is the model I chose to review.

With 24.8 gross horsepower and 20.1 at the PTO (power take off), the 3-cylinder Iseki diesel is powerful, economical, and meets EPA Tier II emission requirements, while at the same time is engineered to run on B-5 biodiesel fuel. I found the engine to have plenty of reserve power with a neat throttle/hydrostat feature that's bound to save fuel (more on this later).
The 1526 comes with a 3-range Hydro, which ensures operators will always be able to find the right speed/power combination for the task ahead. I found low perfect for tough tasks, such as loader work, with the in-between range right for mowing even hilly ground. There was no published speed for high range, but it seemed plenty fast for transportation from job to job.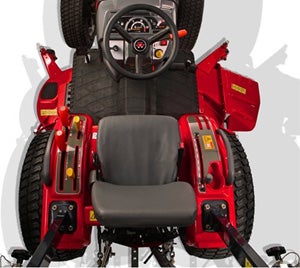 A twin pump putting out 8.7 gal/min powers the 1526 hydraulics, which is plenty enough to power implements and not shortchange the tractor's power steering needs. Massey rates the category one 3PH (three point hitch) to lift 992 lbs at the industry standard of 24" behind the hitch point, and I particularly liked the inclusion of position control with adjustable up and down stops that is sure to make operating implements such as a box blade or brush hog that much easier. A great feature is that the hydrostatic fluid level can be checked without the operator ever leaving his or her seat.
Massey engineers obviously gave thought to tractor ergonomics, and the operator's platform shows it. The seat is an adjustable suspension design that even has a dial to balance settings to the operator's weight. To me it felt comfortable and don't doubt it would be for almost any height or weight. The hydrostat controls were of the twin side-by-side pedal style that most seem to prefer, and as mentioned earlier, come standard with an industry first: an engine accelerator. Pushing the hydro pedals further down not only increases the ground speed as you would expect, but also automatically increases the engine speed. What this means is that the operator will spend less time fooling with the throttle, or even leaving it at a higher RPM and wasting unnecessary fuel. And if the task at hand requires a constant ground speed, the throttle can be set accordingly. Don't be surprised if the competition is quick to add this nifty feature to their lineups.
Cruise control is standard but there is no tilt wheel option like some of the competition. The 1526 comes with a ROPS (rollover protection system) that is foldable and throws in as standard protective hoops surrounding the flasher lights. How many of us have torn off a $100 light that an optional $20 hoop would have protected? Hopefully, the competition will take notice.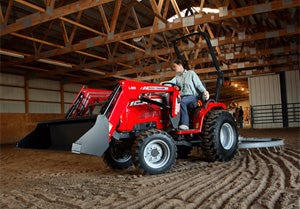 On the right side cowl were several unused slots that to me looked unfinished, but the sharing of big ticket items across product lines are things we all can appreciate.
An area I did give big thumbs up to was Massey's use of metal. Whereas much of the competition, in search of cost savings and/or greater profits, have gone to lighter weight materials, Massey has resisted: the transmission case is cast iron, the hood is steel, and the frame has a beefy look that says it's ready for the toughest of tasks.
A 60" mid-mount mower is available, as are a variety of implements including a loader, 60" and 72" rear brush cutters, 60", 72" and 84" rear discharge finish mowers, grader blades, tillers, rakes, front blowers, brooms, and snowblowers—all with simplified quick hitches and stands that are built with ease of attachment and detachment in mind. But a backhoe is not currently an option, though I was told one will soon be available.
Mow, load, dig, lift, smile, states the Massey brochure, and to make that purchase all the more attractive, 0% financing for 72 months with no money down is being offered at the time of this writing. If you're in the market for a compact utility tractor of this size, the 1526 would be hard to pass up.
Related Reading
2011 Massey Ferguson Overview