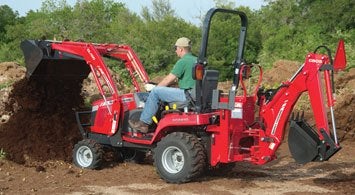 Some names in the tractor business need less introduction than others; Massey Ferguson is one of these. Still, it's interesting to realize just why that is. Frankly it has to be because of how far back some of these companies go. In the case of MF (actually the Massey-Harris company for the first hundred years of its life) the start of the company dates 1847 in the rural hamlet of Newcastle, ON. So its old, yes you've got that – but that date actually signifies a few other things.
First, this is pre-internal combustion engine time. MF's original designs employed animal or steam power. Second, the farm equipment that was being produced at the time started a revolution in agriculture; suddenly much more land could be cultivated by far less people – this raised productivity to a level where there was actually a rash of unemployment in the countryside. Third, this movement in turn sent these men into the cities to seek employment – where they became the first real generation of factory labor – a movement that simply gained steam during the American Civil War and the subsequent industrialization of North America.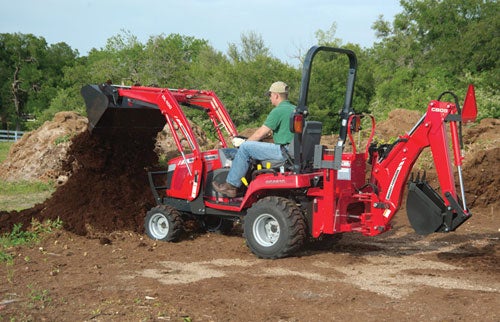 By the 1950 the Massey-Harris Company joined forces with an Irish engineer named Harry Ferguson, who had revolutionized tractor design with his innovative three-point hitch. For the first time ever, tractor and implement could work as one – a concept that still applies today on virtually all agricultural tractors.
In 1995, the next chapter of Massey Ferguson was begun when it was purchased by the US-based AGCO Corporation.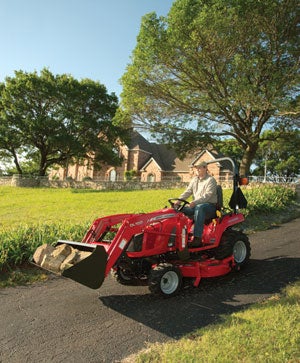 Despite these changes the core values of MF continue to this day and its attention to the small and compact tractor market is no less intense than its pursuit of the largest AG power and implements.
These statement shows its truth in the three series of tractors that appeal to you – our readers – and which fall into the 2500 – 2900 series lawn tractor; the sub-compact GC2300 – GC2610 series and the compact 1500 series.
It should be noted right off the bat that MF lawn tractors can be just that, however they have designed a much wider range of usability into these smaller framed units. Horsepower ranges from 10 to 24 on either single or twin-cylinder gas engines. What they all have in common is Hydrostatic transmissions, foot-controlled acceleration, 14-inch turning radius, electric or manually operated PTO, throttle and parking brake. Each has a large neck 3.5 – 5.5 gallon fuel tank. Mower decks come in 38, 44 or 50-inch free floating designs with full-width rollers. A Quick Hitch attachment removal system makes switching implements easy. These versatile tractors can also feature 4WD, Hi/Lo axle range, differential lock, power-steering, four headlights and cruise control. The largest of these can also use diverse tools like a 60-inch grader blade that is front mounted and hydraulically controlled.
The sub-compact GC-series refers only to the body size of its tractors – not its power. Making horsepower in the 22.5 to 25 range these well-rounded work machines will certainly cut grass – but then they'll do everything else that the homeowner, landscaper, sub-contractor or hobby farmer needs done.
All these units feature a Category I three-point-hitch that allows the use of multi implements offered by Massey Ferguson (and the aftermarket). Independent PTO control (engaged on the go or at a standstill) is what drives the tools available to the GC series. Of course with these work options available to you – you'll be spending lots of time in the seat and that is something that MF has spent considerable time designing for. Operator comfort is much more than a pleasantry – it's a necessity as anyone who has spent eight, ten or twelve hours behind the wheel knows. To this end MF adds new seating, controls, gauges and convenience features that are specifically installed to minimize operator fatigue.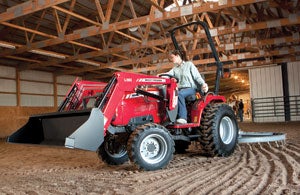 Another great feature of this series is this idea that saves setup time. The GC2410 and GC2610 TLB are designed to accept the front-end loader, backhoe and mower all at the same time, so you can dig, load and mow with one machine all during the same work session.
Finally, in the compact tractor category is the full-body 1500-series. These diesel powered units are emissions compliant and environmentally safe. They offer more power at lower engine rpms and with a wide range of transmission choices can be spec'ed to your specific needs/geography. This is one of MF's widest series with ten models moving from 22.5 to 59 hp. In this range hydraulic demands grow and MF answers those with a position control three-point-hitch for accurate implement use. To power those implements the 1500 comes with either an electro-hydraulic PTO or live PTO. All controls are positioned in ergonomic locations and if you want to escape the weather this series offers four cab models as well. When ordering your 1500 MF is also ready to load it up to work with front loaders, backhoes, landscaping tools, mowers, tillage, snowblowers and other front-mounted implements.