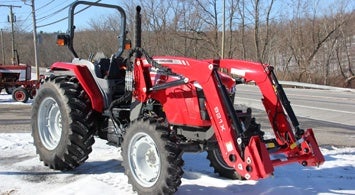 We first tested a Massey Ferguson 4608 in June of 2013. That model was a cab variant but we wondered how an open station platform would perform. When we got a call from Tim Goff at Goff's Equipment Service in Litchfield, Conn. letting us know there was a brand new 4608 in stock and that it was equipped with Massey Ferguson's all-new 921X loader, we were quickly off.

Mother Nature, however, had other ideas. Frigid temperatures in the northeast had surfaces frozen solid, so when a warm front brought rain in, roads quickly became skating rinks. After a reschedule, we picked another equally frigid day to see how the 4608 open station package worked. Readers might note the testing of a cab tractor in the summer and an open station variant in the winter might seem reversed, but we work with what stocks become available.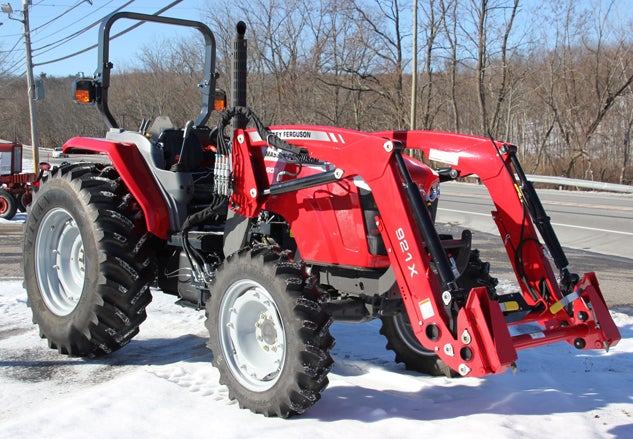 The 4600 Series is a three-tractor lineup that includes the 80 hp 4608, 90 hp 4609 and 99 hp 4610. All are powered by 3.3L AGCO Power three-cylinder engines that are wastegate turbocharged, have air-to-air intercooling, high-pressure common rail direct injection, SisuTronic EEm4 electronic engine management, and make more torque than the four-cylinder engines that powered the previous generation 2600 Series tractors. Tier 4i EPA emissions compliance is met through maintenance-free exhaust gas recirculation (EGR) and diesel oxidation catalyst (DOC). A diesel particulate filter (DPF) is not needed, so those heat generating regenerative cycles are not part of the 4608 package.
COMPARISON: Read our review of the 2013 Massey Ferguson 4608 Power Shuttle Cab
Later this year, when EPA Final Tier 4 (FT4) requirements kick in for tractors of this size, expect changes. We've heard the new model that will replace the 4608 will be the 4607, with horsepower dropping to somewhere around 70. Will the horsepower repositioning be enough to not require diesel exhaust fluid (DEF) additions? That we'll be interested to see, though it is almost certain that the higher horsepower series brothers will need to run DEF.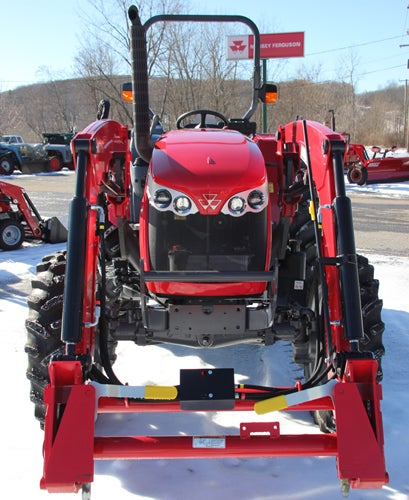 Power to the ground for all 4600 models comes from a 12F / 12R power reverser transmission. This six-speed over two-range unit allows clutchless directional changes requiring only a finger lift of the lefthand turn stalk-like lever and a nudge forward or backwards. The six transmission gears are fully synchronized so shifting on the go is supported, though clutching in between those shifts is needed. The power reverser combined with the nice right foot throttle control (there is also a dash throttle for more steady, precise engine control) make for a perfect loader package.
COMPARISON: Read our review of the 2015 Kubota MX4800 HST Open Station
Hydraulics are through a twin pump arrangement that flows 17.1 gpm to implement needs and 6.6 gpm to power steering requirements (23.7 gpm total). This gives the Cat II three-point hitch (3PH) a lift capacity of 3,417 lbs. Select the high lift option and lift capacity goes up to 4,408 lbs, both measured at the industry standard of 24". Control over the 3PH is electronic, though Massey Ferguson has figured a way to give the right hand lever a nice mechanical feel. Draft control is also standard with a rotary knob positioned next to the 3PH lever to dial in the degree. Of course, position control is also standard so an implement can be returned to an operator selectable position time after time.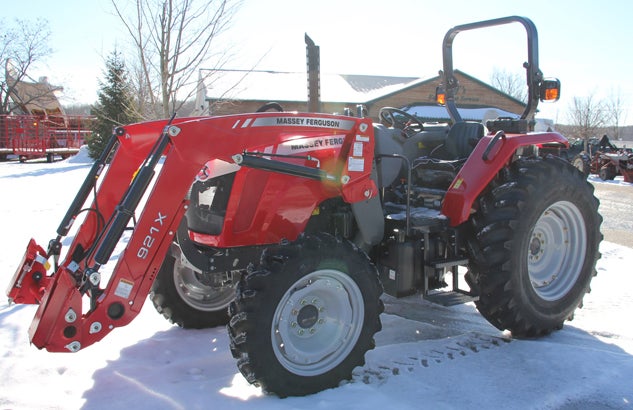 At the rear, two remotes are standard (2WD tractors come with one) with the 4608 capable of supporting three. Valves choices are spring to neutral (SRP), float (FL) or kick out and float (KO/FL). There is also a seven-pin connector to power trailer lights or a sprayer. The 3PH lower lift arms come with telescopic link ends with the outboard stabilizers also telescopically adjustable. Both 540 and 1000 rpm power take off (PTO) speeds are supported with a 1-3/8" 6-spline shaft for 540 duties and a 1-3/8" 21-spline shaft for 1000 rpm use (included as standard fare). Cockpit engagement of the PTO is via a clearly identifiable yellow push and twist switch.
COMPARISON: Read our review of the 2014 Mahindra mPower 85P
Climb up into the cockpit using the left side steps and you'll find a spacious, flat, rubber isolated platform that positions everything right where you expect. The wheel tilts for preference (a nicety the 2600 Series lacked) and the suspension seat is adjustable for operator weight (controls are behind the seat back). To start the 4608, the parking brake needs to be engaged, the shifter in neutral and the clutch in. With the temperature frigid and the wind howling from the north, we expected some engine protestation, but were politely reminded how nicely engineered the AGCO mill is, with a near smokeless start, settling quickly into a quiet idle. And no, the tractor had not been earlier warmed up. The hydraulics (some 30-gallons in reserve) did take a few minutes to get to full performance temperatures.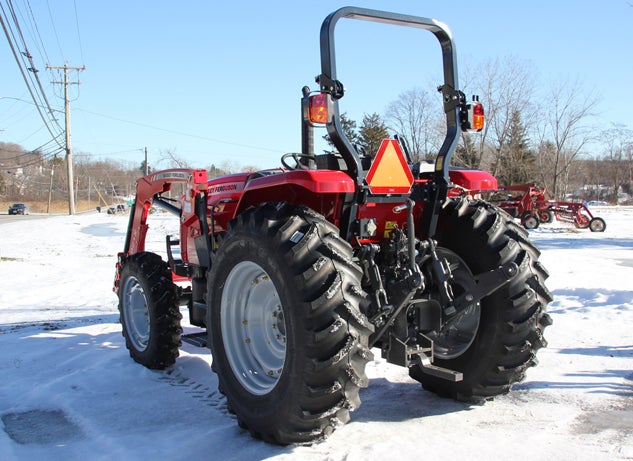 Driving the 4608 was a joy. Power steering was effortless, even driving the big 9.5-24 front R1 Ag tires (the rears were 16.9-30s), and for some reason the tractor felt smaller than it really was. As mentioned above, directional change is a non-event with the tractor hydraulics modulating the forward to reverse/reverse to forward engagement no matter the tractor speed. Prospective users would find the 4608 perfectly suited for tasks that require repetitive directional changes such as loader work, though with 80 HP on tap and 63.5 of those at the PTO, balers and other ground engaging implements are well within capability.
Exploiting the 4608s hydraulic capacity and suitability for loader work, Massey Ferguson has come out with a new loader series – so new, in fact, Goff's or Tractor.com had not yet received any technical information. Walking around the 921X, some differences over the outgoing D250/D260 loaders were evident. First, the hydraulic lines that previously were mounted outside the boom arms on the inner side are now routed within the tubing. And at the bucket attaching point, the pivot hardware is also inboard, instead of the outer gusseting the previous loaders came with. A 72" bucket is standard fare with the connection skid-steer compatible and quick attach.
The 4608 rides on an 88.5" wheelbase and is 78.7" wide and 150.2" long. The 4WD open station version comes in at 6,063 lbs. For agribusinesses in the market for a tractor of this size and capability, it might just be a good time to take a look at the 4608 before those FT4 requirements kick in resulting in the lower horsepower replacement, along with the need for DEF additions and the added complexity those emissions systems bring. For those in the vicinity of Litchfield, Conn., stop by Goff's.