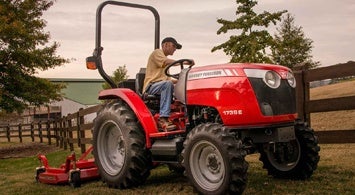 The Massey Ferguson 1700E series consists of three economy tractors, ranging from 24 to 38.5 horsepower. Tractor.com reviewed the 34hp 1734E in March of 2014 and the 24hp 1726E in June of 2015 and came away impressed with both offerings. Since all three tractors are based on the same chassis, we wondered how the higher-powered 1739E might perform and if those extra ponies were worth the added cost. Courtesy of Goff's Equipment Service located in Litchfield, Conn., we are able to draw some conclusions. But first, some technical specifications.

The 1739E is powered by a turbocharged three-cylinder 1.5L engine manufactured by Shibaura and rated to deliver 38.5 gross horsepower at 2800 rpm. Using electronic fuel management, indirect low-pressure injection, exhaust gas recirculation (EGR), diesel oxidation catalyst (DOC), and a diesel particulate filter (DPF), the engine delivers good power while complying with EPA Final Tier 4 (FT4) requirements. Power take-off (PTO) ratings are 32.8 for tractors equipped with gear transmissions and 30.9 for those equipped with hydrostatic transmissions.
Manual transmission purchasers get a constant mesh 9 X 3 unit that has three forward and one reverse gear over three ranges (rabbit, neutral, turtle, and snail) and uses a single, dry clutch. The range lever is located between the left fender and operator seat while the gear shifter is found on the transmission hump just below the steering wheel. For those preferring a hydrostatic transmission, as our test tractor was so equipped, there is a three-range unit controlled by an r-shaped treadle pedal. Hydrostatic transmission equipped tractors still get a clutch pedal, which is used to engage and disengage the PTO. Hydrostatic transmission equipped tractors also get a single brake pedal located on the left side while gear transmission tractors are located on the right.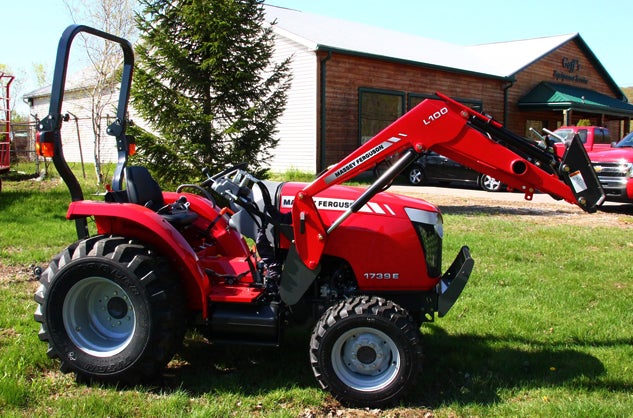 Hydraulics run through an open center system flowing 7.2 gpm for implement demand and 4.1 gpm for power steering requirements (11.3 gpm total). This is a bit more than on the 1734E (6.2 gpm implement, 3.8 gpm power steering), but the three-point hitch (3PH) lift capacity remains 1600 lbs 24" behind the lower link ball ends. If you're thinking at least the loader lift capacity should benefit by the extra gallon per minute, it doesn't, as 1700E series tractors get L105 loaders vs. the L100 our test 1734E was equipped with in 2014. More on this later.
Lower link arm ball ends are fixed with outboard turnbuckle-style stabilizers. The hydraulic system will support up to two rear remotes as an option. A 540 RPM rear PTO transferring power through a 1-3/8" diameter six-spline shaft is standard and for hydrostatic tractors is transmission driven with an overrunning clutch for safety. There is no mid-PTO option.
Climb up onto the operator platform using the single left side step and grab rail (there is no step on the right, nor is there a grab rail) and slide into the mid-height vinyl suspension seat. There is a fairly large transmission hump, but once it's straddled, there's plenty of room, even for those with larger shoe sizes. On the left floor there is a clutch pedal with a latch for extended periods of non-use along with a PTO lever with detents for engage and neutral. On the right floor, there is the above-mentioned treadle and brake pedals, a lock lever for the parking brake, and a right heel pedal for differential lock.
Between the right fender and seat is a lever with marked graduations and an adjustable knob for position control of the 3PH. There are also slots where levers used to control the rear remotes would be located if so optioned. The steering wheel is fixed, but to our testers it was comfortably positioned, though some dashboard visibility might be a bit blocked depending on operator height. Speaking of the dashboard, it is a combination of analog and digital with pleasing colors and quite legible even in full sunlight. A push/pull 2WD/4WD lever sits just below the operator's left knee and close enough that it falls within easy grasp.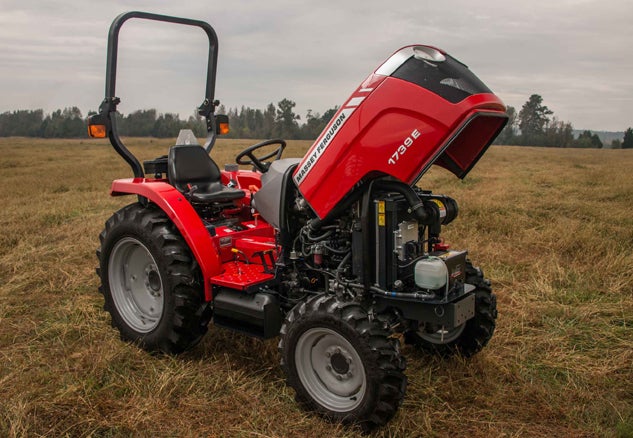 Our test tractor was equipped with the abovementioned L105 loader that Massey Ferguson now matches to 1700E series tractors. Compared to the previously used L100, the L105 lifts 72 less lbs (1210 lbs vs. 1282 lbs) and to 2.9" less in max height (95.7" vs. 98.6"). While that might not seem a big difference, and it probably isn't, it makes us wonder if the 1739E with extra flow coming from its hydraulic pump would lift even more if mated to a L100. Breakout force for the L105 is 1460 lbs with 3260 lbs of available on bucket rollback. The L105 uses a skid-steer style bucket mounting system that opens up a number of readily available attachments, including spears and pallet forks. The L105 loader is also quick-attach and can be removed in minutes without tools.
For purchasers needing to do some digging, Massey Ferguson matches their CB75 backhoe to 1700E tractors. The CB75 is a sub-frame backhoe and can dig to a depth of 92.1" with 119.7 inches of reach. With a full 180-degree swing arc, 3148 lbs of dig force, and a variety of pin-on buckets available, the CB75 brings a whole another dimension of versatility to the already versatile 1739E for an added cost of $8,256.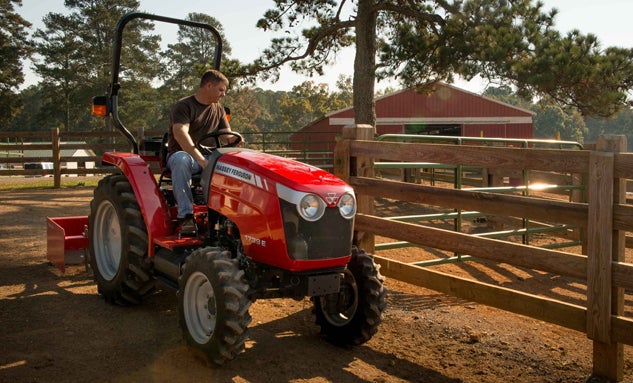 So, were we able to notice a power difference over the 4.5 lesser horsepower 1734E? Not specifically, though we weren't using a 6' rotary cutter. If we had been, and getting into some thick overgrowth, that extra power would most likely be appreciated. For some the extra $2K the 1739E carries over the 1734E might have them opt for the lesser powered model and perhaps going to a 5' cutter instead.
Other 1700E features worth mentioning are the metal hood and fenders, the former which rises with a lever pull on a gas strut and exposes engine fluids, cooling screens, and battery for easy access, the foldable ROPS and retractable seatbelt, the tool box behind the seat, and 10 gallons of knee level fuel-fill. The 1739E measures 116" long by 52.4" wide and is 97.2" high to the top of the upright ROPS (63.8" when folded). Riding on 65.9" wheelbase, the 1739E comes standard with 7-12 4PR Dyna Torq II front and 35 x 12.00-16.5 4PR Tru Power rear R1 (Ag) tires. R4 (Industrial) and R3 (Turf) options are available. Positioned to compete quite nicely with Kubota's L3901, New Holland's Workmaster 40, John Deere's 3038E, and Mahindra's 1538, the 1739E has a base MSRP of $18,878 (gear) and $20,128 (hydro), delivering a lot of value for the buck.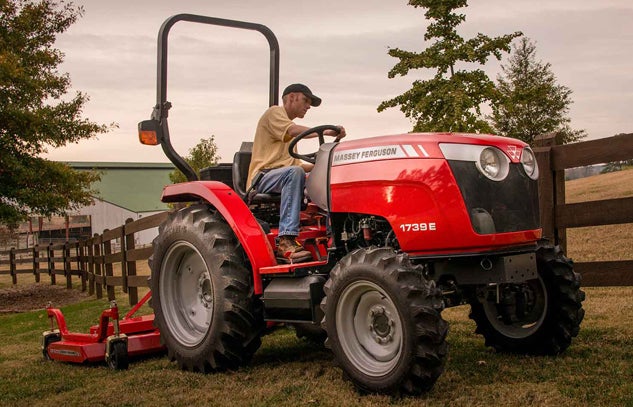 Massey Ferguson stands behind each 1700E series tractor with a full five years of powertrain coverage. For an agribusiness, homeowner with real estate, contractor, municipality, or hobby farmer in the market for a 39 horsepower tractor offering a lot of premium features at an economy price, the Massey Ferguson 1739E would be well worth considering. And if you're in the vicinity of Litchfield, Conn., Goff's Equipment Service might be the perfect place to begin.