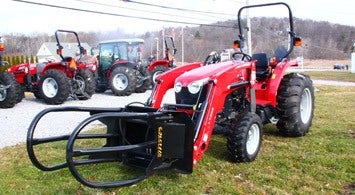 Tractor.com first got a glimpse of the new Massey Ferguson 2700E Series tractors at the Farm Progress Show in September. Our initial appraisal was that these were hefty machines with a lot of features not typically associated with economy or value offerings and, if priced well, should prove to be an important addition to the Massey Ferguson line. When we received a call from the friendly folks at Goff's Equipment Service in Litchfield, Conn. informing us that both a 2705E and a 2706E were in stock and available for test drives, we adjusted our schedule accordingly.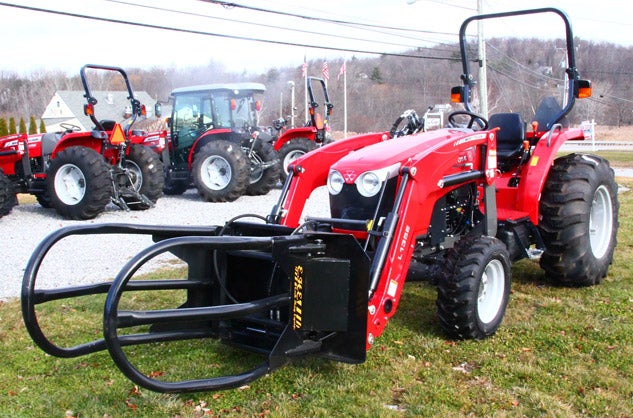 The new 2700E Series is comprised of two models based on the same platforms. 2705E models are powered by Shibaura N4LDI-T 2.2L four-cylinder turbocharged engines making 48.8 gross horsepower, while 2706E models come with Shibaura N4LDI-TA engines of the same configuration but make 57.3 gross horsepower (both at 2600 rpm). We chose the 2705E for this article, but expect a review of its higher horsepower brother to follow shortly.
COMPARISON: Read our review of the 2015 Massey Ferguson 1759 Open Station
The Shibaura powerplants are EPA Final Tier 4 (FT4) compliant using high-pressure common-rail (HPCR) injection, cooled exhaust gas recirculation (CEGR) and diesel oxidation catalyst (DOC) technologies. This means no diesel particulate filter (DPF) is required and there is no need for diesel exhaust fluid (DEF) additions – the lack thereof certainly bringing cost and convenience advantages. Our test tractor was equipped with an 8F x 8F synchro shuttle transmission, which has a power take-off (PTO) rating of 41.4 horsepower. A three-range hydrostatic transmission is also offered, but that convenience of operation comes at the expense of 2.4 less PTO HP (39).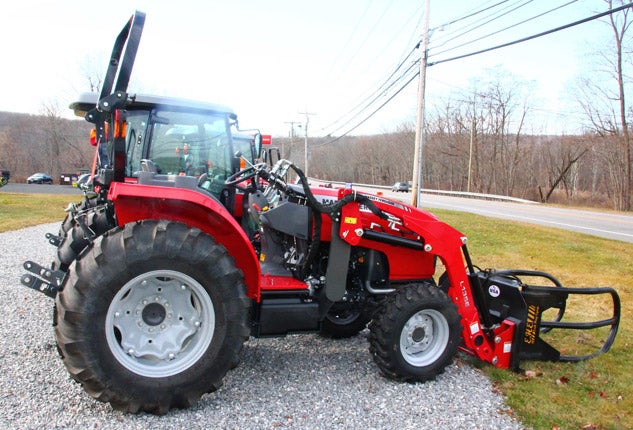 Hydraulic output for the open center, gear-type single pump is 12.4 gpm (more on this later). This gives the Cat I or Cat II three-point hitch (3PH) a lift capacity of 2425 lbs at the industry standard of 24" behind. Lower link ends are telescopic, which is a feature not typically found in value tractors; the outboard stabilizers are adjustable using quick pins. A 1-3/8" 6-spline rear PTO shaft provides 540 rpm power, though a mid-PTO is not an option with this series. Up to three spring return to neutral (SRN) rear remotes with float are supported, but are optional; our test tractor had one that was factory installed.
COMPARISON: Read our review of the 2016 Kubota L4701 HST
The 8F x 8R transmission has four gears and two ranges, with the shift levers conveniently placed forward and to the left of the operator seat. A turn signal-like stalk below the left side rim of the steering wheel (fixed) provides shuttle directional control and works well, but does require the use of the suspended clutch pedal.
Climb up the left side steps (the right side does not have steps) and settle into the vinyl seat with spring suspension. The operator platform is uncongested with a flat floor. Though the floor is not rubber isolated, at least it doesn't reveal cheap looking open space through its many water drain and strengthening holes. Split brakes are also suspended and positioned on the right side, as is the differential lock foot pedal and the foot throttle. 2WD/4WD drive engagement is through a push/pull hand lever. The digital dash display is a vivid white and blue against a black background. The fuel gauge has five small square blocks between E and F and the tachometer has clear gradations between zero and three thousand with a 540 PTO rpm indicator around 2400 rpm. The hour meter is LCD and will go to 9999.9 before resetting – perhaps an indication of the long life and reliability expected. Blue, white and red indicator lights round out the rest of the alerts an operator would need to know.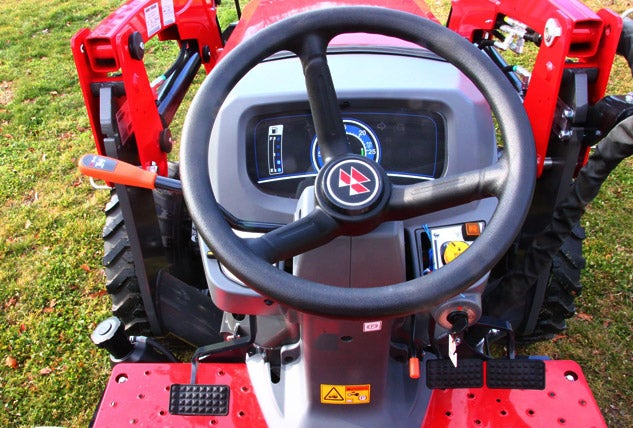 Below the dash panel and to the left is a twist switch for turn signals, lights and horn, while on the right is a pod with the hand throttle and twist/push control for the independent electro/hydraulic PTO. For loader-equipped tractors, as ours was, the selective control valve (SCV) is mounted to the right side loader stanchion. The assembly looks a little like a fabrication nightmare, but felt positioned comfortably enough to us. For those wishing for a different lever position, the bracketry can be adjusted.
COMPARISON: Read our review of the 2015 Mahindra 1538 HST
Firing up the Shibaura mill, we measured 79 dBA at idle against a 60 dBA ambient background. It was a cool morning and the tractor had set overnight, but there was no evidence of anything other than water vapor from the exhaust. Though the 2705E is not a small tractor, measuring 133" long x 74" wide and riding on a 78" wheelbase, the turning radius was surprisingly tight. At idle the hydraulic system provided plenty of flow. The steering felt light and even while operating the loader we could lift/curl, lower/dump all at the same time. As mentioned above, the pump is a single gear unit which does save cost but made us wonder if hydraulic performance would suffer. On the 2705E it did not. Throttle up the engine and though not downright snappy, the hydraulic performance should please any but the most impatient operator.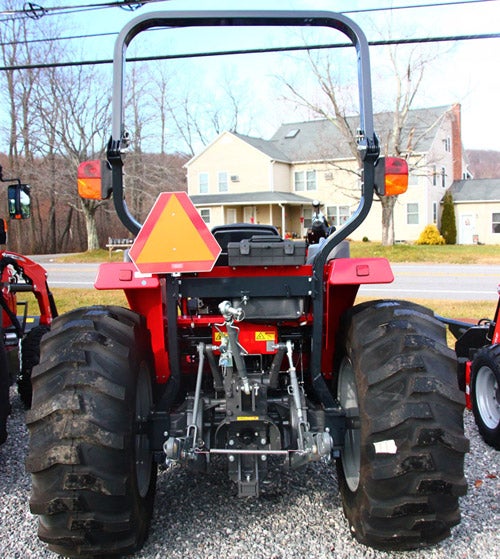 The L135E loader was another surprise. Billed as an economy offering, it is a quick attach/detach design that is skid-steer compatible and has a level indicator rod. Our test tractor was equipped with a hay bale grabber attachment, so you get an idea of how capable the setup is. We did not have specs for the L135E on 2700E series tractors, but on 2600 series machines the lift capacity was 2,430 lbs to a max height of 110.2". Expect the L135E on 2700E Series machines to have similar capacities. For applications requiring a backhoe, Massey Ferguson matches the CB85 sub-frame backhoe to 2700E Series machines. CB85 backhoes aren't yet available, but should be shipping soon.
Other niceties we found were the ground-level fill 14-gallon fuel tank, folding ROPS (104" extended, 80" folded), retractable seatbelt, cup holder and toolbox. 2700E models come with a five-year warranty and carry an MSRP of just over $23K when equipped with gear transmissions. For an agribusiness, medium sized or larger property owner, hobby farm, landscape or municipal use, the 2705E that Massey Fergusson bills as combining the practicality of a compact tractor with the functionality of a utility tractor, would be well worth considering. And if you're in the vicinity of Litchfield, Conn., be sure to stop in at Goff's.