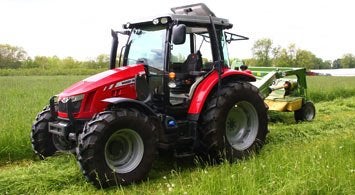 When the Massey Ferguson 5600 Series was introduced in 2012, it was a feature-packed two-model lineup with engine horsepower ranging from 90 to 100 horsepower and a cab identically sized to the ones used on larger high-horsepower tractors. Over the years, more models were added with the design proving to be both popular and rugged. Now the replacement series is here, and good enough to be named Agritechnica 2016 Tractor of the Year in Best of Utility Category.

The current 5700SL series for North America is a three-model lineup ranging from 110 to 130 horsepower. The subject of this week's review is a 2017 Massey Ferguson 5711SL that was delivered in late 2016 to Lance Sistare of Wolf Den Farm in Pomfret, Conn. The 5700SL nomenclature is simple, the first two numbers the series, the last two the horsepower with a zero added, and the SL a secret we're still trying to get an exact answer for. Power for the series is by 4.4L AGCO Power four-cylinder engines which are EPA Final Tier 4 (FT4) compliant using selective catalytic reduction (SCR) and diesel oxidation catalyst (DOC) technologies. Diesel exhaust fluid (DEF) is required but the AGCO system achieves FT4 compliance without the need for a diesel particulate filter (DPF) – saving that cost, resultant heat-generation, and added complexity. Furthermore, all emissions aftertreatment components are mounted below the cab floor where they do not impinge on operator visibility.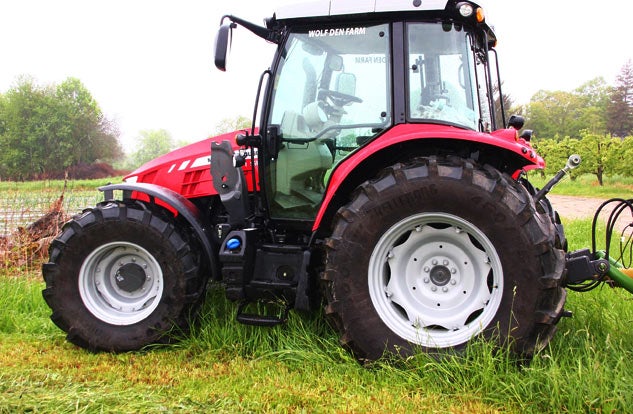 Output from the 4.4L engine powering the 2017 Massey Ferguson 5711SL is 110 gross at 2000 rpm and 88 power take-off (PTO) horsepower at 2200 rpm. Torque rating is 468 Nm at 1600 rpm. High pressure common rail (HPCR) direct injection and intercooled turbocharging are utilized along with electronic engine management. Onboard fuel is 47 gallons with a 6.6-gallon DEF tank, both located on the tractor left side.
Two transmissions are offered: Massey Ferguson's Dyna-4 and Dyna-6. Both are powershift and power shuttle transmissions with the Dyna-4 a 16F x 16R unit and the Dyna-6 a 24F x 24R unit. Both can be equipped with a 13:68:1 creeper option. Our test tractor was outfitted with the Dyna-4 transmission which has four gears and four ranges that can be shifted electronically without using the clutch. Directional control is by a left-hand turn signal-like stalk, a right console "T" handle, and/or the loader joystick. Transmission gear and range control is by the "T" handle and/or joystick control. Stepping on the brake also places the transmission in neutral. Differential lock is electro-hydraulically engaged and is fully locking.
Hydraulics run through a three-pump open-center system. Steering, transmission and PTO work off one pump while the other two flow 11 gpm to the rear three-point hitch (3PH) and 15 gpm to the rear remotes (four possible) respectively. A twin-flow option allows an operator to combine the pump output to 26 gpm. For those needing even more hydraulic capability, a closed-center pressure flow compensating (PFC) system is available with a 29 gpm output. Lift capacity for the rear Cat III 3PH is 3,890 lbs, measured at the industry standard of 24" behind ball ends. Lower link ends telescope for ease of attachment with pin-adjustable stabilizers located outboard. The PTO engagement and speed is electro-hydraulically controlled and is 540/540e or 540/540e/1000 rpm.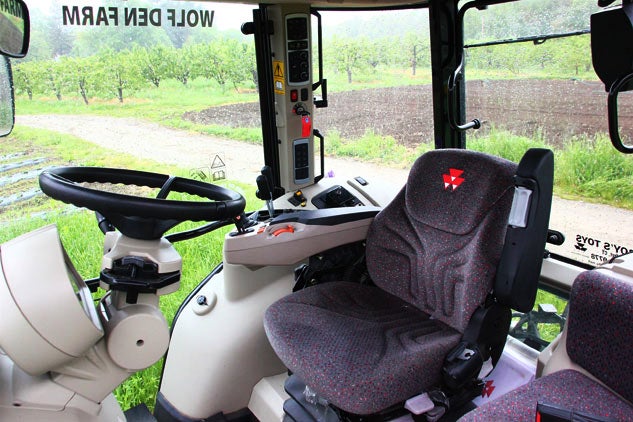 Climb up into the cab of the 2017 Massey Ferguson 5711SL, which is amazingly large for this class of tractor (straight from the 7700 series tractors), and the operator is treated to 360 degrees of view, enhanced by the steep sloping hood. The comfortable operator seat has an air-ride suspension while the foldable instructor seat manages enough cushioning for those long training sessions. The steering wheel adjusts (tilt and telescope) for operator preference and is backed by a digital dash that displays important information. The right arm console along with the right pillar contain most of the tractor controls with the most important only a hand or finger-flick away. Close the doors, windows and roof panel, and the operator gets a 71 dBA environment that makes for pleasurable radio listening.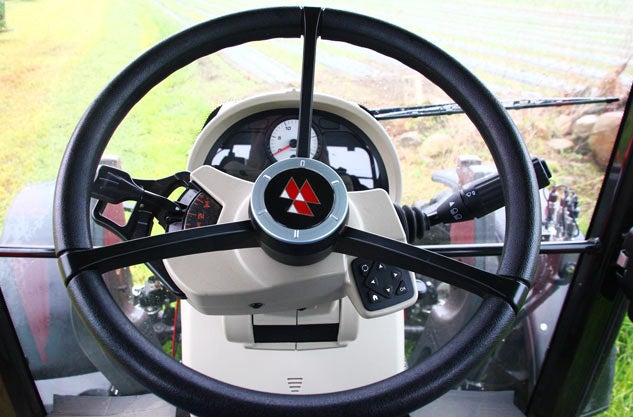 Other options available on the 2017 Massey Ferguson 5711SL include: SpeedSteer, which allows the operator to dial-in to preference the number of wheel turns lock-to-lock; AutoGuide 3000, a fully-integrated auto-guidance system; front axle suspension; front 3PH; and a factory loader-ready package. The loader ready-package includes a subframe, hydraulic pipework, and either a multi-function armrest mounted mechanical joystick, or an electronic joystick integrated into the armrest. Massey Ferguson matches its MF 900 loaders to the 5700SL series, which come in parallel and non-parallel configuration with lift capacities of 4012 – 7451 lbs and a lift height of 9.5' – 15.25' depending on model.
So, how does it all work? Quite well. Sistare brought his tractor in to Big Boy's Toys LLC, also located in Pomfret, Conn., to be outfitted with a Krone EasyCut 3600CV mower conditioner. The 3600CV cuts an 11' 9" swath, and though it might be a little large for a 110 horsepower mid-range tractor, we saw no noticeable performance negatives (more on this in a forthcoming piece) while mowing a field with crop in some places well above that of the mower conditioner. A transport speed of 26 mph helps get the 5711SL from field to field. Sistare told Tractor.com he purchased the 2017 Massey Ferguson 5711SL with several seasonal tasks in mind, including snow removal, haying ~ 100 acres, and a number of other general farm duties. So far, he's put on about a hundred hours on the tractor and couldn't be more happy with his choice.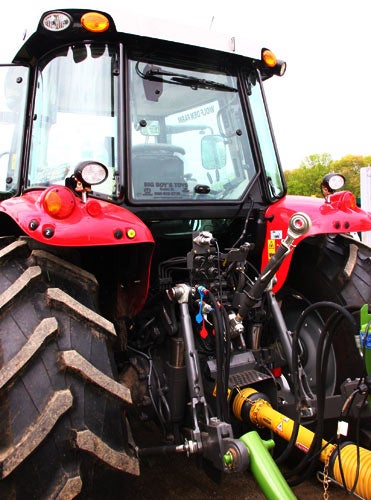 The 2017 Massey Ferguson 5711SL (tractor-only) weighs 10,582 lbs (4WD), rides on a 100" wheelbase, and is 111.3" high to the top of the cab. Pricing begins at around $92K, and depending on model and exact configuration, can exceed twice that.
For a prospective purchaser in need of a reliable, fuel-efficient 110-horsepower mid-size tractor with plenty of cab space, powerful hydraulics, and advanced AGCO user electronics capabilities, the 5711SL would be well worth considering. And if that prospective purchaser is in the vicinity of Pomfret, Conn., Big Boy's Toys would be a good place to start.