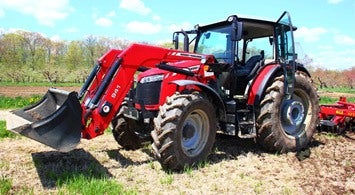 Following the World Ag Expo held in Tulare, Calif. last February, Tractor.com ran a piece highlighting the Massey Ferguson Global Series. These 4700, 5700, and 6700 series tractors have been engineered from the ground up and are a result of customer input, the largest single investment in AGCO history yet, 21st century supply chain advantages, and thousands of hours of rigorous testing in some of the most extreme weather and terrain conditions. Naturally, we couldn't wait to get behind the wheel and see first-hand how these models fared in the field.
That opportunity would come sooner, rather than later, and was the result of an email exchange with Big Boy's Toys in Pomfret, Conn., who just happened to deliver a range-topping 6713 to a customer nearby. That the purchaser, John Wolchesky of Lapsley Orchards, had also ordered the tractor with a Sunflower 1212-12 disc harrow, and was welcome to our riding sidesaddle while working one of their fields was just icing on the cake.
The Massey Ferguson 6700 series consists of two tractors, the 6712 and 6713, which have rated engine horsepower of 115 and 125, respectively, and max horsepower of 120 and 130, all at 2000 rpm. These tractors come only in Deluxe configuration (4700 and 5700 tractors can come in Classic and Deluxe configurations), which means 12 x 12 power-shuttle transmission, wet clutch foot pedal control with declutch button on gear shift knob and shuttle lever, cast steel 4WD front axle with differential lock and HydraLock, tilt/telescopic steering, standard draft control, fender hitch controls, and a spacious, quiet cab with instructor seat.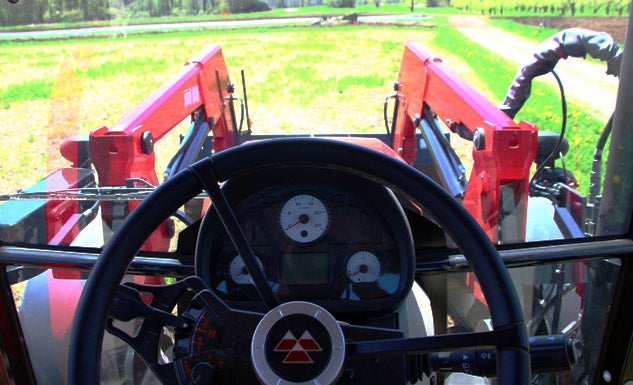 Power take-off (PTO) rating for the four-cylinder AGCO 4.4L powered 6713 is 109 @ 2200 rpm and 114 horsepower @ 2000 rpm. These engines are turbocharged, intercooled, have SisuTronic EEM4 engine management, and use high-pressure common rail direct injection to achieve EPA Final Tier 4 (FT4) compliance without the need for a diesel particulate filter (DPF).
The 12 x 12 power-shuttle transmission allows for easy directional change without the need to clutch and comes with a dial control for reactiveness which can buffer the abruptness as well as how the transmission engages from a stopped position. And aiding those times when frequent gear changes are necessary, the setup lets the operator press the declutch button on the gear shift knob, change gears, and release the button to engage the new selection.

Hydraulics run though a twin pump arrangement flowing 15.1 gpm at the main and 10.8 gpm at the auxiliary circuits (25.9 gpm total). Two factory valves, double-acting (DA), kickout (KO), and float (F) are standard with a field install option for a third valve, spring return to neutral (SRN). Lift capacity for the Cat II three-point hitch (3PH) is 9,390 lbs measured at the industry standard of 24" behind ball ends. Position control is standard so an implement can be returned to a precise operator selected position time after time, and can be used in conjunction with the abovementioned draft control which modulates implement depth to power draw. Lower link arms have extendable ball ends for ease of attachment and the outboard stabilizers telescope for easy cinching up of sway slack. Adding to the tractor versatility, a 540/540E/1000 rpm rear PTO is also standard fare for Deluxe trims. 
 
The 6713 comes with Trelleborg premium radial tires, size 460/85R34 rear (min. width 64.8"), and rides on a 98.4" wheelbase. Weight in cab configuration is 10,187 lbs. Onboard fuel is 38.3 gallons with the ground level fill tank protected by a guard. Inside the cab, tractor electronics are state of the art with the performance monitor providing up-to-date data on details such as DEF fluid and fuel levels, temperature, engine hours, acres per hour, fuel consumption per hour and acre, ECU fault codes, PTO speed, and ground speed. Wolchesky confided that though he was aware of the level of electronic control over tractor function Massey Ferguson had built in, most of the features he probably would never use – perhaps saving them for that day when he got around to reading the owner's manual.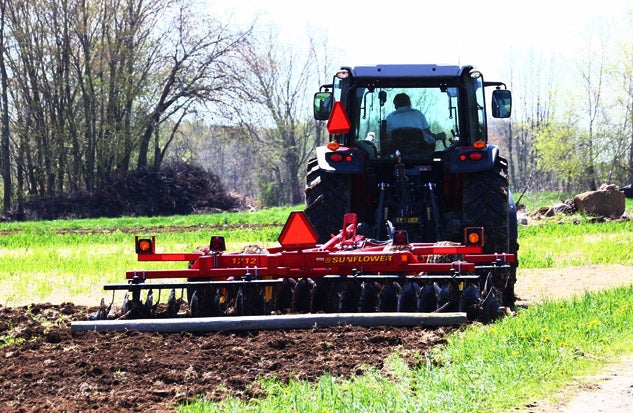 Specs for the Sunflower 1212-12 disc harrow are rigid frame only with C-flex bearing hangers to absorb disc gang shock and adjustable to 335 – 396 lbs./foot of cut. The 1212-12 can be ordered in widths from 10' to 15' all of which are capable of primary and finish discing. Tractor horsepower required is 5 to 8 per foot of cut.
So how does it all work? In short, quite well. Pulling the Sunflower 1212-12 disc harrow proved to be no problem and a nice match to the 6713. Running at 2000 rpm and with rear quarter windows open to the yet-cool spring air, we measured 81 dBA under load. No doubt the cab reading with windows shut would be much quieter. Ride quality was quite nice, with credit going to the large wheelbase, radial tires, quality cab with laminated glass, and for the operator, the optional air-ride seat which also swivels for convenience.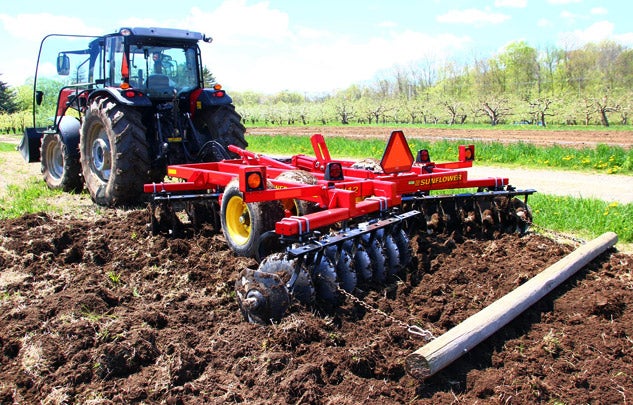 Lapsley Orchards doesn't part with their tractors, with some 12 machines now in their stable, so quality, dependability, and performance are all necessary characteristics. The fact that all purchases have been AGCO since Big Boy's Toys opened for business in 1998 speaks to how well those necessities have been covered.
For an agribusiness in the market for a 120 to 130 hp utility tractor, the Massey Ferguson 6700 series should definitely be on that short list to check out. And for those in the vicinity of Pomfret, Conn., a stop by to get to know the friendly folks at Big Boy's Toys would be a good place to start.