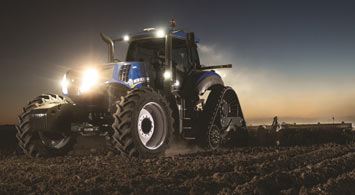 New Holland Genesis tractors have been around for more than 20 years and are known as heavy-duty machines designed for heavy tillage, spreading, planting and transport duty. The current lineup has five models ranging from 250 to 380 rated engine horsepower. The T8.435 is powered by a six-cylinder Cursor 9FPT engine displacing 531 cubic inches. EPA Final Tier 4 (FT4 or 4B) compliance is through high pressure common rail injection (HPCR), eVGT (variable geometry) turbocharging, and selective catalytic reduction (eSCR) technologies. New Holland calls this marriage of engine technologies ECOBlue HI-eSCR. Engine Power Management (EPM) technology allows a power boost up to 435 horsepower for demanding hydraulic, PTO and transport conditions. Power take-off (PTO) power rating is 315 hp. New Holland claims fuel efficiency is up to 10% better than comparable horsepower Tier 3 T8 tractors.

T8.320, 350, 380 and 410 tractors can be matched to Ultra Command 18×4, 19×4 and 23×6 full powershift transmissions. The T8.435 gets the Auto Command constant velocity transmission (CVT). The Auto Command is an evolution from the T7 lineup which has been time tested and proven in the over 10,000 units that have been built. Directional control over the CVT is by a left-hand turn signal-like stalk or by a thumb switch on the CommandGrip controller housed in the SideWinder II armrest. More on this below. T8.435 tractors also come with a heavy-duty 5" rear axle.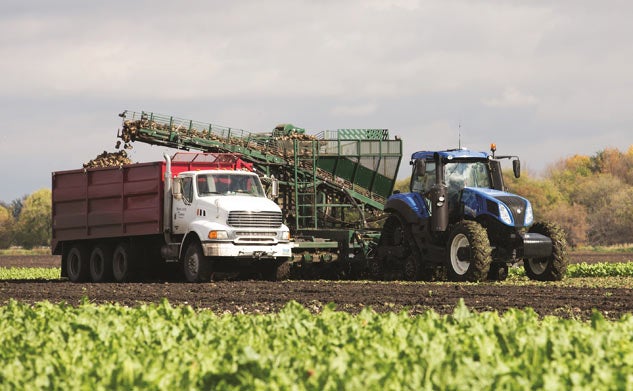 Hydraulic power is through a pressure-flow compensating (PFC) system that flows 43 gpm in standard configuration and 73 gpm when the MegaFlow option is checked off. The system comes with four electro-hydraulic remotes and can support up to six. The rear Cat HD IVn/III three-point hitch (3PH) has a 19,900 lb lift capacity and if optioned with a front 3PH, that circuit has a 12,800 lb lift capacity. The front 3PH can also be mated to a 1000 rpm, 1-3/8" diameter 21-spline PTO shaft.
T8 tractors can come with a variety of single and dual tire combinations, but for reduced ground compaction, better traction – especially in challenging conditions – and better fuel efficiency, New Holland SmartTrax technology is the way to go. SmartTrax is available in four sizes. 6" and 18" are factory standard, while 24" and 30" tracks require a wider undercarriage. Track spacing is 76" to 152" with 76" to 120" available from the factory while spacing from 136" to 152" will be a dealer installed option (DIO). New Holland compares compaction of a 24" SmartTrax tractor to a wheeled machine running 710/75R42 tires with the tracked tractor having up to 65% less compaction.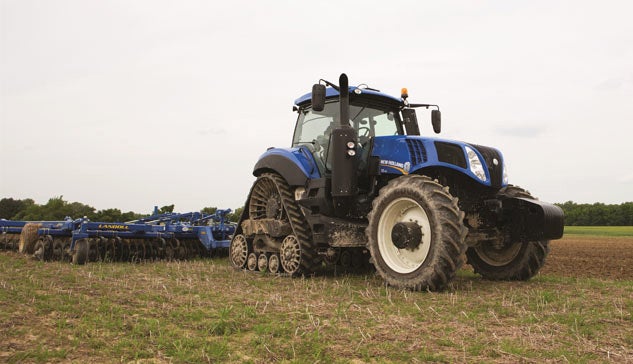 And lest you think the tracked tractor is less maneuverable or will leave ridges while making headland turns, the New Holland SmartTrax system allows full power turns with no power loss, no ridging at the headland, and a turn radius just like a wheeled tractor. Credit the 55-degree turn angle for much of the maneuverability, but the system defies conventional thinking when you consider T8 tractors have the largest wheelbase in the industry (11'-4" on the 320, 350, 380, and 410 models and 11'-8" on the 435). A feat of engineering is that the overall length is held to 21' 3". Track tensioning is continuous hydraulic and requires no operator input. And unlike single track systems, the combination of rear track/front tires reduces see-saw movements when going up/down slopes.
T8 tractors also get one of the biggest cabs available. Offering a full 360-degree unobstructed view, there is 109.5 cubic feet of space and 68.5 square feet of glass. Quiet too, with a 68 dBA sound rating. The standard seat is air suspended but option up to the Luxury Performance Cab and the operator is treated to a AutoComfort seat with weight-compensation dampening and integrated ventilation. And for the ultimate in operator comfort, add the suspended Terraglide FWD axle (better traction and steering control too), and Comfort Ride Cab Suspension.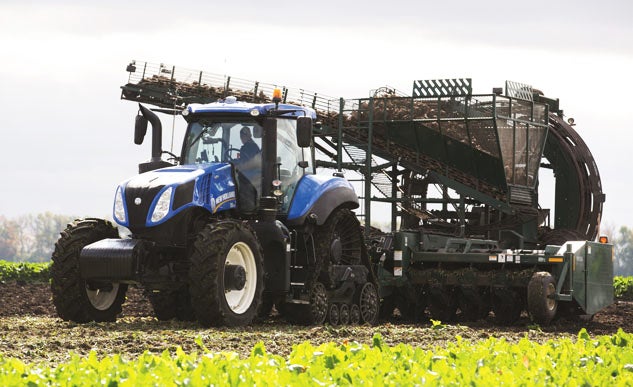 Inside the cab an auto climate system ensures a constant temperature no matter what the outside conditions are like. Pull-down blinds help mitigate the sun's greenhouse effect. A whole article could be devoted to the above-mentioned SideWinder II armrest, starting with the ability to electronically adjust the armrest forward/back for operator preference. Front-right of the armrest houses a multi-function hydraulic joystick that can operate the front 3PH linkage or rear remote valves. In the front-center is the rear linkage mouse which along with the multi-function joystick can be factory fitted. Front-left is the CommandGrip multi-function controller.
The CommandGrip controller, in addition to controlling directional change as mentioned above, can raise/lower the front/rear 3PH, engage IntelliSteer auto guidance, allow fingertip control of up to two remote valves, adjust Ground Speed Management (GSM) which maintains a fixed forward speed, and record, store and activate automated headland turn sequences, to name just a few functions. A pod to the operator's right forearm contains touch buttons for functions such as Auto PTO (disengages and reengages PTO during headland turns), engage/disengage the front suspension, inching control over the 3PH, and set Engine Speed Management (ESM) to a fixed rpm.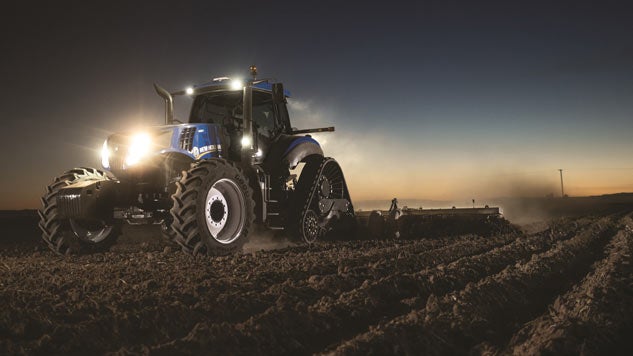 A 10.4" touchscreen display dubbed IntelliView IV allows control over key functions and is fully integrated to Precision Land Management (PLM) data management capabilities. In addition, functions such as touch control over the electronic rear remotes, including flow and timing, are just a touch away. And to access other less-used controls, the padded armrest flips up. Lighting, for example, gets a dedicated switch panel.
Operator control and efficiency are further optimized by several technologies. AutoCommand can set a target speed as slow as 65'/hr. to as much as 31 mph with accuracy to 0.01 mph. There are three forward and three reverse speed presets and the system operates in four modes: auto, cruise, manual and PTO. 25 mph transport can be reached at an economical 1400 rpm. TerraLock automatically engages FWD as-well-as front and rear differential lock with the system automatically disengaging during headland turns. Active Auto Stop is a positive engagement of the park brake for a full positive stop. The system also prevents rollback when starting out on steep slopes. And applying both brakes automatically engages both rear brakes and activates front wheel assist for quicker and more controlled braking. For even more control, an optional engine braking system is available.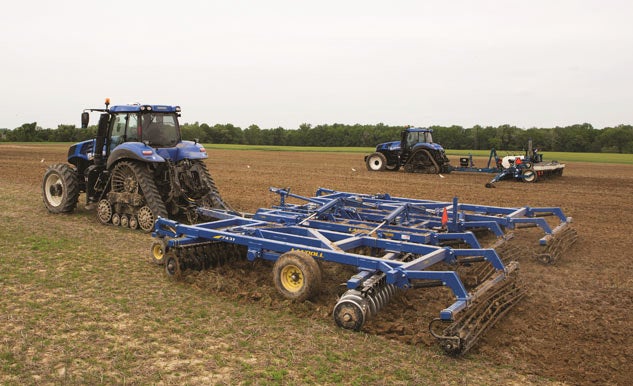 The T8.435 has 163-gallons of onboard fuel capacity and 26-gallons of diesel exhaust fluid (DEF). Service interval for the 35,788 lb tractor is 600-hrs. MSRP depending on model is $394 to $423K, but option on niceties such as the luxury cab, high flow hydraulics, electric mirrors, LED lighting, and Blue Power Edition paint and the cost grows accordingly.
For an agribusiness with heavy tillage, spreading, planting and transport duty requirements, the T8 series offers heavy-duty, ergonomically-designed models supported by a company with over 120-years of experience and know-how.