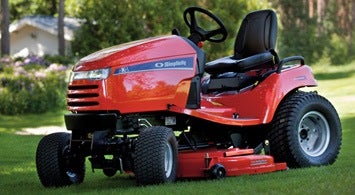 Simplicity's roots date back to 1872, when it began as a gray and malleable iron foundry. By the end of the century, Simplicity's casting capabilities turned captive and complete engines began to ship from its Milwaukee manufacturing facility. Tractors were a natural progression.
Since then, the Simplicity name has carried on, but tracing its history is a lot like your great aunt Alice insisting the family tree dates back to Charlemagne: there might be a little truth there, but proving and determining exact dates can get a little complicated. What Simplicity historians will tell you with some certainty though is that the brand has either made tractors for, partnered with, or been owned at some time or the other by giants such as Allis-Chalmers, Agco-Allis, AGCO, Massey Ferguson, Homelite, Wards, J.C. Penney, Snapper and now Briggs & Stratton.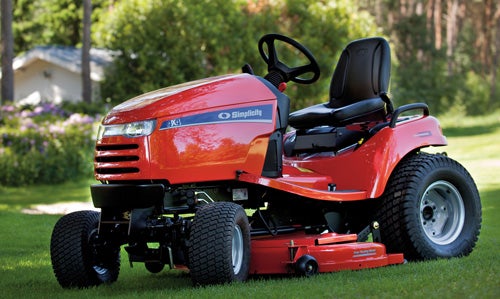 The Legacy XL is Simplicity's largest garden tractor. The company calls it a Subcompact and we agree, though some of its competitor models are physically a bit larger. I was particularly interested to review this model, after hearing many rave testimonials over the years, but never seeing one in person. When I got word one was in stock at a dealer one state away, road trip screamed.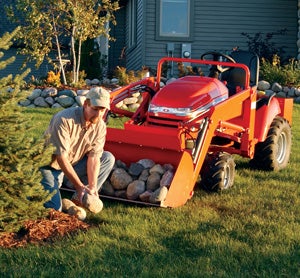 The Legacy XL comes in four 27 horsepower flavors: 2WD and 4WD gas-powered variants with air-cooled 2-cylinder Kohler Command engines, a 4WD only model with a Kawasaki liquid-cooled powerplant, and a 4WD 3-cylinder Briggs & Stratton diesel. As luck would have it, the tractor in stock and what's demoed here turned out to be the diesel variant. I found it to have a rap-rap sound that said this was no toy. And though the exhaust note is subjective and not necessarily a good measurement of capability, when I took the tractor out to the north forty it did not disappoint.
The tractor demoed was equipped with Simplicity's 54" mowing deck (48" and 60" decks are available) and 500 lb. lift capacity FEL (front end loader). To me, this tractor is better suited for the 60" deck, as the extra 6" would extend the overlap covering the tires 3" on each side and make for easier edging around flower and mulch beds. It would also decrease the uncut circle left by a full-hard right or left turn while mowing. The Simplicity brochure states its tractors are "the way to a beautiful lawn", and in that vein, Simplicity's decks are worthy of further mention. While most competitor decks mount to their respective tractor frames, Simplicity uses Free Floating mowers with full rear rollers that are marvels at following less-than-perfect ground conditions. Even on a side hill the cut was even from pass to pass (try that with the competition and you won't get the same result) and if you returned 180# from the last path of travel, a nice striping effect resulted. Don't be surprised if your favorite MLB ballpark or professional golf course relies on Simplicity for that perfect look and trim.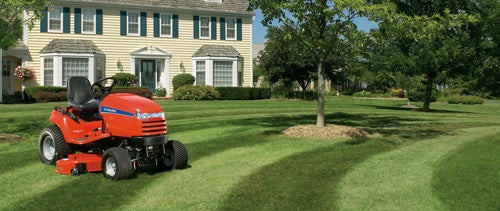 The FEL loader was a pleasant surprise. Though the mower lift height was somewhat reduced (both could be installed at the same time) by the frame, it was surprisingly reactive to each movement of the game-like joystick controller mounted on the dash. About the only fault I could find with the Simplicity system was while switching from using the rear 3PH (three-point hitch) to the FEL, you literally needed to flip a switch located on the left fenderwell. But after using it a few times the system became intuitive and would be easy for anyone to get used to. It's also a better option, in my opinion, than the independent lift many competitors are going to that commandeers two loader ports and takes away a curl or lift function.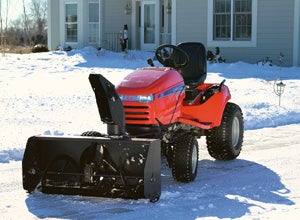 The operator's platform was open and clearly marked. I found all the levers (throttle, 2WD/4WD, differential lock, rear/front power takeoff) to be right where you wanted them and appreciated the two-pedal hydrostatic set up better than the treadle pedal used by some of the competition. With a well-lit gauge panel that includes temperature (no idiot light here), tachometer, and fuel level the operator will know exactly what is going on with just a quick glance.
While the Legacy XL won't appeal to everyone, and an argument can be made that it's too much of a compromise and that a potential owner might be better served with a zero turn to mow and a larger tractor for ground-engaging activities, Simplicity is carving out a niche where few machines dare to go. I'm sure if you find a homeowner with one in his or her garage, you will find someone wearing a smile each time they use the XL.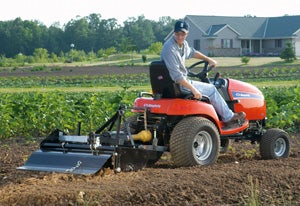 And that brings us to the one negative: finding a Legacy XL to see in person and test drive. In this price range, I find it hard to believe someone will shell out this kind of cash sight unseen. From what the dealers who didn't have one in stock told me, they don't sell a lot of these machines and don't want to have them sitting around unsold for long periods of time. My argument to that is if Simplicity wants to sell more of these models, they need to be available for prospective purchasers to see. Maybe it's time for Briggs & Stratton to develop some kind of dealer stock initiative. Then we might see more of these machines showing up in neighborhoods around you. And that would be a good thing.
Related Reading
2011 John Deere X748 Review
2011 John Deere Select Series X500 Review