John Deere's 5 Series Utility Tractors have been given a redesign for the 2012 model year.
With more horsepower options ranging from 65 to 115, John Deere says its 5M Series models and 5E Limited Series Tractors can handle a wider variety of attachments and jobs for customers in the farming, equine, livestock, specialty crop production, property maintenance and landscape business segments.
The 5E Limited Tractors include the 5083E Limited with 83 engine horsepower; 5093E Limited with 93 engine horsepower; and the 5101E Limited with 101 engine horsepower. Changes to the new 5E Limited Series start with a new cab designed with easier-to-reach hitch, hydraulic and PTO controls on the right side and a cleaner, more comfortable cab with an optional push-button air-suspension seat for a better ride.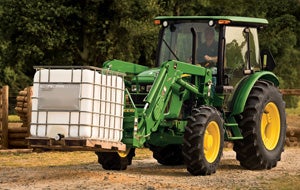 The 5E Limited Tractors also come standard with a MFWD engagement feature that activates two- or four-wheel drive with the shift of a lever and a new MFWD indicator light; new hydraulic system with optional triple deluxe SCV stack that can handle more demanding attachments; and the popular Economy PTO setting that saves fuel and engine wear and reduces noise and emissions when operating PTO-driven equipment.
"In addition to the cab, we've redesigned the transmissions and added oil-cooled, self-adjusting wet traction and PTO clutches that aren't typically found on other utility tractors," says Matt Blaylock, John Deere product marketing manager for 5 Series Tractors. "These highly durable and reliable utility tractors now have more heavy-duty components, as well as increased hydraulic functionality, comfort and convenience options to help customers use them in a wide variety of applications. (more…)