2012 John Deere 3720 HST Cab Tractor Review
Turbo power with the convenience of a cab
By Geof Fowler, Photography by John Deere, Feb 13, 2012
Turbo. The word brings out images of fast automobiles, such as the Porsche 911 Turbo or the Bentley Continental GT or the Bugatti Veyron 16.4. Associated with tax time, you can purchase TurboTax to get your return done in the quickest possible way. For Ebay there is TurboLister to manage fast uploads. And then there is TurboKick, a cardio-kickboxing workout that sheds pounds fast. But match a turbo to a diesel tractor, the end result won't be associated with speed. Instead, what you get is a fairly low-cost addition that makes greater power, adds efficiency and decreases fuel consumption. It is no wonder that most manufacturers turn to turbocharging at some point in their lineup.

That brings us to our test tractor, the John Deere 3720. Starting with the 91.5 cu. in. direct-injected Yanmar 3TNV84 powerplant, the turbocharged 3720 develops 43.2 gross horsepower and 35 at the PTO (power take off) at 2,600 rpm. Using the five-horsepower-per-foot rough rule of thumb, the 3720 has enough grunt to run that 6' rotary cutter. Power is routed through a heavy duty eHydro transmission with your choice of three ranges, so you are always in the optimum power-to-ground speed ratio for the task you have at hand. An optional AutoHydro transmission is offered (though not on the cab version), where you have a single throttle pedal and a console lever with forward, neutral and reverse. Our 3720's eHydro transmission was controlled by a twin pedal arrangement that we feel is one of the most ergonomically friendly setups in the business, and when matched with Deere's technological electronic wizardry—Automotive Cruise, SpeedMatch, MotionMatch, and LoadMatch—as our test tractor was, it's hard to imagine a circumstance where the 3720 would be mismatched for the task ahead (more on this wizardry later on).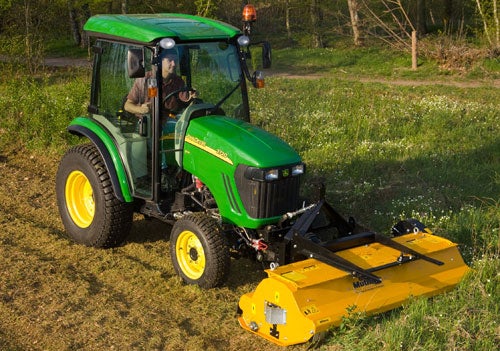 The hydraulic pump powering the hydraulics flows 13.9 gpm with 5.3 gpm going to the powersteering and 8.6 gpm to the implement being used. With that kind of flow it is no wonder that the 3720's 3PH (three point hitch) is rated to lift 2,200 lbs at the industry standard 24" behind link ends. A 540 rpm rear PTO is standard, but a mid PTO is just one of a long list of available options. Even so, the 3720 is by no means a Spartan machine and even in its most basic state is a capable, comfortable, full-feature mid-size tractor.
As mentioned above, our 3720 was equipped with a deluxe cab that Deere calls a "room with a view." ROPS (rollover protection system) certified, there is so much glass in this design one of our testers commented it might as well be called an atrium. Keeping the operator comfortable is a heating and air conditioning system that produces 30,000 BTUs of heat and 15,000 BTUs of cooling power, and all in a slim design that adds little to the tractor height. Impressive. Standard features include cup holder, arm rests, windshield wiper, sun visor, integrated radio antenna and speakers, and easy-to-reach color-coded controls. Our test tractor came with just about every option you could imagine, including: AM/FM radio with CD player and iPod dock, a back up alarm that to some could be an annoyance but a life saver to others, additional rear work lighting and a third SCV (selective control valve). One other option that is well worth mentioning is the Deere deluxe air-ride cloth seat. A $336 option on open station tractors, the cost of this on a cab tractor balloons to $1396, but comes with niceties such as rear wiper and work light, mid PTO and rear SCV. The comfort is living room fantastic and for someone spending many hours behind the wheel, something well worth considering.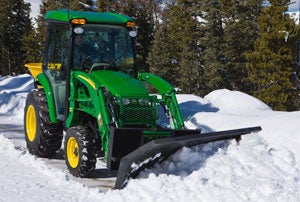 As mentioned above, our test tractor was equipped with Deere's latest technical wizardry: cruise control mated to a digital speedometer for accurate speed control while doing tasks such as seeding; SpeedMatch and MotionMatch to customize ground speed to tasks such as loading; and LoadMatch that maximizes torque to reduce the possibility of stalling in high power demand situations. These technologies, combined with the cab, seat, and ergonomics, push using the 3720 to videogame-like levels, though don't be mistaken; this tractor is one serious performer.
As you would expect of a tractor in this class, 4WD and differential lock are standard, attachments are quick-attach to the point where the drive over deck PTO shaft automatically connects and the same ease of use extends to the rear hitch, where one easy-to-use lever is accessible by swinging the cab glass outward. You won't want to leave that comfortable seat, and now you won't have to. Nice.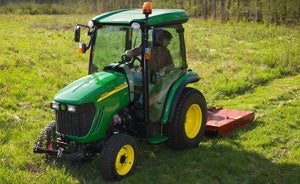 Our test tractor was equipped with the 300CX loader, which is rated to lift 1,598 lbs to max height. The 300CX is a curved boom design that offers great visibility and matches the contours of the hood (unlike some of the value line 3000 series tractors which have squared-off hoods).
The 3720 cab tractor weighs 3,570 lbs (670 more than the open station version) and distributes that weight over a 68" wheelbase. The cab gets an 11.8 gal. fuel tank (13.5 gal. open station), and is rated to have a 9.2' turning radius (8.8' with brakes applied). Deere warrants the 3720 for three years or 2,000 hours. If you're in the market for a mid-size cab tractor, the John Deere 3720 might just be the perfect machine for your needs. You might just come to love the turbo power almost as much as the cab.
Related Reading
2012 New Holland Boomer 40 Review
2012 Bobcat CT440 Review
2012 Mahindra 5010 HST Cab Review
2011 New Holland Boomer 3045 Cab Tractor Review
Buyers Guides
Our Partners