2015 New Holland Boomer 54D CVT Cab Review
Newest Boomer packs a lot of features in a compact package
By Geof Fowler, Photography by Geof Fowler & New Holland, Feb 26, 2015
Boomer tractors have long followed a simple formula: deluxe features with capable power in a package size appealing to a variety of users ranging from homeowners to farmers.
At the National Farm Machinery Show held in Louisville the second week in February, New Holland was in a celebratory mode. All around were yellow and blue banners and stickers celebrating 120 years (1895 – 2015) of proud heritage. New products were abundant, including TS6, T7 tractors, C7 and C10 combines along with a really a neat simulator that wowed kids and adults as well. And while the new tractors and combines are no doubt important additions to an already important manufacturer lineup of which will surely grace Tractor.com pages in the near future, it was a compact utility tractor bearing the Boomer name that captivated our imagination.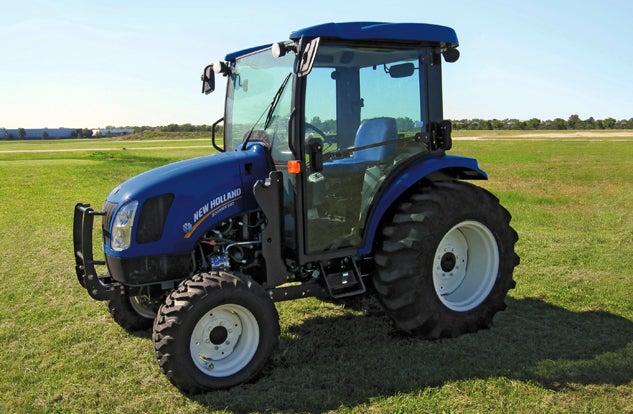 The Boomer 54D, along with its 46D sibling, are all new for 2015. For Case Farmall fans, the 45C and 55C would be kissing cousins. In the case of the Boomer twins, power comes from 2.2L three-cylinder turbocharged engines that utilize exhaust gas recirculation (EGR) and a particulate matter (PM) catalyst to control nitrogen oxides (NOx). The PM system uses a diesel oxidation catalyst (DOC) to turn nitrous oxide (NO) into nitrogen dioxide (NO2) and a soot collection and combustion chamber that captures the remaining PM. Compliance with stringent EPA Tier 4B emission requirements comes without the need for diesel exhaust fuel (DEF) additions or a diesel particulate filter (DPF) that has to go through heat intensive regenerative cycles. For the 46D power output is 46 gross at 2600 rpm and 36 at the power take off (PTO), while the subject of this week's piece is rated at 54 gross and 43 PTO horsepower. Torque output is 133 lb-ft., so there is plenty of grunt on tap for hitting the tall grass with a rotary cutter or during high capacity loader work.
COMPARISON: Read our review of the 2014 Mahindra 5010 Cab Gear
The EasyDrive Series II constant velocity transmission (CVT) is about as easy to use as it could possibly get. To go faster or slow down, just press or depress the orange right foot pedal. To change direction, slip the left hand turn stalk to the corresponding position. No sifting or clutching is required – ever. Top speed for the 54D is 18.6 mph, so those distant fields effectively become just a little bit closer. Acceleration and deceleration characteristics are programmable to fit the application or operator preference.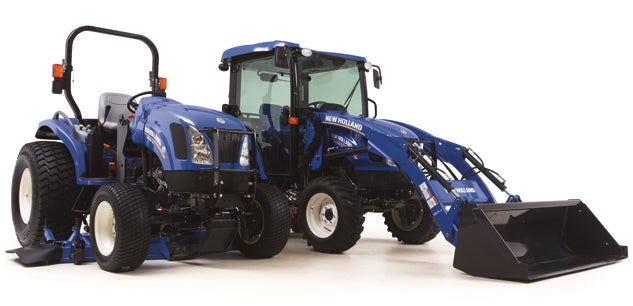 Climb up into the SuperSuite Cab (an open station version is also available) and you get a full 360-degree view from inside. Both doors have gas strut assist and swing wide for access, and both have steps so egress is possible from either side. The deluxe cloth covered Accommodator seat has a weight-adjustable suspension and can swivel 20 degrees to the right, and in combination with the wide range of tilt/telescope steering adjustments, means that perfect position for those long days in the field is just a few clicks away.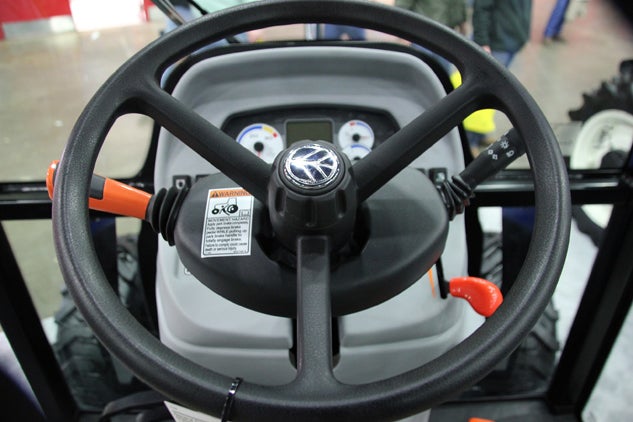 Controls are neatly laid out, with a left hand pod housing rocker switches for anti-stall, reactivity, three-position speed set, 2WD/4WD, and cruise. A right fender panel with integrated joystick offers three-point hitch (3PH) position control and PTO engagement. Other cab niceties include: suspended split brake pedals (left), 12V DC outlet, sun visor, cupholder, HVAC system, radio-ready, front wiper/washer, and a high-visibility roof panel for full view of the loader bucket over its entire range. Cab options include a rear washer/wiper and cold weather package.
COMPARISON: Read our review of the 2015 Kubota MX4800 HST Open Station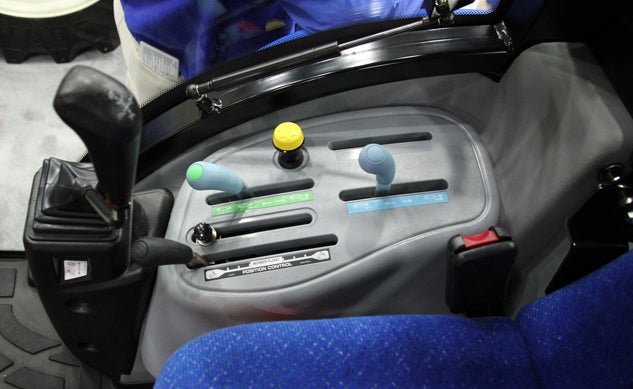 Hydraulics run through a twin pump arrangement flowing 10.5 gpm to implement needs and 5.4 gpm to power steering requirements (15.9 gpm total). This gives the Cat I 3PH a lift capacity of 3,541 lbs at the link arm end, and 2,800 lbs at the industry standard of 24 in. behind. Lower link ends are flexible for ease of attachment and the stabilizers telescope for quick adjustment. Options for up to two rear remotes are supported.
COMPARISON: Read our review of the 2012 New Holland Boomer 40
Specifically designed for the 46D/54D, the model 260TLA loader has a lift capacity of 1,903 lbs to a maximum lift height of 106 in. Breakout force is rated at 3,285 lbs. Cycle times are 4.2 seconds to full raise, 3.2 seconds to full lower, 1.9 seconds to full dump, and 2.6 seconds to full curl. The 260TLA is a curved boom design loader that nicely mirrors the hood profile of the D tractors.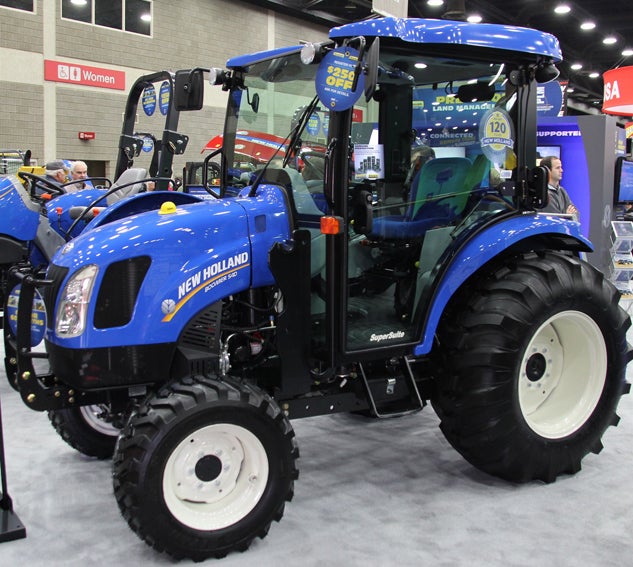 Tire options include Ag (R1), Industrial (R4) and Turf (R3). For R1 equipped tractors, the fronts measure 8-16 6PR and the rears 14.9-24 4 PR. For R4 equipped tractors, the fronts measure 10-16.5 6 PR and the rears 17.5L x 24 6 PR. For R3 equipped tractors, the fronts measure 27 x 10.5-15 4 PR and the rears 44 x 18-20 4 PR. Galaxy turf tires are also offered for golf course and other turf friendly applications.
The 54D in cab configuration weighs 4,940 lbs, rides on a 73.5 in. wheelbase, is 122 in. long, and 68.3 in. wide. Height to the top of the cab is 92.7 in., which allows the 54D to sneak in under eight-foot doors and openings.
MSRP for the 54D is $43,962 (open station models start at $35,404). With a two-year bumper-to-bumper warranty extended to a third year for the powertrain, the 54D, with its SuperSuite Cab, CVT transmission, and Tier 4B compliance without DEF additions or a DPF, sits squarely in a class all by itself.
Buyers Guides
Our Partners