2015 National Farm Machinery Show Report
Tractor.com visits the world's largest indoor farm show
By Geof Fowler, Photography by Geof Fowler, Feb 13, 2015
Normally the World Agricultural Expo (WAE) held in Tulare, Calif. and the National Farm Machinery Show (NFMS) in Louisville, Ky. fall on the same days so we have a difficult decision to make. Both shows are huge and both have on display the latest machinery and technology, with the biggest difference being one is held outdoors and the other indoors. This year though, the dates were staggered so we thought we could attend WAE in the early part of the week and then NFMS in the latter. With travel tickets, hotel, and rental car reservations booked, we should have been set. Then came storm Ellie, dumping several feet of snow and snarling travel across much of the U.S. Coverage from Tulare will have to wait another year.
The NFMS is the largest indoor farm show with over 1.2 million square feet of exhibit space occupied by more than 860 exhibitors. For the action hungry, there is also a Championship Tractor Pull with Pro Stock to Modified classes covered and $200,000 in prize money at stake. And with the NFMS celebrating 50 years, the question was, as always, where to start. We'll begin with news from some of the major manufacturers represented.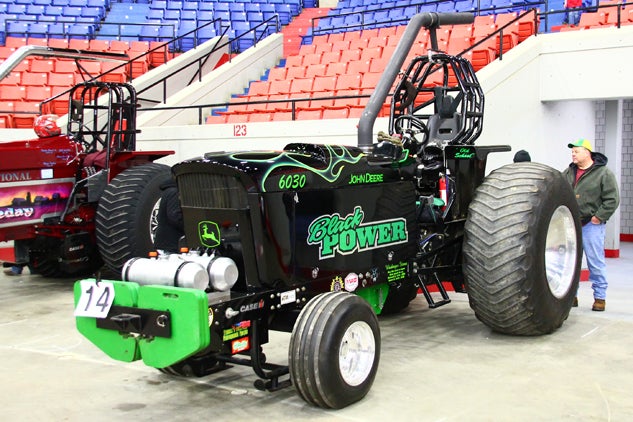 New Holland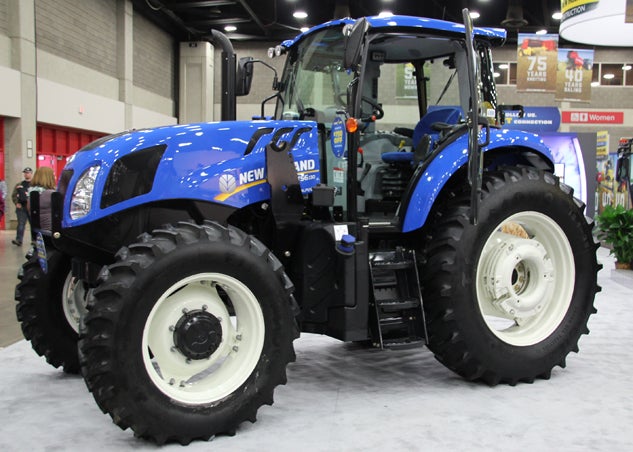 Big Blue was not only one of the first exhibits visitors came across when entering from the main atrium, but also a popular hangout. The range of blue equipment (and yellow in the case of the new CR7.90 combine) on hand was plenty of reason, but the New Holland store and simulator were popular spots as well – the latter for both young and young at heart. Catching our eyes were the new TS6 tractors. This all-new five-model lineup can be open station or equipped with a Vision View cab, as was the TS6-130 on display. With 130 gross and 105 power take off (PTO) horsepower and optional Dual Power 16x8 hydraulic shuttle (8F / 8R with additional underdrive gears for each of the forward speeds), and standard three-point hitch (3PH) lift capacity of 3,735 lbs, this is a set up ready to do serious work. Check off option two and 3PH capacity goes up to 5,499 lbs. Check off option three to get real crazy and lift capacity shoots to 7,326 lbs.
TYM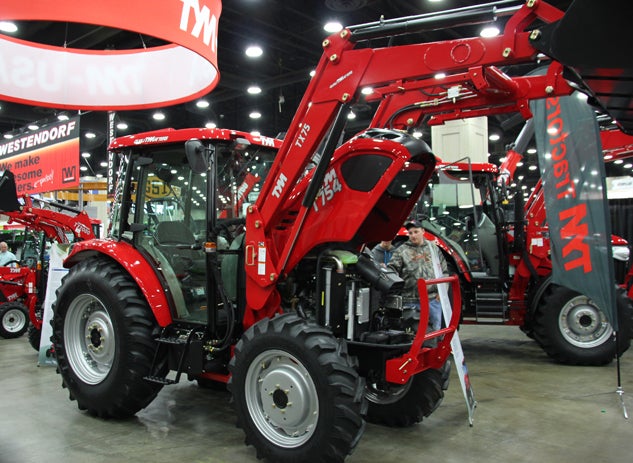 The Korean manufacturer bearing the catchy QualiTYMatters jingle also impressed with its display. Two models that had our attention and that we soon intend to review were the 74 gross horsepower T754 and the 105 gross horsepower T1054 tractors – both in cab configuration. The former is powered by Deutz and the latter by Doosan Infracore. Three-point hitch lift capacity at 24" is 3,418 and 5,490 lbs, respectively.
Case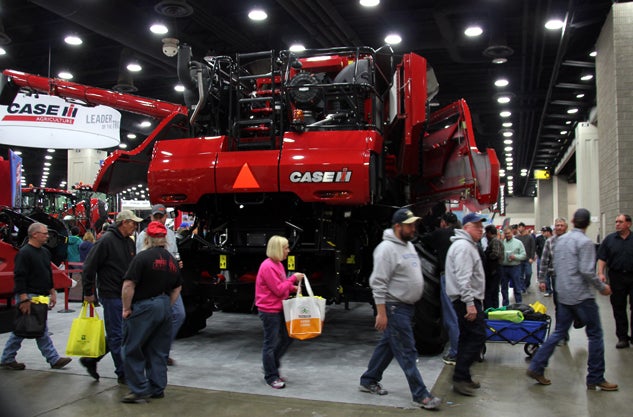 One couldn't help but be drawn to the towering Case 9240 Axial Flow Combine on display. With an AFS rotor system that allows easy adaptability for crops such as small grain all the way to high moisture corn and rice, the tracked front, wheeled rear combine delivers gentle grain-on-grain threshing with multiple chopping to fine cut residue options. The new Farmall 55C with CVT transmission was also an impressive package. With press a pedal and go ease, position and draft control over the 3PH, air ride seat, and no DEF required engine, there is a lot going on for a tractor of this size.
Kubota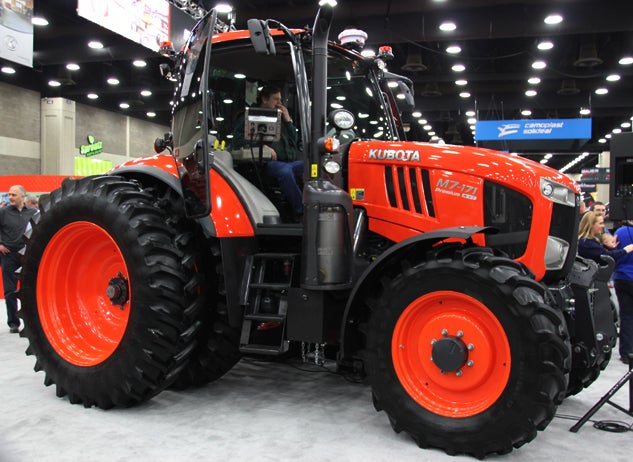 Kubota always has a wide range of product on display, but it was the M7-171 Premium K-VT tractor that few could walk past without stopping. This all-new three tractor (130, 150 and 170 gross horsepower) lineup really positions Kubota in impressive territory. One step up in size from the M135GX we tested in Dec. of 2012, M7s have numbers on their side: 14,000-pound gross wt., 11,000-pound 3PH lift capacity, 4-6,000-pound front 3PH lift capacity (the tractors, after all, are made in France), and 5,700-pound loader lift capacity (LM2605). For prospective purchasers ready to open checkbooks (expected MSRP range from $126 to $160K+), they'll have to wait a bit as production begins in spring with tractors expected to reach dealers in the fall.
John Deere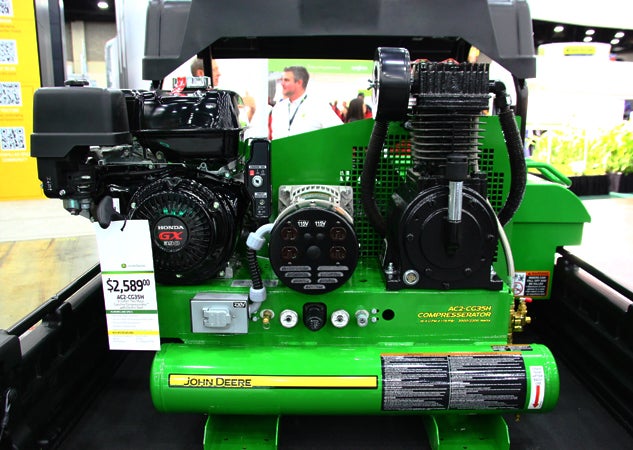 Following the massive new product rollout in Milwaukee last August, seeing big green's 1775 NT ExactEmerge, R4023 Sprayer, 9520 RT, and 6120R machines felt almost anticlimactic. To be fair to John Deere, that Milwaukee rollout was such a shock in size and scope that we're still coming to grips with it. Still, there were several new products worthy of mention: the 204K articulated construction loader in yellow and black and with a comfy cab surrounded by lots of curved glass, and an interesting lineup of jobsite must-haves ranging from the AC2-CG35H Compresserator to the AC2-CW5170S Welderator. Our only comment: could a less memorable numbering nomenclature have been chosen?
2014 Farm Progress Show Report
Krone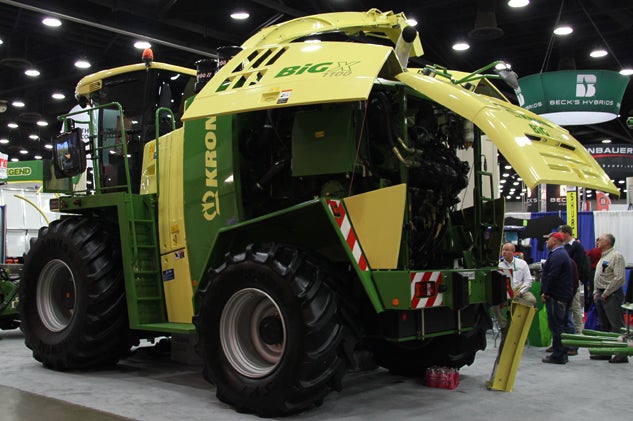 Talk about an impressive! Krone's BiG X 1100 boasts 1078 horsepower, 24.24 liters of displacement and a Bosch Rexroth drive system that provide stepless speed control and hydraulic 4WD at speeds up to 25 mph. Wow! The BiG X 1100 is massive on all fronts. Powered by a MAN V12, the BiG X can be equipped with EasyCollect forage heads ranging from 20-35' in width or a 12'-5" wide EasyFlow head that matches pickup speed to ground speed. Further broadening usage scope is the XDisc direct cut head that comes in a width of 20'-4".
Yanmar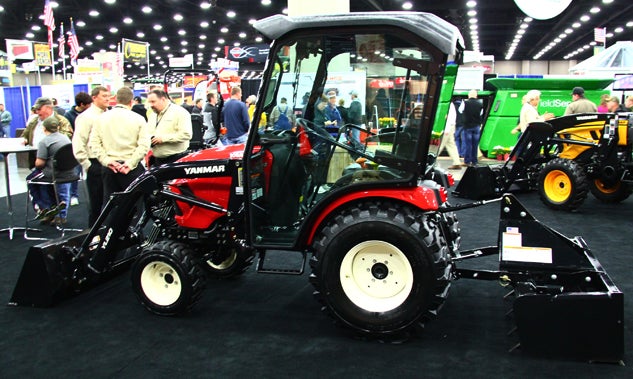 The return to red tractors we've covered since their introduction last year have proven big hits in the marketplace, with Yanmar marketshare increasing accordingly. What had us doing a doubletake was the all-new factory four-post cab for those tractors. Designed to use up all available cockpit space and more, these cabs feel a size larger than they ought to be. With removable glass doors, windshield, and rear window, a lightweight poly canopy that shelters operators from winter chill to summer sun, Yanmar should have another real hit here. Factor in backward compatibility so single ROPS 221, 324 and 424 owners will be able to add this new cab to their machines, and we're sure there will be some really pleased Yanmar owners.
Kioti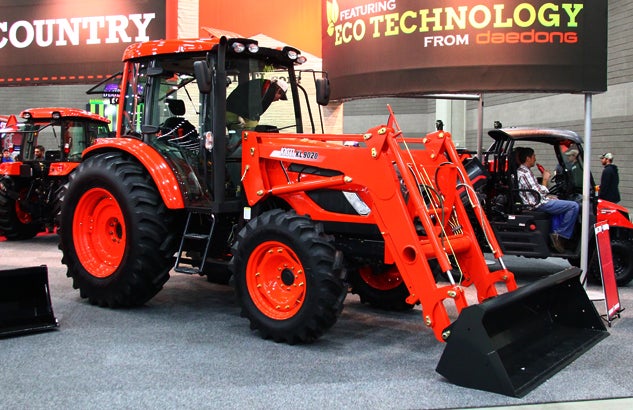 The Kioti exhibit was another busy booth with almost the entire lineup out for show. There was a four seater (might even be room for six) electric golf cart that might not see North American sales, but looked cool anyway, and new NX5510 and CK2510 models, both of which we hope to test soon. Some interesting observations: the NX5510 has a really wide, flat platform and lots of operator room between the fenders. The transmission was a three-range hydro with side-by-side pedals and the joystick was nicely integrated into the fender cowl. The smaller CK2510 also had the joystick integrated into the fender cowl, but was a gear model.
Mahindra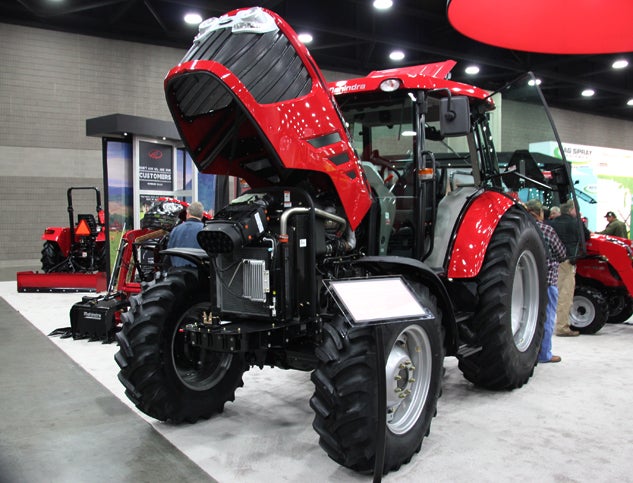 There is a lot going on at Mahindra. Their Max tractors are sending shockwaves through the industry – are they sub compacts or not? Mahindra's new factory cabs add additional versatility and functionality. And Mahindra's mCRD methodology of achieving EPA Final Tier 4 (FT4) emissions compliance was worthy of an article Tractor.com ran in September. At the show, though, our attention centered around the new mForce 105 on display. With 105 gross horsepower, this is the largest, most powerful Mahindra offering as of yet. We hope to test one soon, but some early buzz: the 105 isn't powered by a Mahindra engine. And, 105 horsepower puts the mForce 105 into an EPA class that requires diesel exhaust fluid (DEF) additions. Not all specifications are final, but the Mahindra representative spoke of 6,860-pound 3PH lift capacity and 4,129 lbs for loader lift.
AGCO
It was just a few months ago that we were exposed to the new Challenger E series machines. We covered those changes in an October review of the MT875E. So don't expect anything major at NFMS – right? Wrong. Upgrades to the cab insulation used and tested in Kansas summer heat and humidity have yielded big dividends. According to Ash Alt, AGCO's field marketing manager, under those grueling Kansas conditions cab temperatures have been up to eight degrees cooler. Alt also pointed out that hydraulic capacities have been increased with 59 gpm standard and 85 gpm as an option. This should prove significant for operations running air seeders as well as construction scraper activities. Another big Challenger feature that has received little press is the optional hydraulic drawbar. The system has manual (operator adjustable) and automatic float modes. In float, the drawbar will shift to square up load while turning. In manual mode the operator can compensate for an offset implement. Currently Challenger 7 and 8 machines with these new changes are being shipped. Challenger's 9 Series machines should start shipping in March.
2014 Quaker Acres West Farm and Family Show Report
Another interesting AGCO initiative is its Certified Pre-Owned program. Started as a pilot program through selected dealers with high horsepower machines, the program now covers combines, windrowers, balers, and sprayers. Eric Lescourret, director of commercial strategic initiatives, spoke passionately about the success and timeliness of the program and how purchasers have come around to the same concept used by auto manufacturers: pick selected machines with full histories, have a trained dealer tech go through the machine from top to bottom, then stand behind the purchase with a comprehensive protection plan. With falling commodity prices influencing equipment purchases, a Certified Pre-Owned machine should prove advantageous to many agribusinesses.
Wrap-Up
It doesn't matter if it is three days or four, the time is never enough to see, much less cover, all that goes on at the NFMS. If you have never found time to attend, our recommendation is that you do so next year. You'll be amazed at the scope of product represented, thrilled by the roar of championship pull machines, treated to surprisingly good cooking, and will definitely make new friends.
Buyers Guides
Our Partners