2012 Kubota M135GX Review
Kubota combines luxury with utility
By Geof Fowler, Photography by Kubota, Dec 14, 2012
New for 2012,
Kubota
has redesigned the four-model Grand X mid-size tractors with a roomier cab that is 10" wider and offers 7" more headroom than the standard M Series models they replace.
Starting with an all-new designed rollover protection system (ROPS) certified cab that utilizes four posts instead of the six in the previous generation, the new cab boasts curved glass, lower profile canopy, front wiper that sweeps from tire to tire, and an integrated exhaust pipe design that doesn't detract from the nearly unobstructed 360-degree view. And yes, there is indeed room for two with the optional instructors' seat, which conveniently folds out of the way when not used.
Inside the cab, the floor is flat with the pedals suspended from the console. On the left is the clutch, on the right, the split brakes and foot throttle. That's it. The rest of the controls are dash mounted and positioned so that both hands can stay on the wheel, which for the record tilts and telescopes, or on the right arm console which has an integrated armrest with the most commonly used controls just a wrist flick away. More on the neat technology at the operator's fingertips follows below.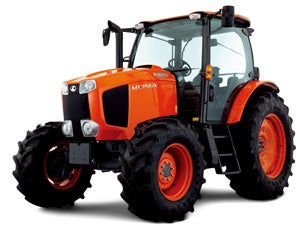 The Grand X model lineup is powered by two engines, the V3800 used in the M100GX and M110GX making 100 and 109.5 gross horsepower respectively, and the V6108 used in the M126GX and M135GX making 125 and 135 horsepower. Our test tractor was the top of the line M135GX, which is rated to deliver 118 horsepower at the power take off (PTO). The 374 ci (6.1L) powerplant is turbocharged and uses common rail system (CRS) direct injection in conjunction with exhaust gas recirculation (EGR) and a diesel particulate filter (DPF) to meet Interim Tier IV EPA emission requirements. According to Kubota, this set-up delivers optimum efficiency, better fuel economy and less noise. PTO horsepower is reached at 2200 rpm while peak torque is reached at only 1200 rpm.
Power from the V6108 is sent to a 24F/24R Intelli-Shift transmission with hydraulic shuttle. The eight-speed x three-range transmission is controlled by a single lever with H-M-L detents for forward and reverse travel and thumb +/- buttons for gear changes (there are also +/- buttons on the right side armrest). As abovementioned, the hydraulic shuttle shift stalk is positioned just below the left rim of the steering wheel so the operator can easily maintain steering control while reversing direction. Turning is another function aided by technology. Kubota uses a bevel-gear front axle as opposed to U-joints, which allows the wheels to turn as much as 50 degrees. Combined with bi-speed turn technology which increases the rotation of the front wheels to almost twice the speed of the rear when 35 degrees is reached, the M135GX becomes almost nimble. Electro-hydraulic differential lock on the front and rear wheels ensures the most traction in the muddiest (or snowiest) conditions.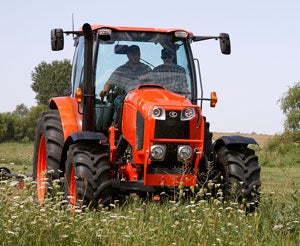 Hydraulics run are through gear pumps flowing 14.5 gpm to the power steering requirements and 20.4 gpm to implement needs. An external hydraulic cylinder powers the Cat II three-point hitch (3PH) and is rated to lift 6,834 lbs at the industry standard of 24" behind lift point. An unload valve minimizes hydraulic loss when the 3PH isn't being used. An option to increase lift capacity to 9,447 lbs is available. Telescopic link ends, telescopic stabilizers, crank right lift rod and a left fender mounted hitch switch are all standard and combine to make 3PH hookups easier. Two remotes are standard and the M135GX can support up to four remotes total. A seven-pin trailer outlet is also standard.
Our test tractor was equipped with an optional front suspension system that is available on the M135GX only. On rough terrain, the shock absorber based system keeps the front wheels planted and treats the operator to a comfortable, luxury car-like ride. In the Kubota brochure, "next" generation M Series tractors are called the "ultimate luxury workhorses" and you can believe it.
The control console touched on briefly above could command an entire article focused on the technology employed. Beginning with the Intelli-Shift transmission with Auto-Mode, which enables automatic shifting to compensate for load or terrain changes, the system works in two modes (Travel and Field). Travel mode adjusts gearing depending on road condition and slope. Field mode does much the same but will also automatically downshift two gears whenever the 3PH is raised. System sensitivity is operator controllable.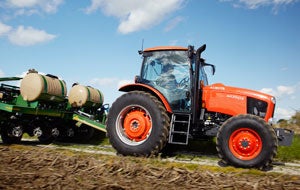 Work Kruise is another Kubota exclusive that uses an electronic governor to keep engine speed constant and prevent drops in PTO speed. There is a dual-memory system much like a luxury automotive seat/driver setting preference control that allows the operator to preset engine rpm to two commonly used levels. For example, if a 2000 rpm PTO setting is preferred for tilling, it could be programmed into the "A" setting, and if a 1600 rpm worked best for loader work, that could be programmed into the "B" setting. Rev-Limiter control can be adjusted in 10 rpm increments. Downhill Mode is another technology employed where instead of picking up speed as the tractor crests a hill the tractor speed remains the same as when climbing or on a flat, level field.
With all the technology packed into the M135GX, two digital panels are used to keep the operator up-to-date with the latest information. A side panel next to the shift lever covers 30 functions such as ground speed, engine rpm, PTO rpm and distance traveled, allowing for precise metering of tasks such as spraying or seeding. The dash panel readout covers 26 functions including shuttle position, Work Kruise, Rev-Limiter and Auto-Mode engagement, Gear and Range selection, 3PH link level in percent, and engine rpm and hour meter readings.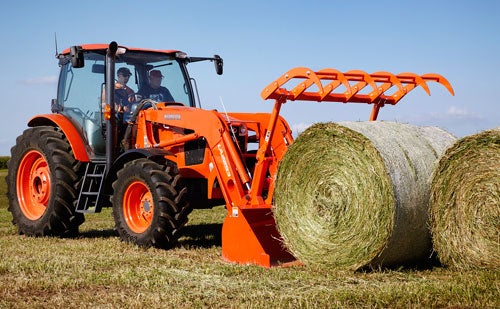 The loader on our test tractor was the Kubota LA2254 which is a quick attach/detach design with two fulcrum positions offering a choice between maximum lift power or maximum lift height. In the max height setting, the LA2254 can lift 4,711 lbs to 161.4" with a dump clearance of 129.5". In the max power setting, the LA2254 can lift 4,877 lbs to 148.2" with a dump clearance of 116.4". With 20.4 gpm flowing to implement requirements, it is no surprise that joystick response is quick. Raise time is 4.5 seconds, lower 3.9 seconds, dump 2.4 seconds, and curl 3.0 seconds. Hydraulic self-leveling is an option as well as a Euro quick coupler allowing a variety of attachments to be easily attached/detached. Another nice feature sure to be appreciated is the single lever hydraulic quick coupler, allowing the operator to attach/detach all four hoses at one time. A third function valve with button activation on the joystick grip is also available to run a grapple or other front hydraulic implement.
The M135GX is designed with ease of maintenance built in. The one-piece hood (slanted) with wrap-around grill opens fully for easy access. For cleaning, the louverless AC condenser slides out and the large capacity multi-stage air filter is replaceable. The battery is also easily accessed.
Other niceties sure to be appreciated by the operator include the quad front headlamps, opening skylight, air-ride seat that adjusts for weight and swivels and reclines, generous vents for the climate control system, preponderance of cup holders and molded trays, 12V electrical outlets, and optional AM/FM CD player with MP3 compatibility and Weather band.
The M135GX measures 171.3" long x 82.3" wide and is 113.2" high. Distributing its 10,814 lbs over a wheelbase of 105.9", 14.9 R24 front and 18.4 R38 rear tires are standard equipment with other tire options available. With an MSRP beginning at $80,000, the technology-packed M135GX is impressive and ready to perform some serious work.
Related Reading
2012 Kubota B3030 HSD Review
2012 Kubota Grand L4240 HST Tractor Review
2012 John Deere 4720 HSTC Review
2012 Mahindra 6110 Shuttle Cab Review
2012 Massey Ferguson HD Series 2660 Cab Tractor Review
Buyers Guides
Our Partners