2012 Mahindra 6110 Shuttle Cab Review
Nearly 2.5 tons of capability nestled in a comfort-laden package
By Geof Fowler, Photography by Mahindra, Oct 26, 2012
Back in October of last year we tested a Mahindra 5010 HST Cab tractor and came away impressed. The power from its naturally-aspirated four-cylinder mill was substantial and the comfort inside the cab cabin was akin to that of a luxury car. When we got word from our local dealer that a 6110 cab was available for us to test, it didn't take much persuasion.
The 6110 Shuttle Cab tractor begins with the same Mahindra 148.6 ci powerplant that powers the 5010, except through the wonder of modern turbocharging makes 59 gross horsepower – 10 more than its little brother – all at the same rated 2600 rpm. Power take off (PTO) horsepower is rated at 48.5 and the PTO is fully independent. As on all Mahindra tractors from the Max series and up, the engine is part and parcel of the heavy-duty frame which is why rated lift capacities are greater than most of the competition.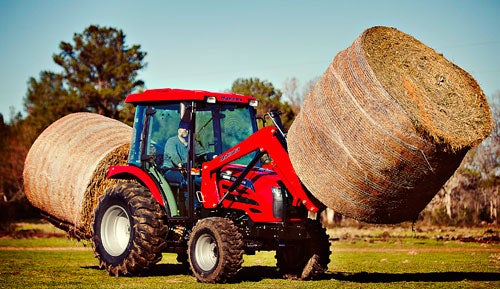 Engine power is sent to a heavy-duty three-range, four-speed transmission (12F / 12R) with Synchronized Shuttle control between forward and reverse using a steering column mounted turn signal stalk. This is a setup that combines the convenience of a hydrostat when using implements such as a front end loader (FEL) but offering the superior power delivery and durability of a gear transmission. Mechanical front wheel drive (MFWD) is standard as is differential lock. Brakes are wet disc requiring little adjustment over their engineered long life.
The 6110 hydraulics are by a dual pump, open center system that flows 5.4 gpm for power steering needs and 11 gpm for implement demands (16.4 gpm total). Equipped with a Category-II three-point hitch (3PH), rated lift capacity is 3,527 lbs. Lower link arms telescope, helping take some of the wrestle out of attaching rear implements. Adjustable stabilizers are located conveniently outboard of the lower lift arms. Position control, allowing precise return of the implement to operator-adjustable heights is standard as is draft control, which senses load and compensates height to maintain productivity. A single rear remote is standard and options to add as many as three are possible.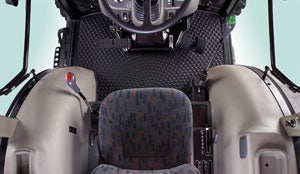 The cab on the 6110 is every bit as nice as the one on the 5010, except it is even more spacious due to the slightly larger frame. Heat and air conditioning are standard and the sound deadening is excellent. With a wide, semi-flat platform, good headroom and lots of glass offering 360º of view, this is indeed a place an operator can spend the day in comfort. The high-back fabric seat is adjustable for operator weight and fore and aft travel. Armrests fold up when not desired. The gauge cluster features a large tachometer to the left with fuel, temperature and an hour meter to the right. Warning and informational lights for everything from PTO engagement to 4WD are clearly positioned on the upper cluster rim. Pedals from left to right are: clutch, differential lock, split brakes (which allow a 12.5' turn radius), and foot throttle. Twin front and rear work lights are standard as are foldable side mirrors. There is a cup holder, and for smokers, a lighter and ashtray. A single, cleated step and entry/exit handles aid entrance/egress, as do the wide doors.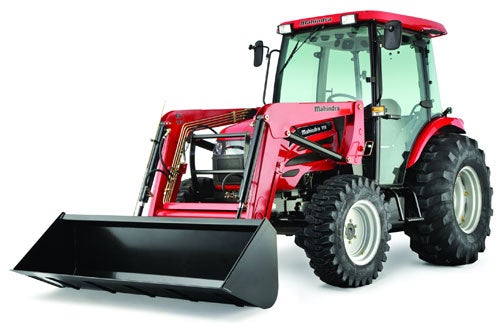 Our test tractor was equipped with the model ML161 loader, which is rated to lift 3,122 lbs. to a full lift height of 115.4". We measured a full dump clearance of 82.3", so this setup will clear just about any trailer/truck you would expect to match to a tractor designed for general purpose farming, livestock operations, construction and ground maintenance. Dig depth is 5.2" and breakout force is a whopping 5,225 lbs. The ML161 weighs 1318 lbs. and comes with a 72" skid-steer compatible heavy-duty bucket (other options are available). Skid-steer compatibility opens up a large selection of rentable implements or, if you are so fortunate to have a neighbor with a skid-steer, borrowable attachments. The ML161 loader is of a quick attach/detach design with built-in stands, though we doubt many owners will ever find out how easy it is to remove.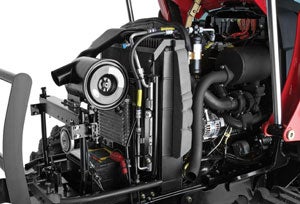 The 6110 in cab configuration weighs a hefty 4,850 lbs. and measures 141.3" long and 71.5" wide. Height to the top of the cab is 99.2". Our test tractor was equipped with R1 Ag tires, 9.5x20 front and 14.9x28 rear. R4 industrial tires are an option.
So how does it all work? Fire up the powerplant and the operator is treated to a hearty clack-clack – a reminder that there is 59 horsepower under the all-steel hood. Our handy dBA meter was at another test site, so we didn't have the opportunity to measure sound levels, but wouldn't be surprised if they weren't as low as inside the impressively quiet Massey Ferguson 2660 tractor we tested a few weeks ago.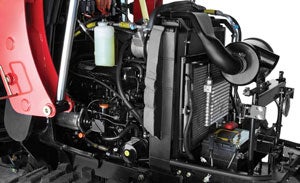 Depress the clutch, select third gear, third range (9F), give the 6110 some throttle, let the clutch out and we were off to a nearby field to get a feel for the tractor capabilities. First impression was that this is as heavy a tractor as the specifications suggest. Stability was quite good, even with the loader in full raise (yes, the rear tires were loaded) and ride quality dampened nicely with the comfortable seat. Joystick control over the loader was responsive, which was expected given the 11 gpm flowing to it, and we could easily shake the bucket as you might do to free wet, sticky material. Under load we occasionally got wind of a slight turbo whine, but other than that, this could have been the naturally aspirated powerplant of the 5010. The shuttle shift works effortlessly and in no time we had transported a pile of gravel to another location. After an hour or so of working (playing) we topped off the 18.5-gallon tank, adding a little less than 2.0 gallons of fuel. Not bad for a 59 horsepower 3+ ton brute.
Mahindra warrants all of its tractors with a five-year powerplant commitment. With a tractor-only MSRP of $31,690 and attractive financing – check out the 0% 72 month incentive – the 6110 might just be that 59 horsepower workhorse you have been looking for.
Related Reading
2012 Mahindra 5010 HST Cab Review
2012 Massey Ferguson HD Series 2660 Cab Tractor Review
2013 Kioti RX6010PC Cab Tractor Review
2012 John Deere 5105M Cab Tractor Review
2012 Case IH Farmall 75C Cab Tractor Review
Buyers Guides
Our Partners