2014 Quaker Acres West Farm and Family Show Report
Second annual show offered tractor fun for the whole family
By Geof Fowler, Photography by Geof Fowler, Jul 04, 2014
Last year we
covered a fledgling farm and family show
being held in New York on Route 20 between the villages of Madison and Bouckville. The damper clouding that first event was the weather. With much of the state literally under water, attendance was not as strong as organizers had hoped. What a difference a year makes. Driving from our hotel to the show site, some 14 acres between verdant rolling hills spotted with majestic power-generating windmills, we looked at the clear blue skies and thought the Antinore family hosts couldn't have picked a better weekend.
Smiling faces representing the Madison Future Farmers of America greeted visitors as they arrived. The kids have been raising money for a 2016 trip to New Zealand and Australia. What an eye-opening trip and experience that should be. Madison FFA representatives will also be on hand for the 25th Quaker Acres West Madison-Bouckville Antique Show which runs August 13th through 17th, so if you missed the Farm and Family Show, here is another opportunity to donate to this worthy cause.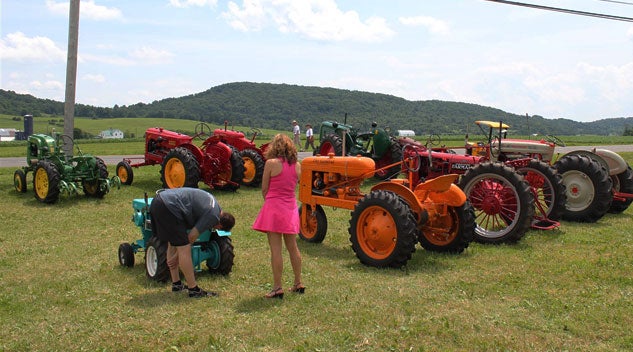 Members from our sister site, MyTractorForum.com, were there working a booth sponsored by Steiner Tractor Parts and had lots of goodies to give away. Boasting more than 100,000 members and with over 2.7 million posts, more than a few booth visitors promised they would sign up as new members the next time they were at their computers. We had fun putting faces to forum friends and shared a laugh or two.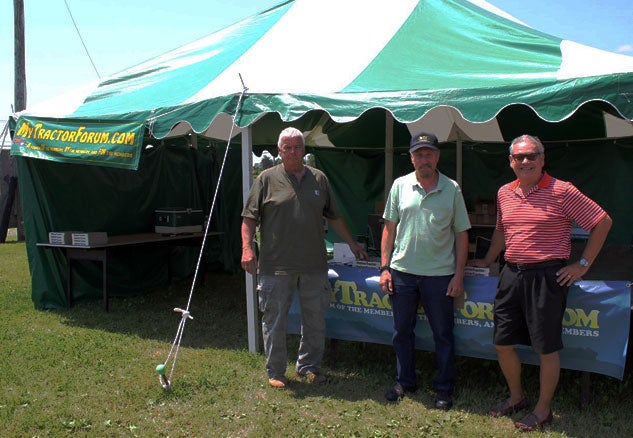 White's Farm Supply was again on hand with a mix of old and new iron, including its fire engine red International flatbed truck which carried a one-off factory Ferris z-trak and a neat 7245 Wheel Horse tractor we're guessing to be late 60s vintage. By the peeling paint, the tractor was once red, but along the way had been painted blue. What made it all the more curious was the Sears self-leveling loader. Interested? White's could be persuaded to part with it.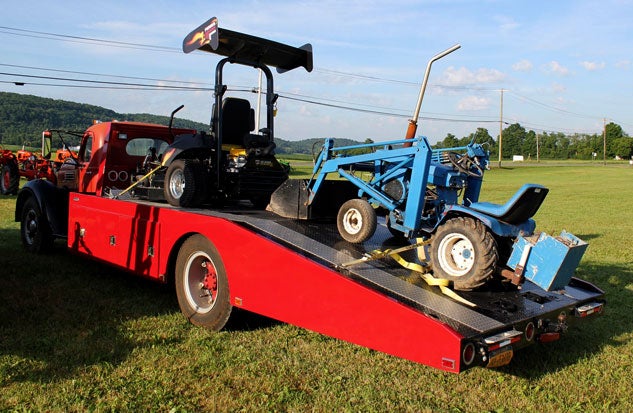 The Central New York Antique Tractor Club, which meets at the Canastota American Legion the first Wednesday of each month, came to the show with a contingent of nicely restored vintage machinery. It would be impossible to pick a single winner, but the 1954 Allis Chalmers WD45 diesel, 1953 Massey Harris Mustang, Oliver 70 Row Crop and Oliver Super 77, 1947 John Deere Model A and 1944 LA with tine cultivator were all sweet. Our favorite though was the Ford 961 Powermaster with fresh beige and orange paint. A little trivia: the 961 replaced the 951 with the addition of a live PTO and was produced from 1958 to 1962.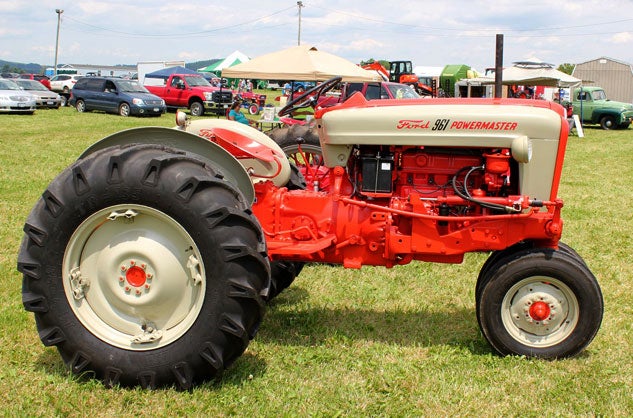 On Saturday, the Brookfield Garden Tractor Pulling Club came out in full force, though the Weavers Pulling Team in their blue shirts seemed to be everywhere. Young and old, gents and ladies alike lined up in classes and got a chance at that full pull. Cub Cadets and Wheel Horses were prevalent, but there were plenty of other makes, including models from John Deere and a neat Ford 3000 painted patriotic red, white and blue and infused with plenty of power from the small block V8 cobra motor. Fittingly, Sticker Shock was painted on both sides of the hood.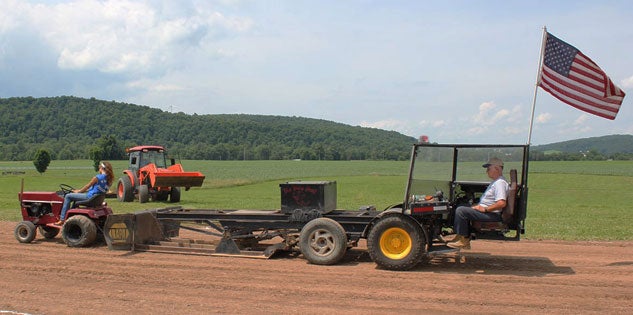 Less than a half mile away and serviced by a free shuttle bus running every half hour was the Bouckville Classic Car Show & Swap Meet. On Sunday we had a little time to check the show out. There we found a good assortment of timeless classics, with everything from a vintage hearse to a Chevy pickup with Lamborghini Countach-like scissor doors. Our favorites included the 1957 Chevy painted two-tone turquoise blue and white, the orange and white Sunliner convertible, 1968 AMX 390 with under 60K miles on the odometer, light blue 1965 Mustang convertible, and 1970 454 Corvette convertible, also in blue. All were contenders.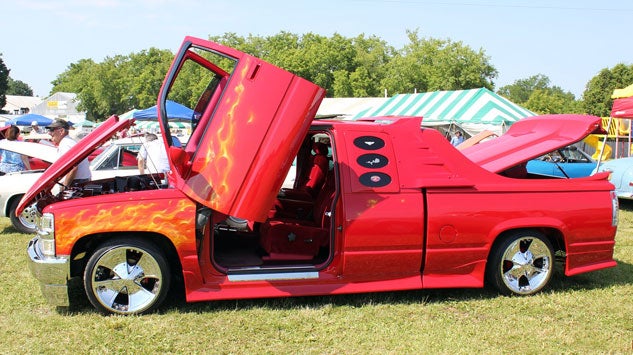 Later on Sunday, with booth traffic waning, forum members, APinNY, Mike X475, and JDFANATIC spent some time with the new Case and Kubota tractors provided by White's. The 330 HP Case 7230 combine with AFS (Advanced Farming System) electronics, a 30' wide cutter bar, 10" color LCD display and leather seating was a magnet, both to those at the show and those passing by. APinNY asked Art White what the 7230 as optioned would go for and was surprised at the near $500K sticker. But for high harvesting performance, a combine which combines reaping, threshing and winnowing into a single process is the only way to go.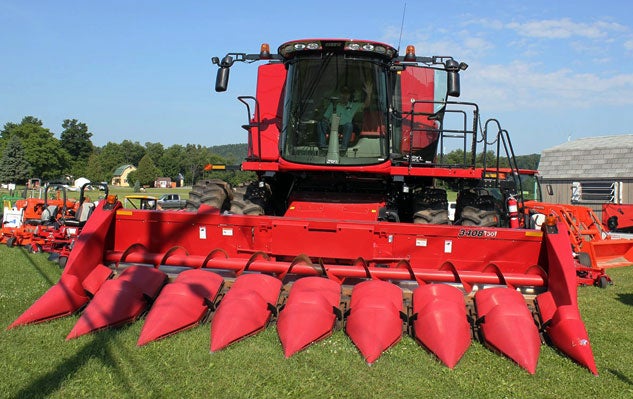 Kubota models on display ranged from a BX25 tractor-loader-backhoe (TLB) to an RTV X1100C to an all-the-bells-and-whistles M135GX cab model. We tested the M135GX back in Dec. of 2012 and were impressed, especially at the additional operator room inside the cab. White's had the M135GX connected to a Krone Fortima V1800 variable round baler, which would cover just about any haying operation's needs.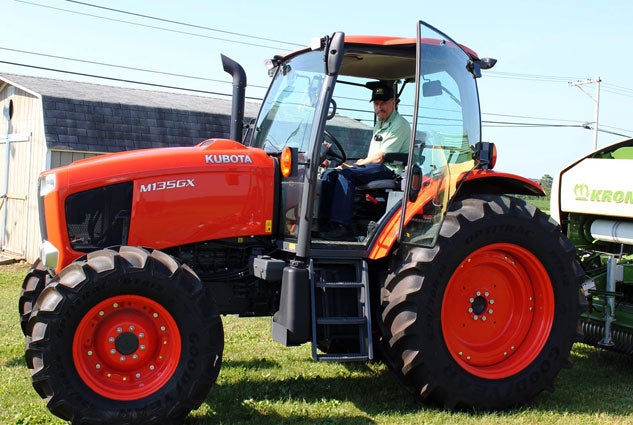 A swing over to the show's east side had booths selling arts and crafts, every kind of rope imaginable, tools and tarps, and even metal signs. We also came across more vintage tractors. The 1950 Standard 66 and Oliver 550 were both standouts, but the John Deere 112 driven by the Pink Panther and pulling a hay cart with other stuffed friends brought smiles to the young and old alike.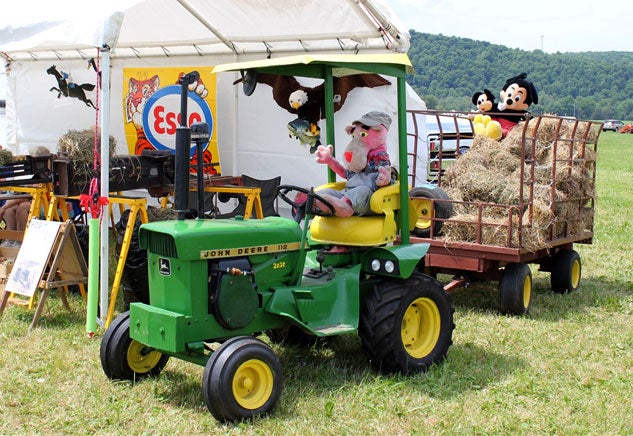 Steve Antinore told us he's considering adding antiques to the 2015 Farm and Family Show. When asked if that might dilute his marquee August antique event, Steve didn't think that would be the case, though he reserved final decision pending discussions with existing vendors. So, pencil in the last weekend in June for the 3rd Annual Farm and Family Show. We're sure Steve and company will continue work hard at making it better each year at a time.
Buyers Guides
Our Partners