2014 Farm Progress Show Report
A lot of everything for everybody
By Geof Fowler, Photography by Geof Fowler, Aug 29, 2014
The Farm Progress Show is an annual event put on by Penton Media and billed as the largest outdoor farm show. The show alternates annually between sites in Decatur, Ill. and Boone, Iowa. This year's event took place Aug. 26th–28th in Boone, where Mother Nature was not very cooperative.
When we arrived at the 600-acre site, calling the parking areas muddy would give mud a good name. Thankfully, show personal were ready with Gator UTVs that had special bumpers designed to nudge cars (and some trucks) into parking order. The operators reassured attendees that they would be out in force as late as needed to help push stuck vehicles out and to the gravel entrance roads. Our rental Nissan Sentra wouldn't have stood a chance otherwise.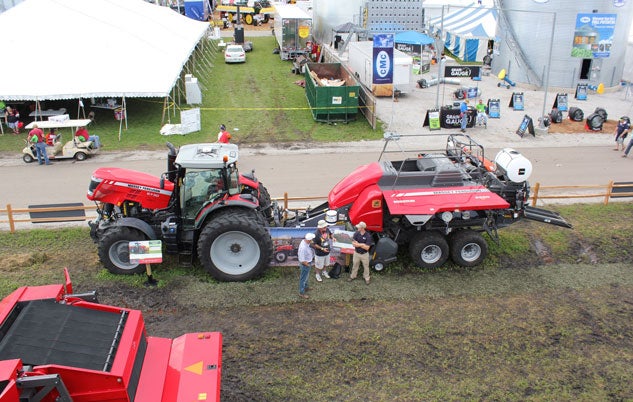 The show site itself occupies some 85 acres (3.68 million square feet) and with added exhibitors this year, extra ground near Gate 1 had to be annexed to accommodate 40 additional booths. Penton Media doesn't publish attendance figures, but estimates typically put the crowds at 150,000+ over the show's three days. With Iowa the leading corn, soybean, pork, and egg producing state in the U.S., Iowa politicians were out in force. At the Media Tent, Gov. Terry Branstad blamed the EPA Renewable Fuel Standard (RFS) for causing uncertainty that has led to layoffs at John Deere. Rep. Steve King mentioned the RFS as well as the proposed Waters of the United States as rulings standing in the way of agricultural progress.
Read our 2014 National Farm Machinery Show Report
Arriving at Gate 6, Big Orange caught our eye occupying booth 658 directly across from the entrance. On display was Kubota's full lineup, including the 135HP M135GX and new RTV-X utility vehicles. Of interest was the new line of DM side-mounted disc mowers, which come in working widths of 5'6" and 10'5".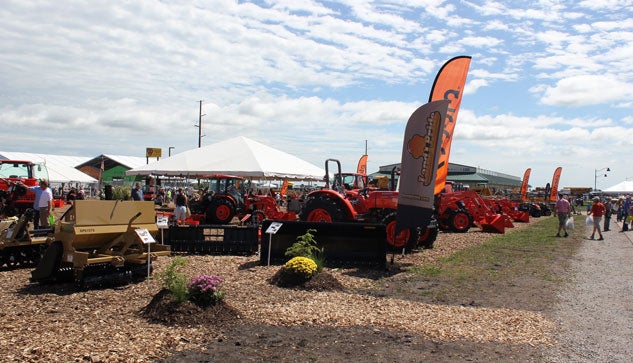 John Deere was out in full force with many of the same models we sampled in Milwaukee the prior week. Signs for the new 1775NT ExactEmerge planter surrounded the FPS grounds and it was no surprise to find ExactEmerge planters in the booth and at the Ride n Drive field (more about the field later).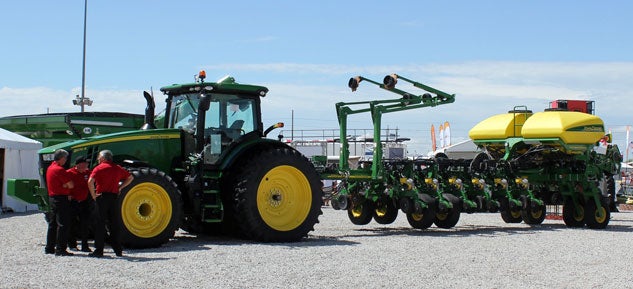 Lemkin manufactures a lineup of plowing, reconsolidation, seedbed preparation, stubble cultivating, drilling and crop protection implements. The Rubin 12 is a compact disc harrow that can work at depths of 20 cm (7.8") and excels at incorporating large amounts of crop residues. Rubin 12s come in two configurations: rigid mounted with folding outer concave discs and semi-mounted with hydraulic folding. Working widths range from 9.8' to 19.7' and with 18 to 34 discs.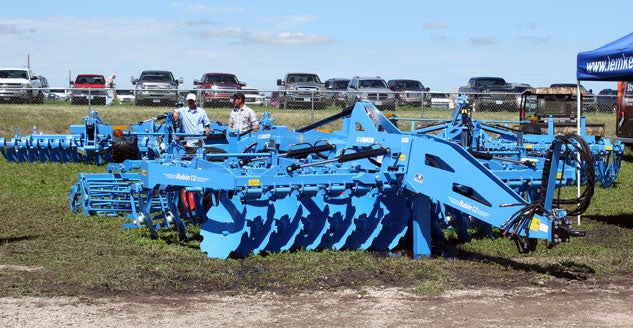 Sunflower showcased two new vertical tillage models: the 47'-11" 6650-48, which when coupled to a high horsepower tractor can cover more than 38 acres/hour, and the 1436 Series of tandem disc harrows, which come in 33'3" and 38' widths. Both offer 600 lbs./ft. of residue cutting weight, ample enough for the toughest Bt corn to the heavy stalks of modern hybrids.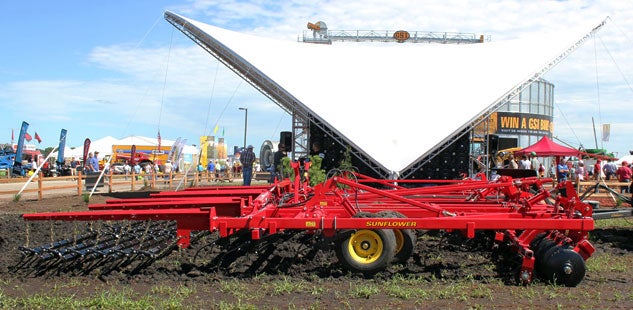 The New Holland booth near Gate 5 was also a popular stop. With lots of new big blue equipment on display, including Speedrower 16 and 220 self-propelled windrowers, 230 BigBaler, CR Series of combines and T8 SmartTrax tractors, which feature tracks at the rear and tires upfront for versatility and traction. Of special interest were two presentations that took place inside Club Blue, an air-conditioned theater where Dr. Matt Darr from Iowa State University and accomplished New Holland dealer and inventor, Jim Straeter spoke. Dr. Darr's presentation was on feedstock demands for cellulosic ethanol production and the benefits and limitations of corn stover. A question Dr. Darr asked was how far could one drive on a single bale of corn stover? The answer was that a single bale was equal to 40 gallons of ethanol, which equates to 1000 miles at 25 mph. To date harvesting corn stover has resulted in $60 million in added revenue to farmers.
Read our 2014 Quaker Acres West Farm and Family Show Report
Jim Straeter operates six dealerships and is a multiple patent holder, including that for the New Holland Cornrower. The Cornrower is an add-on attachment for chopping corn headers and is a simple design that gets all the stover. The system collects stover that is high in crude protein, high in digestible nutrients and feeds like silage with grain, while maintaining minimal ash. Along with added revenue is the increased corn-on-corn yields for fields where the stover has been removed.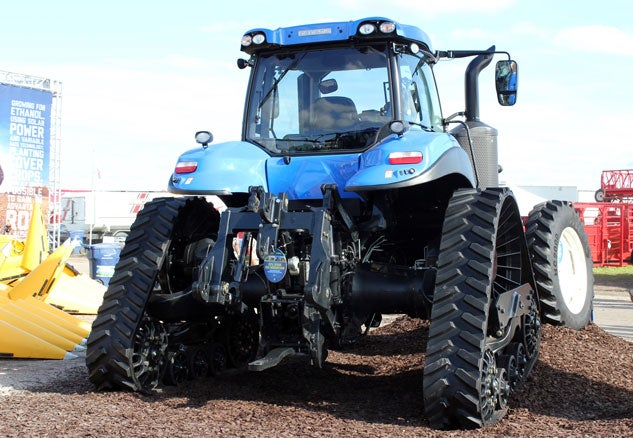 Versatile tractors always draw attention and booth 606 on the corner of 6th Street and North Avenue across from the Main Entrance was no different. With a lineup of 350-550 hp 4WD tractors, 450-550 hp quad track articulating tractors, and 435-575 hp HHT monster machines suitable for large scale farming operations, interest was high.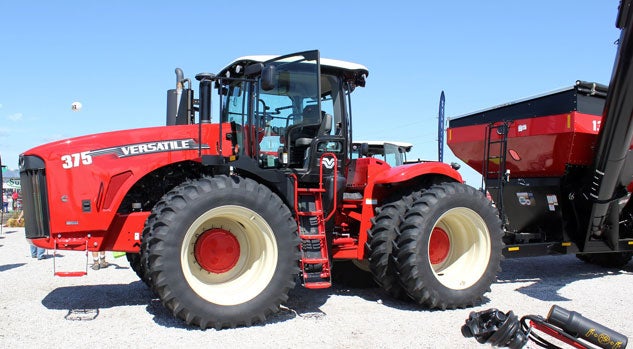 Challenger track tractors also invite attention. These are rugged machines that make no attempt to put hitches, PTOs or hydraulic outlets out front. Designed with pulling large, heavy rear implements in mind, the MT700 Series released late in 2013 is now followed by the MT500 Series. Horsepower ratings range from 185-255 and torque from 830-1049 ft. lbs. at 1500 rpm. With AGCO final tier 4 (FT4) power, Mobil-trac undercarriage system, higher hydraulic flow and rugged drawbars, MT tractors are powerful enough to run large square balers, have sufficient hydraulic capacity to operate up to 16 row planters and fill in nicely as extra chore tractors.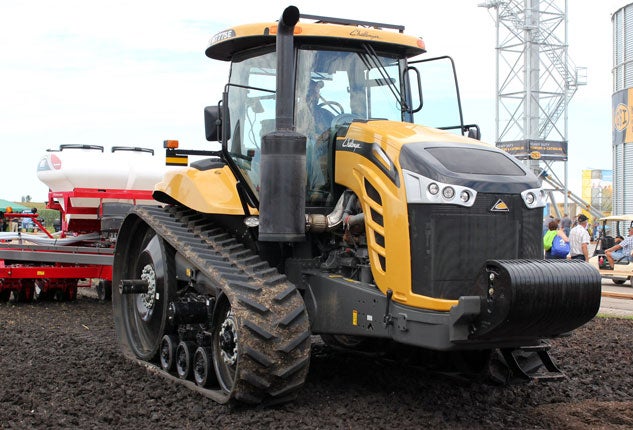 Wrap Up
Weather was definitely a factor at the 2014 Farm Progress Show. The Ride n Drives and planter demonstrations became muddy cancellations, leading to the cancellation of the final day due to rain and lightning considerations. None of this dampened spirits, though. Attendance was good and the resilience of farmers and manufacturers was constantly on display. 2014 production and $3.75/bushel corn a worry? Then adjust: more soybeans next year and less corn. Tractor.com, along with the farmers and manufacturers, is looking forward to next year and hope to see you at the Decatur, Ill. Farm Progress Show. Announced dates are Sept. 1-3.
Buyers Guides
Our Partners