2014 Tractor Year in Review
Looking back at 2014
By Geof Fowler, Dec 30, 2014
AGCO
2014 was a big year for the Duluth, Ga. based agricultural equipment manufacturer. Founder Robert J. Ratliff, who turned a struggling $200M business into a $10B success story, was inducted into the Association of Equipment Manufacturers (AEM) Hall of Fame.
We were able to spend time behind the wheel of several new AGCO brand products including the Massey Ferguson 8730, RoGator RG700, Hesston WR9870, Gleaner S88, Fendt 724, and Challenger MT875E. Other news included updates to AGCO's AgCommand system with weekly status, vehicle history, and engine performance report enhancements, as well as fuel consumption broken down into fuel/hr., fuel/area, and area/hour.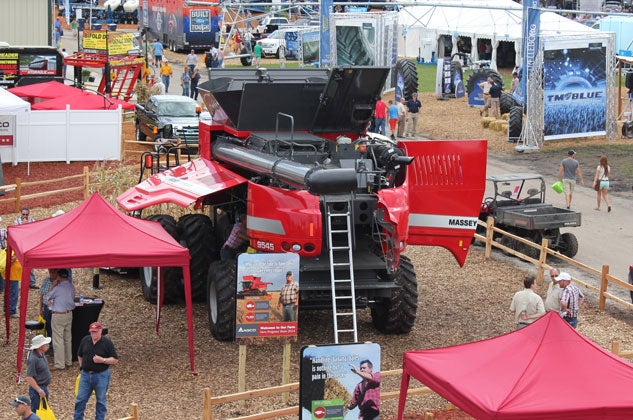 Going into the dormant winter time in much of North America, AGCO published a five-step program to protect equipment and prepare for the upcoming planting season. FARMS five steps are: Fill tanks, Adequately lubricate, Repair damage, Maintain and clean, and Store equipment – all sage advice steps no matter what tractor brand is employed.
Case New Holland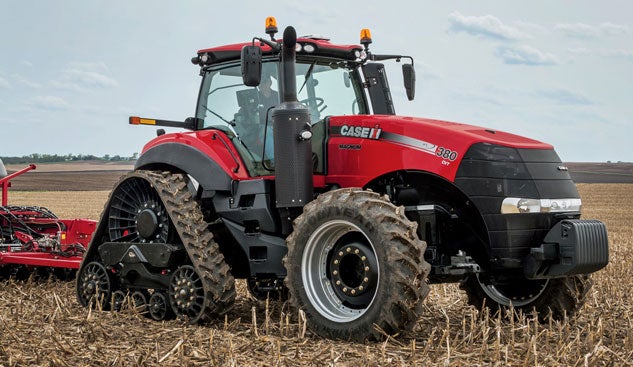 Likewise, the agricultural business entities separated by Fiat Industrial S.p.A. into its own grouping in 2013, also had a big year, including the TOTY award (Tractor of the Year) for the Case Magnum 380 CVT. The TOTY award is given by a group of 23 European journalists representing 23 different agricultural magazines and through a careful selection process that includes actual field testing.
In addition to the TOTY award, Case also received AE50 recognition for its Precision Disk 500 Drill, Steiger 620 HD indirect turbocharger cooling system, Ecolo-Tiger 875 disk ripper, and flip-up tall corn attachment for 4400 Series corn heads. New Holland was also honored with AE50 awards for their QuickMax disc cutterbar quick-change knife system, 760CG Varifeed grain header, integration of LIN remote control actuators on CR Series combines, and triple clean shoe technology employed on CX5000/CX6000 elevation combines.
John Deere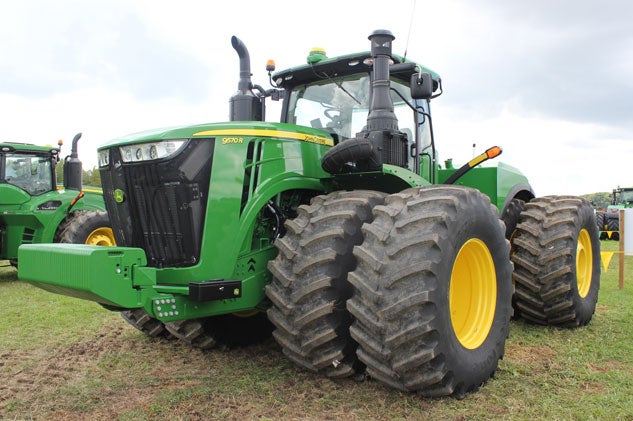 In August, selected journalists were wowed over by the sheer vastness of new product offerings by the Moline, Ill. based manufacturer at the Milwaukee New Product unveiling. We've already written about the 9620R, 6195R, W260 Windrower, and Hillco Single Pass Round Baler (SPRB), but that is just scratching the top. In addition, John Deere new products include: 800 Series of self-propelled forage harvesters, L330/L340 large square balers, 1910 air cart, 2730 combination ripper, 2410C anhydrous applicator, CP690 cotton picker, DM50 disc mowers, TD34 series tedders, and even a special edition Gator with our favorite being the XUV825i in black.
2014 also saw the opening of the Waterloo Tractor & Engine Museum on December 2nd. A must see for anyone with green fever, but a trip through history for all, we look forward to a stopping there during our next IA trip.
Kioti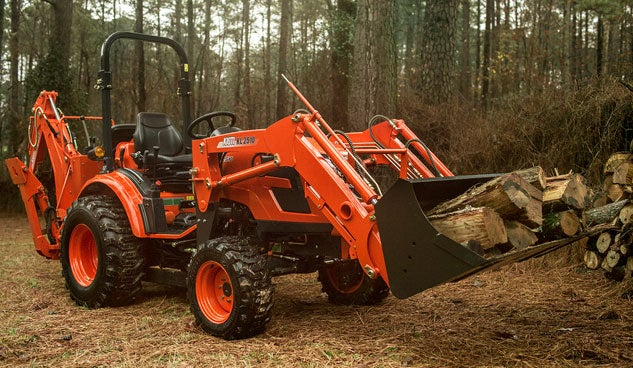 In 2014 Tractor.com tested the RX7230 and CK2510. Representing two extremes of Kioti's wide product offering, we came away impressed by both. The newly introduced PX9020 tractor spreads that product offering even further. With 90 HP on tap, we look forward to soon being able to post our review. Also new are three NX models (NX4510, NX5010 and NX5510) and two new DK models (DK4510 and DK5510). As soon as Tractor.com can get models from these series into our queue, we'll be bringing you our reviews.
Expiring at the end of 2014 is Kioti's free loader promotion on select CK, RX and DK models. If you're in the market for tractors of those sizes and classes, it might be a good time to talk to your dealer.
Kubota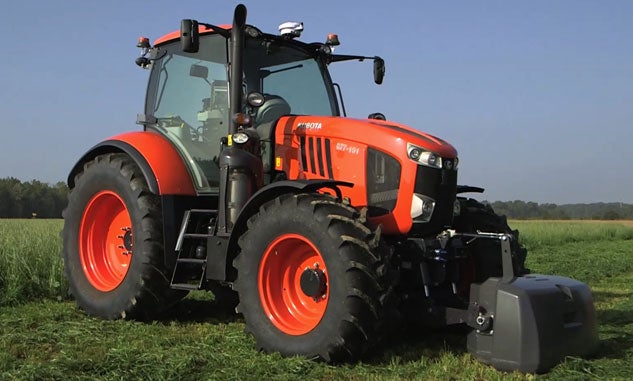 For over 120 years the Osaka, Japan manufacturer has carved out a reputation for innovative products that perform consistently over that great test of time. We recently tested the L2501 and MX4800 and as usual were impressed. New offerings include improvements to the BX1870, BX2370, BX2670 and BX25D machines, the B2650/B3350, MX4800/MX5200/MX5800, M5660SUH and SUHD variants, and M6060/M7060/M8560/M9960 tractors.
To serve the needs of the expanding list of Kubota owners, a new parts distribution center was opened in Edgerton, Kan. Longtime VP Agriculture and Turf Equipment, Todd Stucke, was also elected as an AEM director. We look forward to reviewing the M7 series of up to 170 horsepower tractors, the new SSV series of skid-steer machines, and Z700 z-traks as they become available in 2015.
Mahindra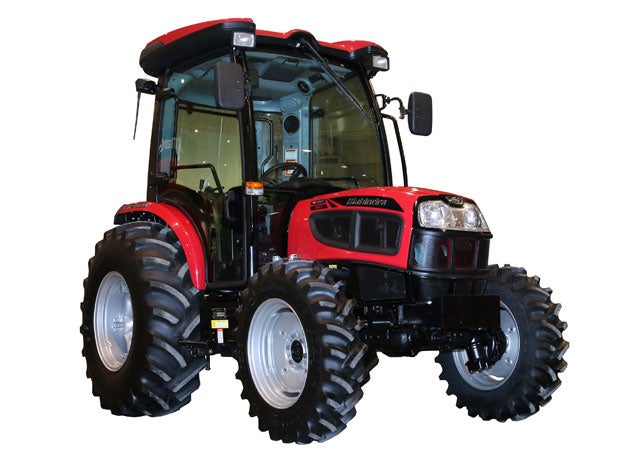 In 2014 we spent a lot of time behind the wheels of Max tractors, mirroring the sentiment of the marketplace, which in turn helped push the number of Mahindra dealers in the U.S. to over 450. We covered the Max 25, eMax 25, Max 24, and Max 28 XL and were impressed at the performance and value offered. Our seat time in the 5010 cab tractor was equally memorable. Our final review of 2014 was spent on the advantages of Mahindra mCRD technology that meets Final Tier 4 (FT4) emissions requirements without having to go the route of a diesel particulate filter (DPF).
In early 2015 we intend to check out the new factory cabs being offered by Mahindra for Max tractors. Keep tuned for what should be an interesting review.
Yanmar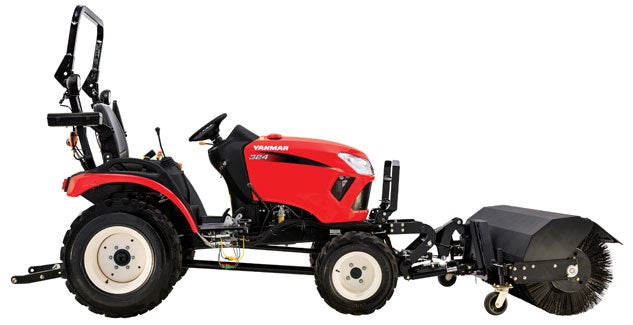 In late 2013 and through the early part of 2014, rumors of new red Yanmar tractors persisted. When we finally got a chance to catch up with the Yanmar convoy in June, we found three new models that we had no doubt would make the competition sit up and take notice. So far we've covered the 221 and 324, with the third model, the 424, still on our to test list. On paper, the 424 looks like it is just a 324 with larger tires, but we're still interested to find out how that paper difference works in the real world – the field. For now we're thinking the ride, stability, and ability to get the power to the ground will be quite different.
Wrap Up
We've found 2014 to be an exciting year for new product offerings. Many we were able to test, but quite a few are still on our radar.
Worthy of mention is the Section 179 legislation passed by the U.S. House of Representatives on 12/3/2014, the Senate on 12/16/2014 and signed into law by the President on 12/19/2014. Section 179 allows for special deduction of equipment up to $500K along with a 50% bonus on depreciation (see your accountant). Though the new equipment purchase measure is only extended through 12/31/2014 (thank you for that 12-day window) there is still time as of this writing – and we'll bet more than a few dealers will be willing to back date that invoice. Learn more here.
Till the next time we meet, Tractor.com wishes all our loyal readers a happy, healthy and prosperous New Year!
Buyers Guides
Our Partners