2015 Massey Ferguson 8730 Cab Review
High horsepower row crop tractor oozes quality
By Geof Fowler, Photography by AGCO, Nov 28, 2014
New for 2014, the Massey Ferguson 8700 Series lineup consists of five tractors ranging from 240 to 340 engine horsepower. All models receive AGCO POWER 84 mills. These are 8.4L 6-cylinder powerplants that utilize twin turbocharging, air-to-air intercooling, and 3rd Generation Selective Catalytic Reduction (SCR) to make greater power than ever while minimizing total fluid consumption.
Comparing torque figures to the previous generation 8860 sold from 2011-2013, output jumps from 892 ft-lb to 1390 ft-lb. Rated horsepower (295 gross) comes at 2100 rpm but through Engine Power Management (EPM) wizardry, an extra 30 boosted horsepower is available at 1500 rpm (325 max). Power take off (PTO) horsepower is rated at 225. A benefit of the SCR system developed by Massey Ferguson is that it does not require a diesel particulate filter (DPF) which must go through heat intensive regeneration cycles and probable replacement at some point.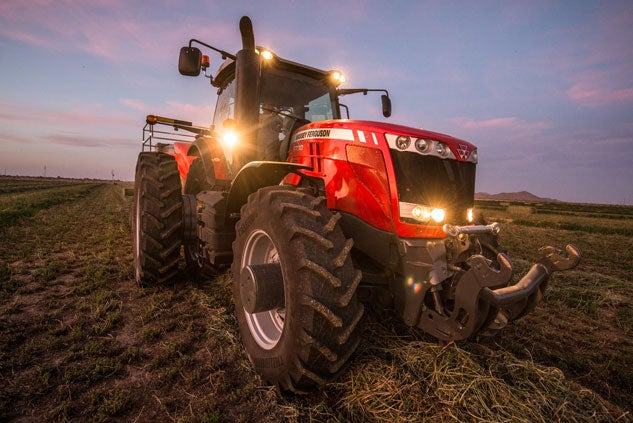 Putting that power to the ground is Massey Ferguson's excellent Dyna-VT Continuously Variable Transmission (CVT) which in standard form delivers true, infinitely variable stepless speed control without shifting, clutching, or delays in traction. Claimed fuel economy is enhanced by up to 10%. For field use, forward speed can be infinitely modulated from 0.02 to 17 mph, with reverse ranging from 0.02 to 10 mph. Transport speed has a range of 0.02 to 31 mph forward, and 0.02 to 24 mph reverse. Axle options with the Dyna-VT include standard duty suspended front axle and a heavy duty variant, with both offering an even higher degree of comfort and control. And to bring everything to a confidence-inspiring halt are oil-immersed, power-assisted disc brakes, with an air brake option to control trailered equipment.
COMPARISON: Read our review of the 2015 Fendt 724 Vario
Hydraulics run through a Closed Center Load Sensing (CCLS) system flowing 54 gpm at 2900 psi. Standard configuration outfits the 8730 with two fingertip spool valves and two joystick spool valves, though the 8730 can support up to four fingertip spool valves along with two joystick spool valves. Whichever the configuration ordered, the system utilizes variable piston pumps that save HP (and fuel) by providing flow only when needed. Power beyond is built right into the CCLS spool block. The Cat 3/4N standard quick hitch is rated to lift 26,455 lbs at link ends. And carrying over the welcome European trend is the availability of a front mounted three-point hitch (3PH) with 11,000 lb lift capacity and a front PTO. With 54 gpm on tap, options can range from triple mowers to front mounted blowers. A Cat 3 drawbar is standard and comes with a drop pin. Options include a Cat 3HD and Cat 4 drawbar arrangement. Standard PTO power is 1000/1000E running off a 20-spline 1.75" dia. shaft, and at the rear fenders are convenient controls for the hydraulic spool valves, 3PH linkage and PTO.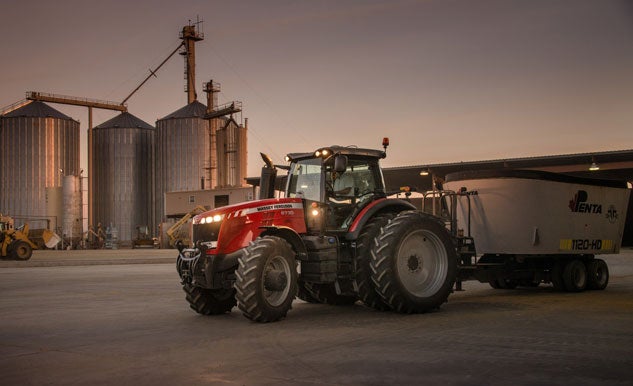 Climb into the superb updated cab with OptiRide suspension (penny pinchers can save a few bucks by checking off delete – but why?), and the look and feel will have those familiar with the 7600 Series right at home. Outward visibility is excellent, control layout is intuitive, and there is plenty of room two. The standard seat provides air ride comfort but there are two options worthy of consideration: the Superluxe Grammer seat for $1500 and the Maximo Evolution Grammer seat for $2800, which will have the operator thinking living room comfort. All seat options swivel for ease of tracking implement paths.
COMPARISON: Read our review of the 2015 John Deere 9620R
The 7" Control Center Display (CCD) comes with radar, video input, ISOBUS compatibility, AutoGuide 3000 (WAAS and OmniStar VBS), auto steering and full function control over the transmission, engine and hydraulics. The screen can be shifted to video mode for on-board camera display. The dash itself gives the operator color coded information at a glance with the tachometer occupying center stage. Just below the tach are operating details such as fluid levels, RPM, clock and speed in white. To the left are operating functions to be aware of in yellow, and to the right, the warnings in red. We're told the display area is 50% larger and the resolution 10x greater and don't doubt it. There is even an additional power outlet for laptops and smart phones/tablets.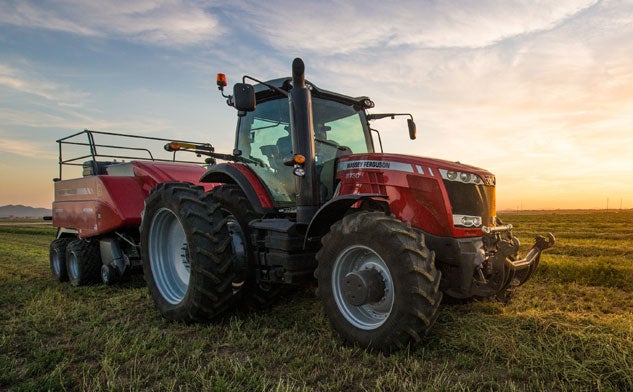 The right side B Pillar also shares familiarity with the 7600 Series, placing the light module on top, the PTO module a notch down, the rear 3PH module another down, and the ignition switch just underneath. Below that are the control panel controls (SpeedSteer, cab suspension, front axle suspension, differential lock and 2WD/4WD) with warning switches taking up the lower spots. Sound complicated? Really it's not, with the setup easy to get used to and quite intuitive. And for 2014, 8700 Series machines come with AGCOCOMMAND and AUTO-GUIDE 3000 (telemetry) as standard equipment.
COMPARISON: Read our review of the 2015 Challenger MT875E
Outside the tractor, the 8730 has a sleek, automotive look. From the headlamps (there is an Xenon option) which have numerous lamps to illuminate those long planting and harvest days that stretch into evenings, the narrow-waisted hood affording an extra measure of front visibility, and the top-to-bottom fit and finish, the 8730 exudes a level of substance and quality that would make any farmer proud.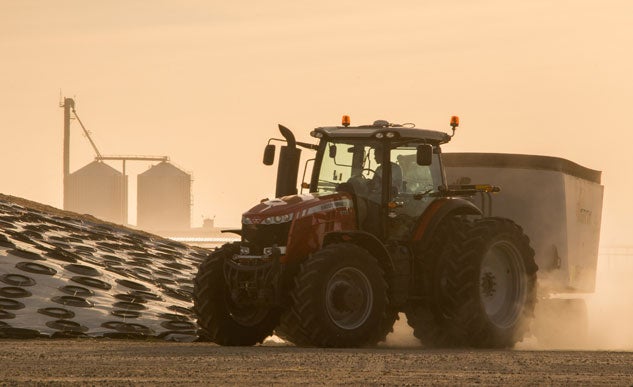 Massey Ferguson 8700 Series tractors are built at AGCO's Beauvais, France and Jackson, Minn. factories and ride on 122" wheelbases. From the front weight frame to the tip of the rear 3PH, the length is 218.6". Height to the top of the cab is 141" and the gross weight is 23,810 lbs. Onboard fuel capacity is 166 gallons and the AdBlue DEF tank is 15.8 gallons. Tire choices include offerings from Goodyear, Firestone and Trelleborg. And to go along with those front tires are an option for adjustable, pivoting fenders.
With high horsepower row crop tractors becoming an ever so important ingredient in achieving profitability, for an agricultural operation considering an addition of a machine of this size and class, the Massey Ferguson 8700 Series is well worthy of consideration.
Buyers Guides
Our Partners