2014 Kioti RX7320 Power Shuttle Cab Review
Kioti's newest utility tractor is deluxe all the way
By Geof Fowler, Photography by Kioti, Feb 28, 2014
Daedong Industrial is a vertically integrated South Korean manufacturer that has specialized in the development and engineering of farm machinery since 1947. Daedong makes its own engines and has done so since 1956. The Kioti brand was first introduced to the North America market in 1986 and in 1993 Daedong USA was established. Today Kioti tractors are sold through a network of more than 300 dealers.
The RX7320 is available in a variety of configurations: open station, cab, synchro shuttle, power shuttle and power shuttle with creeper ranges. All are powered by Daedong's 4F243T powerplants which are EPA Final Tier 4 (FT4) compliant. These 148.6 ci four-cylinder turbo diesels utilize a common rail injection system and achieve rated engine horsepower (73) at 2600 rpm. Power take off (PTO) output is 63 horsepower.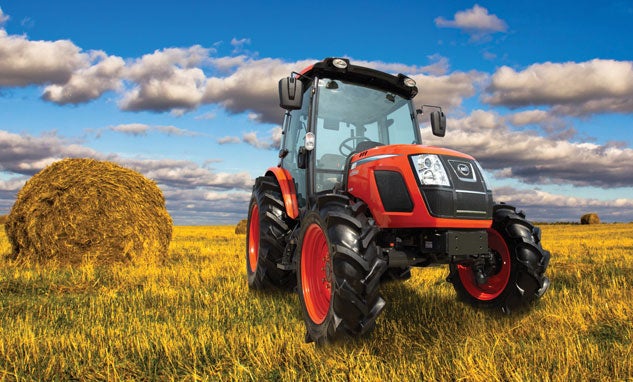 You might have seen the Kioti ad where a barrel-chested tough guy with his sleeves rolled up raves about the Power Story while an attractive woman perhaps representing Mother Earth tells of the ECO Story. The tale told by the tough guy is that Kioti engine power is up by 20%; which means more cutting, more digging, more lifting, and more getting it done power. The ECO babe coyly adds that though power is nice, fuel consumption has been decreased by 20% and emissions improved to the point where these engines are 10% better than EPA standards. And along with that efficiency comes less vibration and a quietness that is sure to be appreciated after long hours. The ad message is bordering on corny-cute, but to the point: one can have their ECO and power cake and eat it too.
COMPARISON: Read our review of the 2014 Kubota Grand L6060
For our test tractor, output from the 4F243T goes to a 12F x 12R power shuttle (there is a 24F x 24R transmission with creeper as an option). With this setup, once a gear and range are selected, there is no need to clutch when changing direction from forward to reverse or reverse to forward. The shuttle lever is a turn signal stalk located at 9 o'clock and operates by pulling it upwards and then nudging the lever forward or backwards.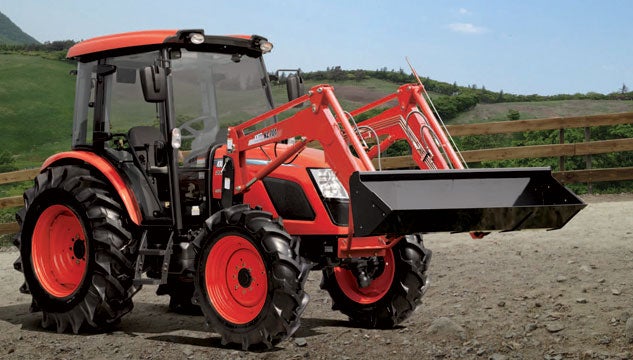 Hydraulics run though a gear pump outputting 19.23 gpm total. This gives the Cat II three-point hitch (3PH) a lift capacity of 3,898 lbs at the industry standard of 24" aft of hitch. One rear remote is standard with the option to add two more. Position control is standard, along with draft and mixed control.
COMPARISON: Read our review of the 2014 Mahindra mPower 85P
Climb into the deluxe cab, which is accessible from both sides, and into the standard air ride seat with armrests and the operator is treated to an unobstructed 360-degree view. Most common controls are located a fingertip away on the right hand console where the loader joystick is nicely integrated and not just added on like an afterthought. Foot pedals are suspended to maximize floor space as well as aid in sealing those components from outside dust and dirt. We found the gauge cluster highly visible, even in direct sunlight, with a tachometer center stage and fuel and temperature pods outboard. Indicators for low fuel, hydraulic warning, glow plug, parking brake, PTO, oil pressure and 4WD were also quite visible. Rear ¼ windows open to help direct fresh air into the cab and there is a lower rear window to aid 3PH visibility.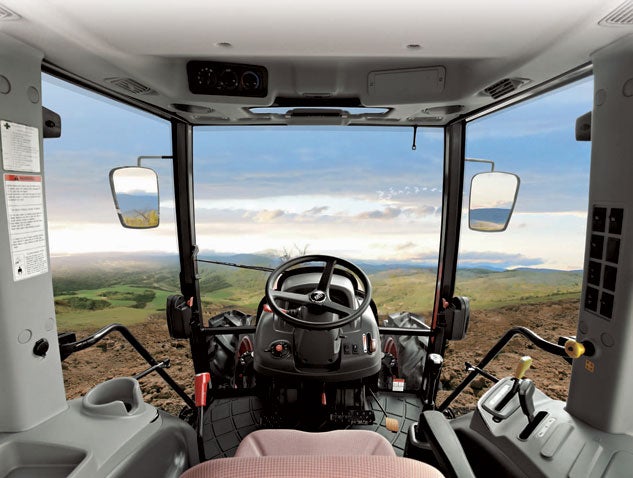 Along with the deluxe cab are some deluxe electronics worthy of mention. The RX7320 came with PTO Cruise, where one touch is all it takes to set a steady PTO rpm that can be easily adjusted by the operator on the fly. Hydraulic Independent PTO is actuated by a simple push of the yellow knob. Auto PTO will shut off the PTO whenever the 3PH is lifted and engage the PTO when it is lowered; Pushbutton 4WD which works in conjunction with Auto 4WD to aid in braking. A neat option is Turn Assist, which drops rpm by 10% automatically when sharp turns are encountered. This allows for more precise turns and reduces fuel consumption. Engine Torque Compensation is standard and maintains a consistent torque level independent of load. A 540 rpm and 540E PTO are standard.
COMPARISON: Read our review of the 2013 Massey Ferguson 5609
Our test tractor was equipped with Kioti's KL7320 front end loader (FEL). This is a quick attach design with built-in stands that can be installed or removed in minutes without tools. Standard fare is an 84" skid-steer bucket (21.2 cf) which on the RX7320 can be lifted to a height of 133.9". Lift capacity to this height is 3,384 lbs with 5,359 lbs of breakout force available. Dump clearance is 102.3" with a dig depth of 6.5". We measured full raise time (2300 rpm) at 6.2 seconds, lower in 4.1 seconds, dump in 4.7 seconds and full curl in 3.4 seconds.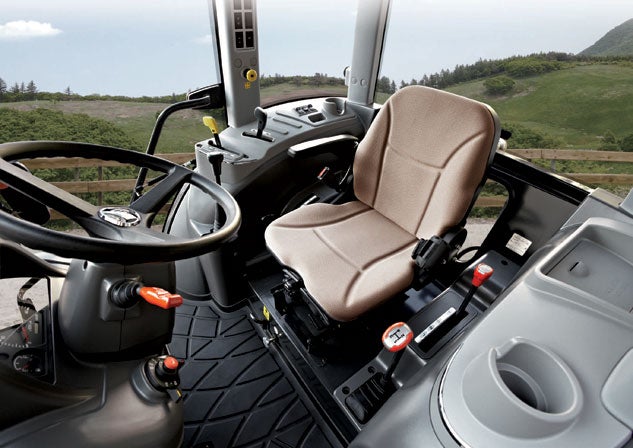 There is no turf tire option, but purchasers can select between R1 Ag and R4 Industrial options. Choose R1 and the sizes are 11.2-24 F and 16.9-30 R, while R4 sizes are 12.5/80-18 F and 18.4-24/8 R. With R1 tires, a cab RX7320 weighs 6m162 lbs and is 146.3" long by 77.2" wide and is 104.5" high to the top of the cab. Riding on an 83.9" wheelbase, there is 17.3" of ground clearance to get you over whatever obstacle you might encounter. Turning radius is 11.2" with brakes applied. Travel speed ranges from 1.01 to 23.53 mph (Creeper transmission equipped tractors can travel as slow as 0.11 MPH for precise metering of liquid or granular applications).
Currently Kioti is offering incentives to help make that purchase easier to sell to the CFO. With a bumper-to-bumper warranty of 24 months, and engine and powertrain warranty of 48 months, it would be wise for anyone in the market for a tractor of this size and class to take a look at the new RX7320. We think you'll be pleasantly surprised.
Buyers Guides
Our Partners