2013 Massey Ferguson 5609 Cab Tractor Review
Tractor.com crashes a dealer "ride 'n drive" and has a blast
By Geof Fowler, Photography by Geof Fowler, Jul 12, 2013
We got a first "tease" look at the all-new Massey Ferguson 4600 and 5600 series tractors at the National Farm Machinery Show in February and tested out the 4608 in May. We were impressed with the 4608, but the more powerful 5600 series was what we really wanted to review. We finally had a chance at a "ride 'n drive" event at Eklund Farm Equipment in Stamford, NY, thanks to a tip from Dan Huff of Big Boy's Toys in Pomfret, Conn. Owner Billy Eklund and AGCO Account Manager Blane Clark gave us the green light to try out any 5600 series machine we wanted.
VIEW: Read our review of the 2013 Massey Ferguson 4608 Power shuttle cab tractor
The all-new 5600 series is built in Beauvais, France, where over 2200 employees and 300 engineers produce more than 90 tractors per day. Replacing the proven 5400 series, which were powered by Perkins and SisuDiesel powerplants certified to meet EPA Tier III emissions requirements, the 5600 series now gets three-cylinder turbo-diesel AGCO engines that achieve EPA Tier IVi compliance without the need for particulate filtration.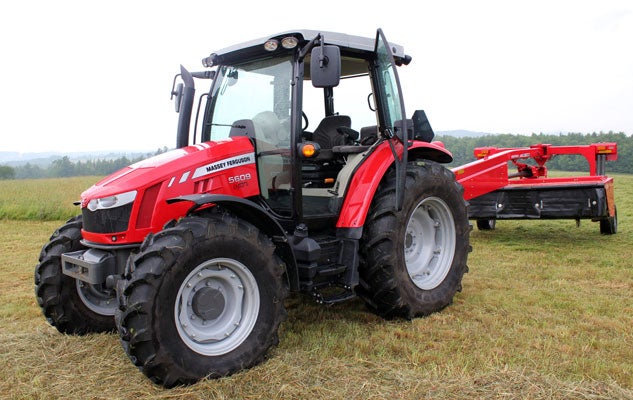 Initially introduced as a two-model lineup in North America, the 90 gross/70 PTO horsepower 5609 and the 100 gross/75 PTO 5610 will soon be joined by even more models that may extend the model envelope to 130 horsepower. Manufactured in Finland, the 33AWI HD variant used in the 5609 is a four-valve/cylinder, turbocharged and intercooled 3.3L mill with high pressure common rail (HPCR) fuel injection and SisuTronic EEM4 electronic engine management. Rated max horsepower occurs at 2000 RPM while torque peaks at 1600 RPM (405 lb/ft). Emissions compliance is through exhaust gas recirculation (EGR) and diesel oxidation catalyst (DOC) – technologies that don't rob engine power.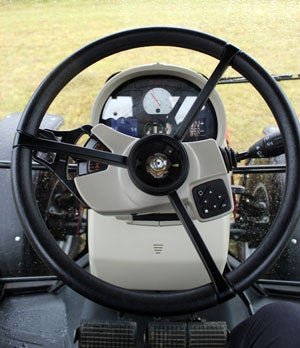 Massey Ferguson Dyna-4 transmissions have been around for a while but when equipped with optional Auto-Drive and Auto-N as was our test tractor, make this one slick and simple-to-operate machine. With 16F and 16R speeds (a 14:1 creeper is an option), the four gears and four speed ranges can easily be shifted without clutching. Gear shifting is accomplished via a left hand shuttle stalk with three detents for forward, neutral and reverse. To change gears, the operator just clicks the stalk forward to upshift or backwards to downshift. Range changes are just as easy with a "T" handle on the right arm console. All that's required is to depress a thumb switch on the "T" and then move the handle forward or backwards.
A digital readout displays 1A – 4D so the operator always knows which gear they have chosen. Auto-N (auto-neutral) is a nifty feature where the transmission kicks into neutral when the operator depresses both brake pedals. Of note, when the optional factory-installed joystick is ordered, gear and range changes can also be accomplished using thumb buttons. And the Dyna-4 has an anti-stall safety built in that automatically kicks the transmission into neutral if engine RPM drops to 650.

Hydraulics are run by an open center system flowing 11 gpm to the three-point hitch (3PH) and 15 gpm to the remotes. Order the optional Twin Flow System and flow from both pumps is combined, providing 26 gpm total to the remote hydraulic circuits. Two remotes are standard and up to four lockable spool valves are possible. The Cat II 3PH has lower link draft sensing and is rated to lift 7,100 lbs at the industry standard 24". Arms telescope for ease of hookup and the stabilizers are of a variable float design.
VIEW: Read our review of the 2012 Mahindra 6110 shuttle cab tractor
The cab on the 5600 series is borrowed directly from the 7600 series. With 61 cubic feet of space, the six-post design features sweeping 360-degree views, enhanced by a narrow hood waist made possible by the new powerplants. Roof options are Standard, Visio for better loader visibility and Slimline for clearance. A mechanical cab suspension is also available.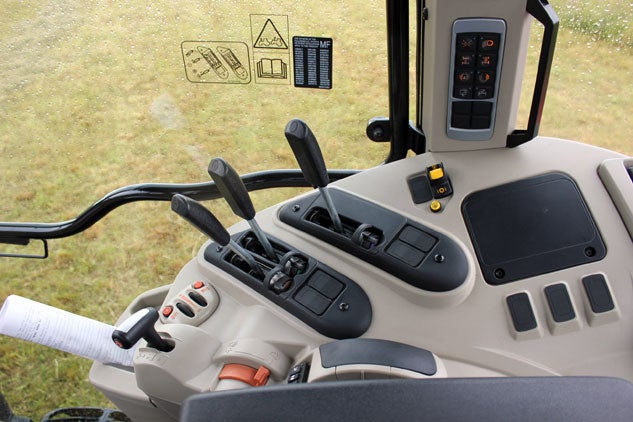 Inside the cab, controls are simplified. The center console includes a tilt steering wheel, left stalk shuttle, right stalk light/wiper control, analog and digital dash, suspended clutch, split brakes and a foot throttle. There is also an up/down/right/left toggle to interface with the electronics. The right arm console includes controls for the 3PH (draft, position, intermix, rate of drop, max lift, lift/lower/height/depth and active transportation control offering shock dampening), Auto-Drive switches/thumb wheels, remotes, PTO, gear range, and a precise hand throttle. The right pillar houses electronic controls over 2WD/4WD, differential lock, ignition, flasher, and readouts of PTO (540/540E, 1000/1000E) and external lights being used. Opening rear quarter windows add ventilation and both cab doors open wide for easy access.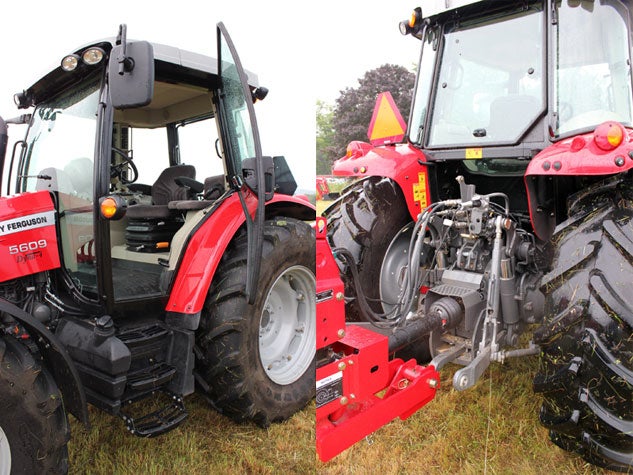 Fire up the AGCO powerplant and your first thought is how quiet it really is. Even with the left side cab door open, dBA readings at 840 RPM idle are 79.1/80.6 (low/high). Close the door and sound levels drop to 76.7/78.2. Bring the engine up to 1980 RPM and the readings barely go up, yielding steady 80.6/81 dBA numbers. Heading off to acreage owned by the Eklunds, the 5609 felt stable, well-weighted and extremely comfortable – even with a 5,052 lb., 22'-10" long disc mower being pulled out back. And that disc mower was the latest Hesston 1366 center pivot disc mower/conditioner with a low-profile Razor Bar cutterbar. Using six discs to cut a 9'-10" swath, the swinging tongue and hydraulic controls allow the operator to cut square corners, windrow back and forth on the same side of the field and steer around obstacles. Rated for tractors 75 PTO HP min, our 5609 was a little shy at 70 PTO HP. This required plenty of throttle to get the mower going, but once it hit 540 RPM the 5609 had plenty of grunt. After knocking down about an acre of tall hay, at one point we hit (big Dan was riding shotgun in the learner's seat) an abrupt dip and immediately the value of the air ride seat became clear.

Options to consider would be the nice quick-attach 941 loader (non self-leveling) or the 946 loader (mechanical self-leveling), a wide selection of tires by Michelin, Firestone and Trelleborg, engine block heater, radio/MP3/CD/USB/Bluetooth electronics, AGCOCOMMAND telemetry and the multi-function joystick (required for the loader).
VIEW: Read our review of the 2012 John Deere 5105M cab tractor review
Measuring 108.5" tall and 167.5" long and riding on a 97.1" wheelbase, the 8,978 lb 5609 (4WD) with 42 gallons of fuel onboard has a MSRP of $72,498. Add the Auto-Drive feature for $258 and transport speed goes up to 25 MPH. An option package we would definitely consider is the MKTO323 designation which adds Dyna-4 with Auto-Drive, air suspended swivel seat with armrests, 26 gpm twin-flow open center hydraulics, and the radio with MP3 – all for $2,660.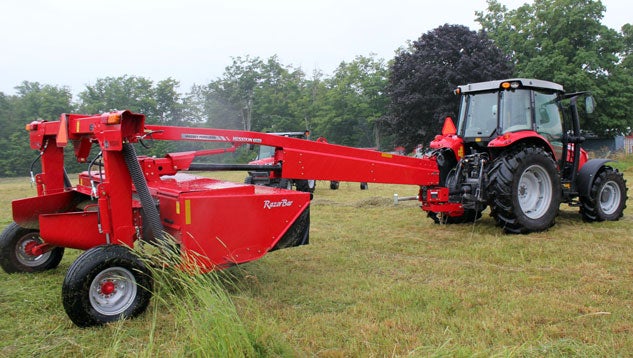 Ideal for hay production, loader work and general farm use, if you are in the market for a mid-range tractor, check out the all-new Massey Ferguson 5609.
Buyers Guides
Our Partners